5 Business Management Software Programs Your Business Is Missing Out On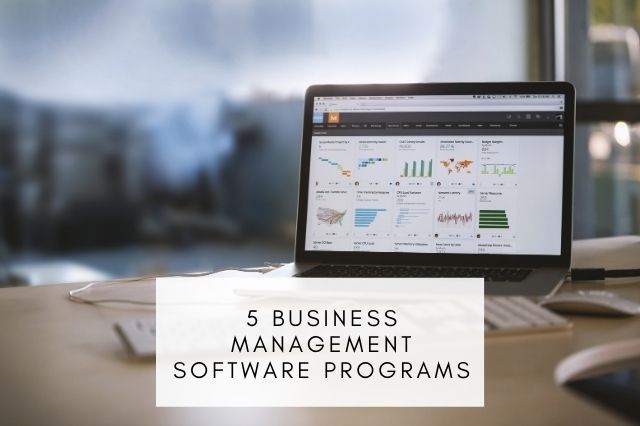 Unless you are a tech startup, one of the last things you might focus on as a small business owner is your company's technology. It's easy to launch your storefront and do a bit of marketing, but what Business Management Software works best for your particular industry, and how can you know you're investing your money wisely?
There are approximately 31.7 million small businesses in the United States, but the numbers grow and shrink based on what the economy is doing. New businesses come and go. You can learn a lot from what the ones who've been around for five years or longer know. One thing most success stories have in common is that they use technology/Business Management Software wisely and come up with streamlined operations allowing them to be as productive as possible. For instance, small businesses seeking to grow would greatly benefit from streamlining international payroll.
What Business Management Software do most businesses use? There are a handful of types used by nearly every industry. I will share the 5 best software no matter whether you run a fusion restaurant or sell products online, these business software programs help get you organized and move your brand from surviving to thriving.
Also, you can follow our daily tech blogs to get more info and knowledge on technology.
So now let's start with the best software programs you can use for your businesses:
1. Accounting
One of the most time-consuming tasks for business owners is keeping up with profits and expenses. At the end of the tax year, you need to know your input and output so you can ensure you remain profitable. You also should take every deduction allowed to reduce your overall tax burden.
There are dozens of options for free or paid accounting business software. Here are some things you should look for in the one you choose:
Seek software with a cloud-based service, so you can access it from anywhere and from different devices. If you are out and about and buy a few items for your store, you can quickly enter them into your records and tuck the receipt away for safekeeping.
It's important to find a system allowing for multiple users. Unless you're a solopreneur, you may have multiple people plugging in the information. If you hire an accountant, they'll need access as well.
Find a system compatible with your operating system. Some providers—such as the free edition of TurboTax— offer the ability to access your records from a smart device on Android or iOS. Others you must download to your desktop or laptop computer.
Easy integration with third-party tools. No matter how powerful your accounting software is it can't do everything. For example, you can integrate it with an accounts payable solution and automate your invoicing process.
Pay attention to features and costs. You don't want to spend a fortune on your accounting software, but you also want to ensure it offers the benefits you need to effectively run your company.
2. Mapping Software
Mapping software offers information on geographic details you can't get from any other type of software. Here are some must-have features:
Cloud-based features need to be easy to access but also secure from hackers. You don't want a competitor to utilize your information.
Collaborative mapping allows many people in your company to make adjustments and run reports. You can utilize mapping software for sales, marketing, and even upper management.
Make sure the software integrates with the other systems you use. For example, you can combine accounting software with mapping software to see which areas are most profitable for your business.
If you have more than a single salesperson, you also need the ability to manage sales territories. Overall, mapping software gives you an edge over your competition. It highlights which areas are overserved or underserved.
3. Customer Relationship Management
Businesses that create excellent customer experiences (CX) attract new clients and keep the ones they have. There are some advanced CRM Business Software you can utilize. Look for:
Make sure data is easy to access. You want your staff to be able to pull up details on the fly. The best way to accomplish that is with a cloud-based system.
You also want the ability to add as many users as needed. Your technicians out in the field need to pull up information on past service calls, while your marketing department needs to run reports and figure out who the target audience is and how best to segment them.
Automated processes save you time and money. Do you want a system to email customers on their birthday and offer them a special discount code? Much of the work can go on autopilot, researching time for other promotional efforts, while still maintaining a strong relationship with your customers.
Think about the ways you already manage your relationships. Which aspects could be automated? Once you have an idea of the things you already do and which ones can be hands-off, it's much easier to choose a CRM system that meets your needs.
4. Content Management Systems
If you have an online presence, you'll need a content management system (CMS) to handle your posts. Great content pulls readers to your site and helps you find new leads for your business. People have different opinions about which is the best CMS tool, but some functions are must-haves:
A simple WYSIWYG (What You See Is What You Get) editor. Most of today's popular CMS software offers an environment that's very familiar to users. If you know how to use a basic word processing program, you can use a CMS.
Look for a program with plenty of third-party tools and add-ons. Open-source software is your best bet, as many collaborators offer plugins, themes, and advice on how to achieve different aesthetics and functions.
Automated backup is a must. Find a system where you can either install a plugin to back up nightly, or it does so on its own. It's a nightmare to have a hacker take over your site and not have your information backed up for a quick restore.
If you're still unsure which CMS is right for you, spend time checking out demos on the various sites. Try out each program to see how easy it is to use. Go with the one that seems most intuitive.
5. Collaborative Tools
You might be the brains behind the operation, but no business is successful without a lot of help from customers, co-workers, and friends. At times, you'll hire contracted workers to create graphics or promote your company. There are many reasons why you might need collaborative tools. Some of the best ones for small businesses include:
Employee time and task tracking software. Look for something that's capable of hosting multiple users. You should be able to check off completed tasks to avoid confusion. There are many great software that can help you monitor your remote employees' work.
Automated reminders. Set up a calendar and remind employees of important meetings and events. With numerous companies moving to online discussions, a quick email reminder keeps staff on task and ensures they arrive at the talk on time, so you don't waste precious minutes.
Instant messaging software. Emails aren't always the best way to communicate when you need fast feedback. Seek out solutions offering IMs. You want to be able to keep track of what's said, though, so you can refer to it later, so seek out something that integrates with the other collaborative tools you use.
With a little pre-planning, you'll improve communications within your company. A good collaborative tool saves time and streamlines processes. It can also keep clients in the loop. 31.7 million small businesses
Best Business Management Software
The best business software is whatever works for you as a company. One organization might need automated task reminders, while another needs to take customer bookings online. Think about what you already do as a brand and how you can streamline each element of your business. Anything that makes for a better experience for your customers or increases productivity is a win-win for you.
So, that's all from this blog. I hope you enjoyed it. Now it's your time to use these software programs for your businesses to achieve more success. Also If you liked this article then please share it with your friends, and if you have any questions related to this article then you can ask me in the comments section down below.