Best POS systems with expiry tracking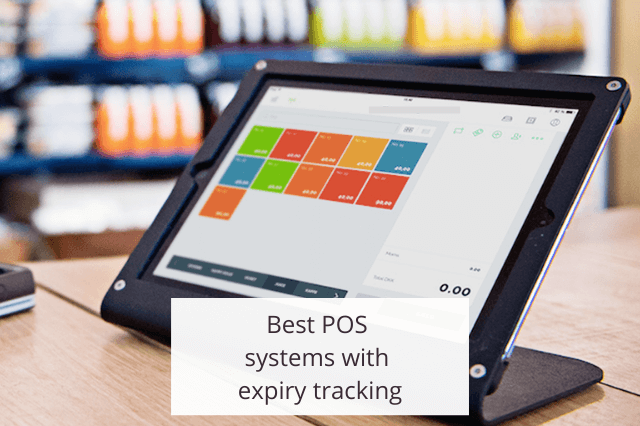 Which POS System has Expiry Tracking
The need for POS Systems for businesses is one that cannot be overemphasized. These systems are designed with different features; with some, you can determine which goods are about to expire and use or design a purchase refund for them. Thus, saving you from embarrassment and loss due to expired items.
POS systems with this feature make it easy for you to monitor your perishable items and remove them from your stock once they reach their expiration date. We will outline the ways you can manage your perishable inventory and some POS that have expiry tracking.
What POS System Has Inventory Expiry Tracking Feature?
Owners of businesses that deal in perishable products often find it challenging to track each product's expiry date. However, a certain point of sale system is designed to help you take care of this challenge.
1.  QuickBooks POS
The QuickBooks Point of Sale Software is one of the best business solutions for sales and inventory management. With it, you can set up an inventory tracking feature that allows you to keep track of your products' expiration dates. We have explained how you can do this with your QuickBooks POS.
Let's Find Out
Step 1: Open your QuickBooks POS. Click on Reports, then Items, and finally, select Items List.
Step 2: Double Click on any product available on the list. Select edit item, then click on the custom tab on the list to Edit Item.
Step 3: Click on the Define Field option and type in the products you want to update the expiry dates. Step 4: For new items, type them in, then input the expiry date in the box for additional information. Next, click on reports, then Items and Items List.
Step 5: Export the details to excel, then navigate to conditional formatting. From there, select the option to highlight cell rules. Next, click on more rules and then select the formula to determine the Cells to Format.
Step 6: In the space for formula, enter this formula: Today() +12*7> T7. This formula helps you locate products within the three month expiration period.
2.  Nextar POS
Nextar is among the greatest systems for retail management. It has a tool for sorting out the expiration dates of your products. With this tool, you can arrange your inventory according to their expiration dates, set up your Cash Register, inventory, and multiple Points of Sale. Nextar also allows you to access your financial reports and so much more.
3.  HyperDrive POS
The HyperDrive POS was specifically designed to help business owners keep track of their perishable products' using their batch number and expiration date. With this POS, you can input the batch number and corresponding expiration date of all products within that batch while inputting your new stock. If you cannot specify the batch number of the products at the time of billing, all you need to do is instruct HyperDrive POS to use auto batch.
How to Manage Perishable Items with Expiration Date Using Your POS System?
If your business stocks perishable goods and products, then you know how important it is to keep track of them and make sure they are sold or used before the set time. For example, if you run a bakery, grocery store, or a business that requires you to use raw materials to produce your final goods, then you need a way to keep track of them easily.
An option for managing these perishable items is adding the expiration date to your inventory report. By so doing, you can easily monitor and generate reports that tell you which products are nearing their expiration dates and when. We advise that you add the necessary data for each product to avoid awkward situations.
With some POS systems, you can perform these additional features we have listed below.
Input your inventory alongside the expiration date for each product. This way, you can quickly see all the perishable items you have in stock and the date they are set to expire. With this data, you can adjust your purchases to suit the time frame before they get expired.
Remove all expired products. With your inventory list, you can monitor all your available perishable goods and note when they expire. Once they cross the expiration date, you can write them off from the list and remove them from your inventory room. Items that have been crossed out should be removed from the depository room or shelf.
Set up various expiration dates for available products. You can set up multiple expiration dates for the same product. Different batches may have different expiration dates, so this feature helps you keep track of each batch's expiration date.
Tracking, Inventory Code. You can set the location for your perishable items when you are registering them. Tracking the location helps you to find the products to remove them once the expiration date reaches.
What Factors Should Influence My Choice of a POS System?
Not every POS system has the same capability. Because of this difference in each POS capability, what works for Mr. A's business may not be appropriate for yours (source). Therefore, it is important to consider certain factors when selecting which POS system to buy.
The Size of Your Business: Your business' size is a vital factor that will influence your choice of POS and its price. You must choose a POS system that caters to your business needs. You should bear in mind that if your business requires different registers or operates from different locations, you may have to pay an extra fee.
The Number of Available Features: POS system providers design each system with varying features. We advise that you select the one with matching features for your business. Research the common features, most POS systems offer and see which providers meet your needs.
Quality: Although many POS systems come with an analytics feature that displays and analyze data, some POS systems offer far more complex features. If you own a large scale business that requires analytical capabilities, then your POS system should be one that provides you with access to detailed data analytics.
Type of Business: Many business types use POS systems that are customized to match their needs. Thus, we advise that you get a POS that is designed with features that match what your business needs.
Possibility of Business Expansion: Consider your business's chances of expansion. This is crucial to your choice of a POS system. If your five-year projection includes location change or expansion to other locations, then you should select a scalable POS. POS systems that can be scaled up and down easily allow you to model the features to suit your business's growth.
Conclusion
For businesses that perishable stock items, keeping track of the expiration dates are very important. There are some ways you can manage perishable goods to ensure that they are either sold, used, or in worst cases, removed from stock once they expire. Some POS systems make keeping track of the various expiration dates of your stocked items easier. With QuickBooks and Nextar POS, you can get a handle on inventory expiry tracking.