11 Best Slogan and Tagline Generators in 2023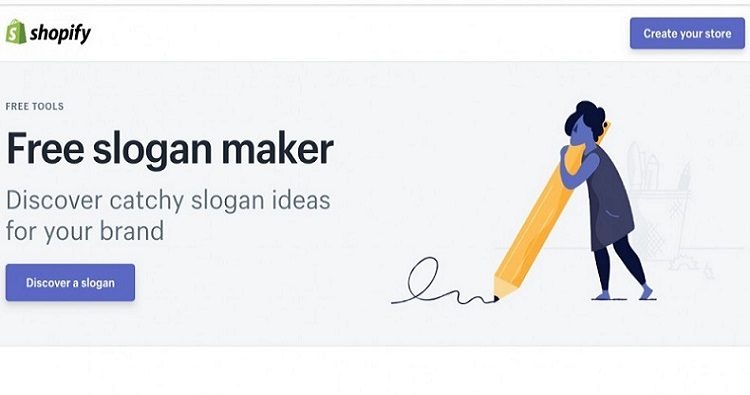 Whether you're just setting up your first blog or already have an e-commerce website, you need to make sure your branding is on point. That includes having a memorable and attractive slogan. Struggling to come up with the perfect one? That's alright. Many people use Best Slogan and Tagline Generators to save time, energy and money while growing their sites.
Why are slogans important? They're responsible for some of the first impressions you'll be making on your visitors. A catchy blurb next to your site will definitely help your audience remember you easier and get a better grasp on what your brand is about.
Marketing is a crucial aspect of distinguishing your site from others, and it deserves a good deal of your efforts. Luckily, you can save time and play it smart by using tools to help you out.
In this article, I'll cover the Best Slogan and Tagline Generators of 2023, so you can focus on building and improving your site, and save time. Let's get straight into the list.
1. Slogan Generator

Free Slogan Maker is super friendly for beginners, easy to use and you can get a slogan in just 3 seconds. You need to Enter the core word in the slogan generator, after it search results will show thousands of slogan suggestion. You can choose one of the best suggested slogan as per your need.
---
2. Zyro Slogan Generator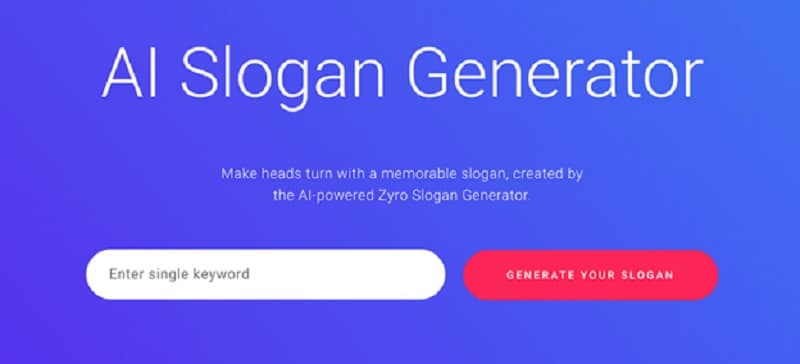 Zyro's AI slogan generator is an excellent option for most webmasters. In a matter of seconds, you'll get hundreds of suggestions based on a few keywords. Enter your brand's name, it's core values, or whatever else you feel is an essential part of your brand, and hit "generate". The artificial intelligence-powered generator will provide plenty of suggestions in an instant. You can get fresh ideas to fulfill your vision irrespective of your business type, as the AI system is taught to follow all the best practices and works for almost any industry.
---
3. Slogan Generator from Slogans.xyz

Slogan Generator from Slogans.xyz, is also a great tool that generates thousands of slogans within seconds for you – thanks to Machine Learning and Artificial Intelligence that made this possible.
Over time, the platform learns and comes up with new slogans as it gets older and has more data to play with.
You can either generate a custom slogan for you using this generator or explore the website and find the lists of slogans based on different categories that exist there.
---
4. Sloganizer.net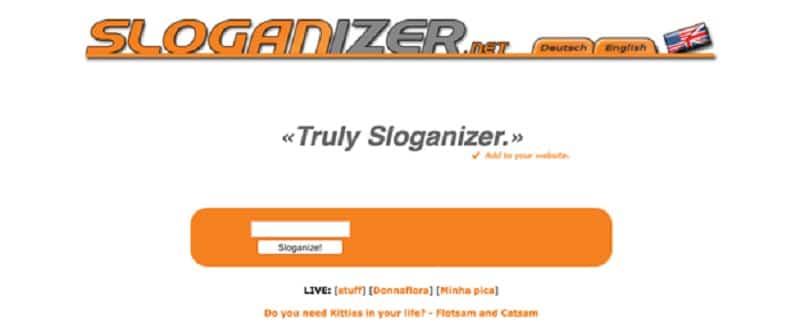 Sloganizer is the perfect place for you if you're running short of both ideas and time. This tool is a free slogan generator for business owners who have a specific keyword for their products in mind, and get an instant suggestion.
Just key in your term and press "Sloganize" to create a tagline suggestion for your site.
---
5. The Advertising Slogan Generator
The Advertising Slogan Generator is a goldmine for an employee who is unable to develop a creative logo or company slogan with a little bit of classic wit. With a database of hundreds of ad slogans, when you select the preferred term, the tool suggests an original tagline. The generator uses the famous company's logos and taglines, which date back to the 1950s. You can keep changing the keyword and rejecting the outcome until you find a recommendation that you like. Services are free of charge.
---
6. SloganGenerator.org

SloganGenerator.org can produce a massive stock of skillfully crafted slogans for your company at no cost! The slogans are unique and straightforward. Due to extreme simplicity and quality, users will remember them easily too. You only need to enter information in the box on the website and click the "Generate Slogan" button. If you don't like the outcome (which is scarcely the case), you can keep trying until you get a satisfying outcome. Additionally, SloganGenerator.org helps you to create promotions for your business with some helpful links placed right under the generator.
---
7. SloganGenerator.co

SloganGenerator.co is well-known for its originality. This tool works just like other predecessors, as a fast and free slogan maker. However, it would help if you had an exact and appropriate keyword. The reason is, the slogans cannot accurately represent the intent of your company without the appropriate keyword. I would, therefore, suggest you use your product's name or a specific keyword. Just click the Make a Slogan button after entering the keyword to get a custom suggestion.
---
8. Shopify Free Slogan Maker

If you are an entrepreneur, Shopify has all the solutions to your troubles. Shopify is a one-stop solution for each problem, from the website design to automated systems. So if you are not innovative and cannot come up with your company's genius slogan, Shopify is yours.
Enter a word, and the device offers you more than 1000 slogans. For me, Shopify's quality slogans are some of my favorite for any e-commerce site.
---
9. Free Slogan Generator

This resource from PCman website is a trendy slogan generator that can assist you in innovative slogans with multiple options. The method is easy to use, as with all the generator on this list and a minimal interface – add a phrase or a keyword, and hit "Generate My Slogan" to receive tons of suggestions.
You can continue to click on the button until you find a slogan that suits you well. The tool also allows you to save your preferences so you can make a final screening before you settle on a choice.
---
10. Getsocio Slogan Maker

Getsocio, a social commerce site for daily deals and other promotions online, has also built a powerful slogan generator. This website also offers several other great tools to get your online presence off the ground. The slogan maker Getsocio offers creates a range of smart phrases based on the keyword you enter using a collection of carefully selected templates. While you get to view only one slogan at a time, feel free to click on the button until your finger falls – the tool is completely free to use and will definitely come up with some great suggestions.
---
11. Dukaan's GPT-3 enabled Slogan Generator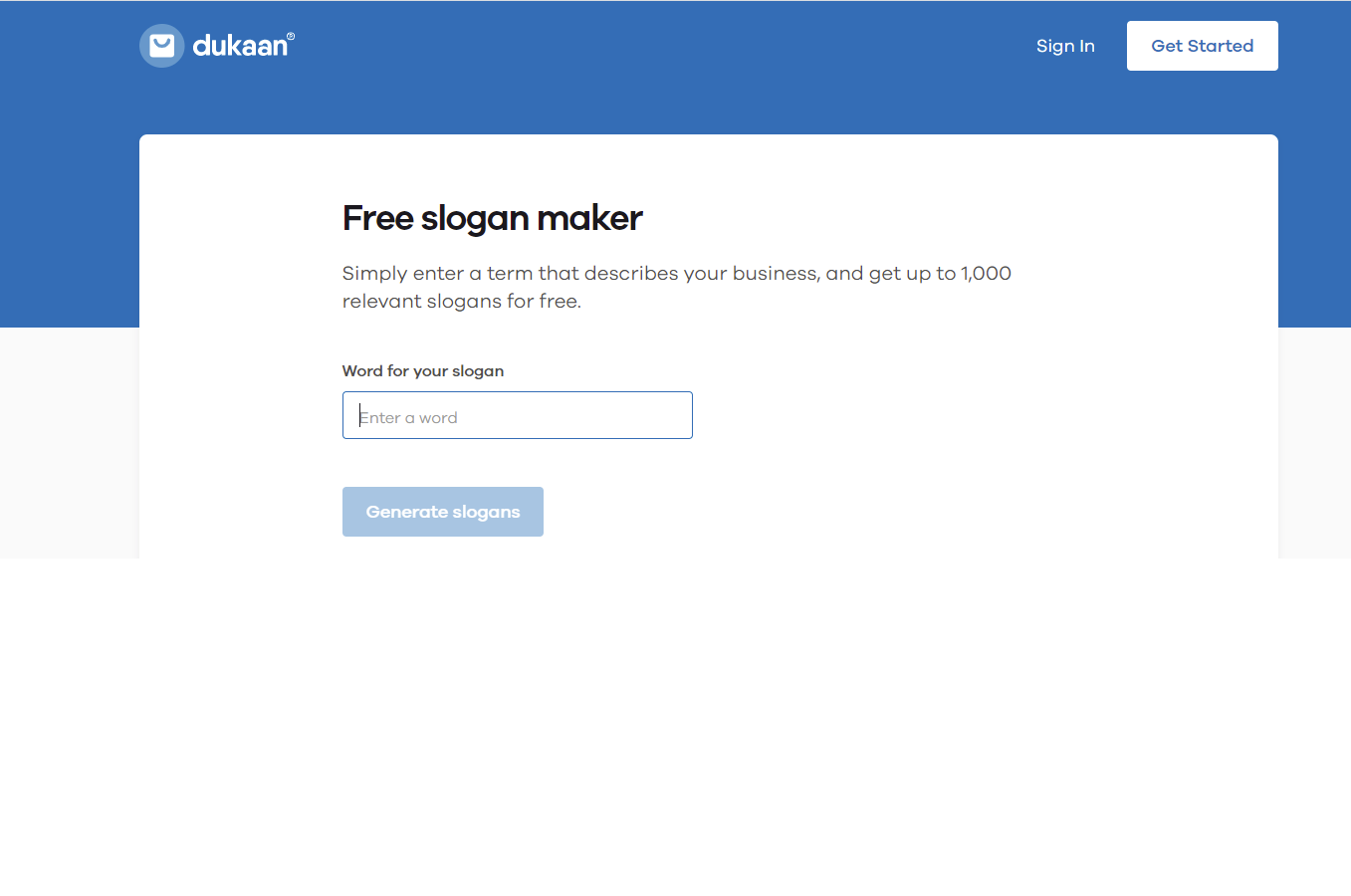 Dukaan's GPT-3 enabled Slogan Generator is an amazing slogan generator. You need to simply enter a term as per your requirements which tells about your business. You will get more than 1,000 relevant slogans for absolutely free.
Final Thoughts
Need a slogan but struggling to come up with one? Want to save money so you can invest smartly into other essential parts of your online presence? Luckily you can use the many free Best Slogan and Tagline Generators available.
Slogan creators are a handy tool to brainstorm and perfect your ideas in those moments when creative juices just aren't flowing. Automation tools such as these will support you as you go about developing your eCommerce business.
Adding innovation into your business model will help you to grow your company and focus on achieving success. They allow you to delve into product trends and the creation of an excellent marketing strategy. We hope this article helps you get your store's branding on track! Good luck. You are welcomed regarding Best Slogan and Tagline Generators article if you have any suggestions.