5 Best Shopify Alternatives For Your Online Store In 2023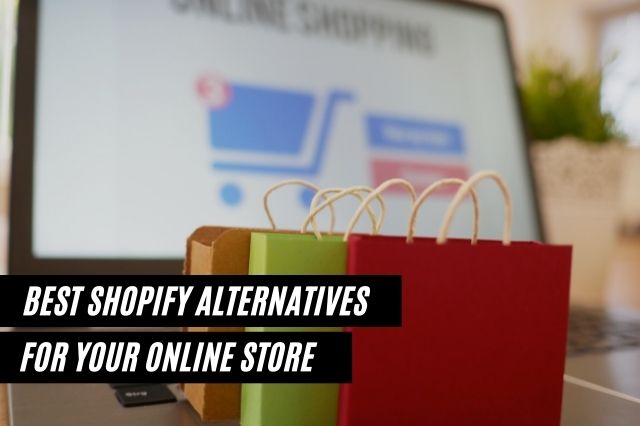 Looking for Best Shopify Alternatives? well if yes then keep reading this article. If you want to explore some new eCommerce platform other than Shopify. This article will help you to find the best Shopify alternatives that may suit you.
Shopify is one of the most liked eCommerce platforms across the world. It runs over a million businesses in around 180 countries. Shopify is a cloud-based platform. Build a website, manage products and product details, calculating shipping rates, and sell across multiple channels can be done on this platform. However, because something is popular, it doesn't mean it's always the best option available. Shopify also has some drawbacks like Shopify doesn't have any instant inventory feature and it also charges additional transaction fee is don't pay via Shopify's in-house services. Because of this drawback, people are searching for an alternative. So we have researched and found some best Shopify alternatives that are listed below.
List of Best Shopify Alternatives:
1. WooCommerce: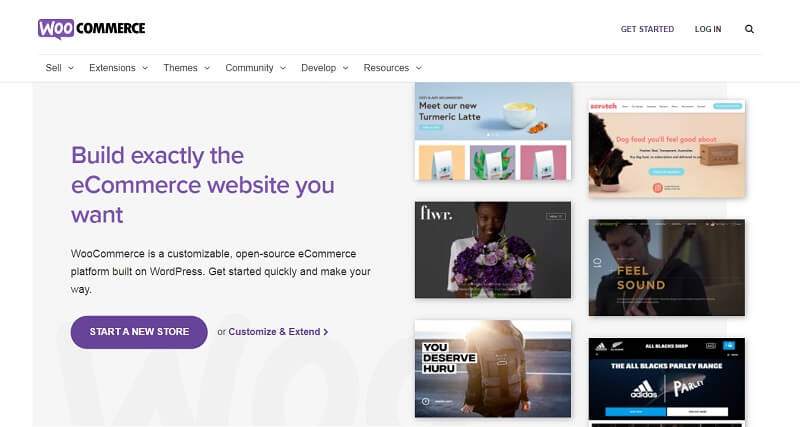 Woocommerce was developed by Automattic and launched on 27th Sep 2011. It is an open-source eCommerce WordPress plugin. It has high visitor gauging because of its simplicity. This platform is easy to install and customize. It can easily be integrated with existing any WordPress site. Scalability is a bit complex, you will need to buy its paid version to get the advanced functionality. But apart from that, WooCommerce offers you everything that you could need. You can build a site with a paid version in a short amount of time.
WooCommerce allows you to build mobile-friendly websites after buying the hosting. These sites are quick and responsive. It is the most recommended Shopify alternative you can go for. WooCommerce offers both free and paid versions. The basic version contains all the features that you need where the paid version offers you some advanced value for money features. The WooCommerce plans start from $10.00/month for basic features and some bells and whistles can cost you more than $200/year.
Pros:
No additional transaction fees.
Easy to install and customize.
It can easily be integrated with existing WordPress sites.
Sell unlimited products on your web store.
Available thousand of free extensions.
24*7 customer support
Cons:
Need tech skills like HTML and CSS to use your eCommerce store more efficiently.
Need dedicated hosts like SiteGround and Cloudways for fast hosting.
No free SSL certificate and domain hosting are available.
Site performance is affected when an additional core feature is added.
---
2. Magento:

Magento is another yet one of the most famous alternatives of Shopify available in the market, It is an open-source eCommerce platform developed by Magento, Inc. It has a wide network of over 250k developers across the world, providing additional functionality for its platform. It was initially launched on March 31st, 2008. And further, this platform is bought by adobe in 2018. This popular platform is ideal for both mid and small size businesses. If you have good developing skills, you can do any kind of customization as long as you know the code. The main reason for its popularity is its price. Magento is a free platform but you have to pay for themes, plugins, and hosting. For third-party apps and add-ons, it provides access to a secure large partner ecosystem.
Magento has established communities across the world. So if you are a fan of adobe and have good coding skills, you can go for Magento.
Pros:
With good coding skills, you do any customization.
Available thousand of free extensions and APIs for web service.
Wide network of over 250k developers across the world, providing additional functionality for its platform.
For third-party apps and add-ons, it provides access to a secure large partner ecosystem.
Large community support across the world.
Fair scalability and flexibility.
No monthly charges.
Cons:
Technical coding skills required to do full customization.
Not beginner-friendly.
Need hosting.
High overall cost (for complete setup).
---
3. BigCommerce: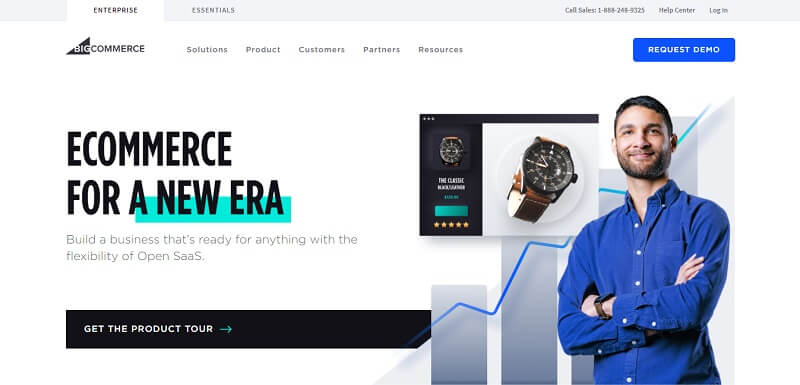 BigCommerce is a NASDAQ-listed eCommerce platform launched in 2009. It provides software-as-a-service services to retailers. BigCommerce is an open SaaS platform with quiet scaling and flexibility. It's a good Shopify alternative for upscaling your business. BigCommerce has a wide range of themes, although you can only access seven themes across all stores. Still, you have to pay for premium themes. It also provides a wide range of advanced features to enhance content marketing and allow you to advertise your product in different ways that increase your conversion rate.
So if you're looking to expand and scale your business, BigCommerce is also a good option. The Standard plan starts from form $29.95 per month and plans start from $79.95 per month. The Plus plans cover the all features of the Standard plans.
Pros:
Impressive SEO capacity and customizable URLs.
Features over 55 payment gateways with no hidden transaction fees.
Drags and drops visual editing tools to make creative eCommerce stores.
World-wide selling channels.
Ideal for both mid and large businesses.
24*7 customer support.
Cons:
Difficult to install and set up.
5 free themes only.
Due to Its variety of features, it is more complex than Shopify.
---
4. Wix: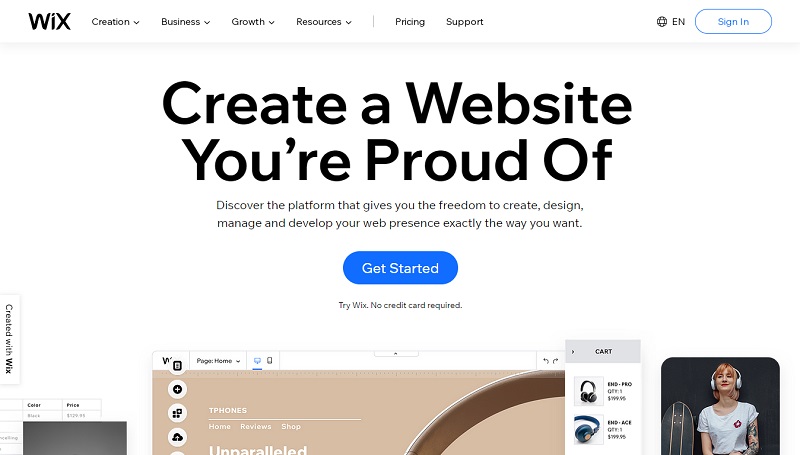 Wix is another popular eCommerce platform launched in 2006. It gains popularity due to its simplicity and easy-to-use interface. Wix provides a wide range of apps, templates, sleek editors, and customizable themes. On Wix, You can build your site in two ways – by Wix Editor(User customized) and by ADI(Standard). Wix most work on drag and drops HTML.
Wix's Business basic plans come in $3/month with 20GB storage and an ability to connect to another custom domain. Wix Business Unlimited plan at $4/month with 35GB storage, free domain name, and some add-on features, while Business VIP comes in $7/month. It is used by both advanced and beginners users. So if don't have any web building experience then Wix could be the best Shopify alternative for you.
Pros:
Easy to use interface.
Drag and drop feature.
Free templates and themes.
Offers marketing automation.
Provides free domain in premium plans for eCommerce websites.
24*7 customer support.
Free Plans.
Cons:
Limited storage of 50GB.
Poor SEO.
Weak Upscaling capabilities.
Weak AWS integration.
Limitation on traffic and bandwidth.
---
5. Shift4Shop: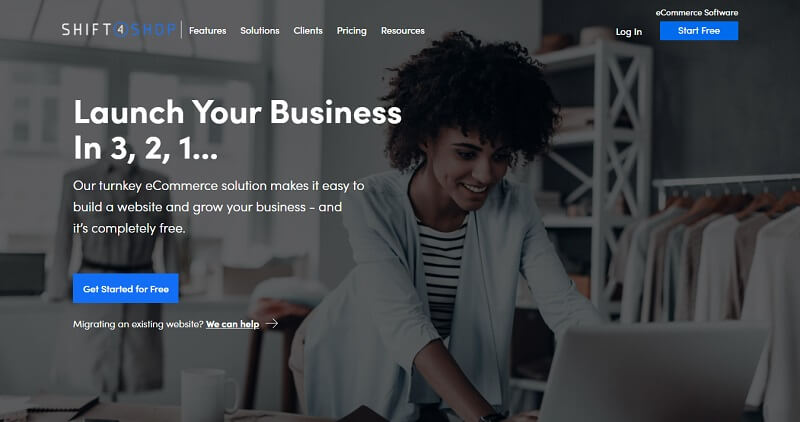 Cloud-based eCommerce platform, Shift4Shop is launched in 1997. It is a highly secured, feature-packed platform which offers you unlimited product storage. Shift4Shop offers SaaS services. Its flexibility and scalability are top of the chart. Shift4Shop has In-House Web Design Services and supports over 70 payment gateways.
Shift4Shop's plan starts from $19 which offers to buy you basic subscriptions, SEO tools, coupons, abandoned cart email, personalized products, tracking, Facebook sync, drop shipping, and some other bells and whistles.
Pros:
Unlimited product storage.
In-House Web Design Services.
supports over 70 payment gateways.
No hidden transaction fee.
Good SEO capabilities.
Cons:
No product search option.
Poor Customer support due to limited staff.
Outdated themes.
Poor services.
---
Conclusion:
Shopify may be a popular eCommerce platform but sometimes it doesn't meet the user's requirements. There are a lot of Shopify alternative platforms are present in the market and I selected 5 among them that you can go for. You can compare their features and price, and can choose a perfect platform that meets your needs.