4 Best Google forms alternatives in 2023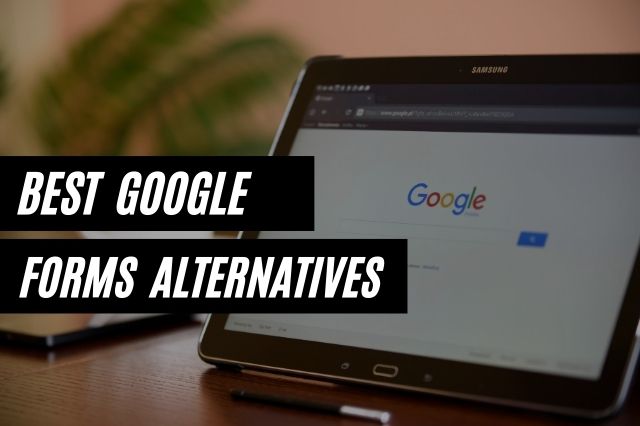 Google form is a popular platform that has been used by a lot of people for creating Google forms. Most people want Google form alternators, and they are planning to switch to other websites and other platforms to create their forms. In that case, you might need to look for the best Google form alternatives options that are impeccable in terms of functioning and better in terms of performance. In that case, we have compiled a list of all the prominent and best alternatives that you can get for the Google forms. Even if you are planning to look for the alternative option, you can easily select the best tool out of the options provided below to quickly get your work done without making your forms through Google forms.
If you have a WordPress website you can also use Free WordPress Contact Form Plugins to generate contact forms on your site.
Google form alternatives
Google form that most people have widely used for creating surveys and for generating questionnaires. Well, now there are a lot of other alternatives also available in the market that is not only excellent but also super functional. You must be wondering why people are switching to other options and not working with Google forms. The reason is that Google forms are essential, and there are no advanced options. Also, with the Google forms, you cannot collect the payment that is possible with other options. One other reason is that the Google form does not have any conditional logic option, which is why most of the people on earth switching towards customizable form styles and other form generating tools similar to Google forms but advanced.
Below we have compiled a list of the best and most appropriate alternatives for Google form that you might require in 2021. Make sure you look for the advanced option or tool for making forms whenever you are looking for the advanced option.
1. WP forms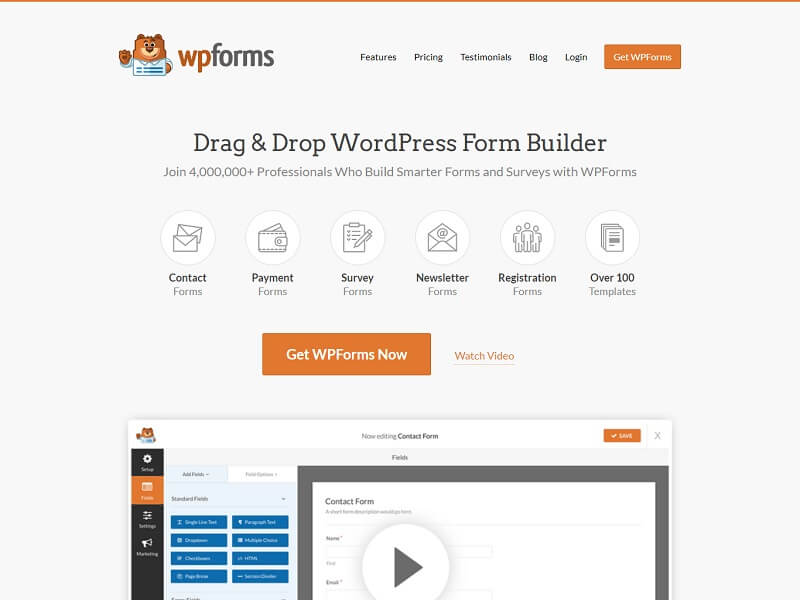 One of the most famous and user-friendly Google form alternatives is WP forms. It is available on WordPress as a plugin that you can install and integrate on your WordPress website. Around 4 million websites have been using the WP forms plugin, and it is the most accessible and most appropriate beginner-friendly WordPress form that you can integrate into your website. There are around a hundred plus templates available on this form plugin that you can use. It is available for simple and easy acceptance of the payment and also for promoting your products. One must fill in the easy and simple information in the form, and it can help with the Payment procedure quickly. Most of the email Marketing Services have also been using the WP forms plugin. It is free of cost; however, some customization options can cost you a letter. If you are going for the premium and WP forms pro version, you will have to pay around $200 per year.
2. Formidable forms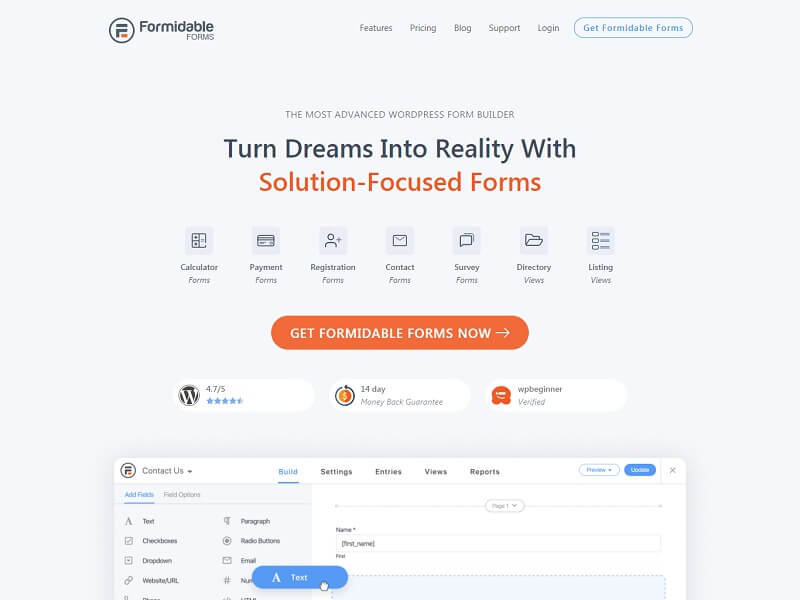 Another one of the excellent alternatives for the Google forms is formidable forms. It is an advanced form filling and forms generating tool that you can use. It is comparatively more advanced than the WP forms, and Google forms. However, you can easily integrate it to the WordPress website for easy payment procedures and other information. You will find out that there are many powerful and advanced features that you can use for preparing and generating extravagant forms for complete details. You can also find out that this form generating tool has a drag and drop feature as well.
So you need to drag and drop all the relevant information boxes and prepare your form according to your requirement. You can also integrate a mortgage calculator for a percentage calculator in this poem very easily. Most of the woocommerce stores have been using this calculator for quickly calculating the total amount. It is not as free of cost as the WP forms or Google forms. You will have to pay 46.36 dollars every year for the basic plan. If you are going for the premium plan, you will have to research a letter and spend a little more.
3. Typeform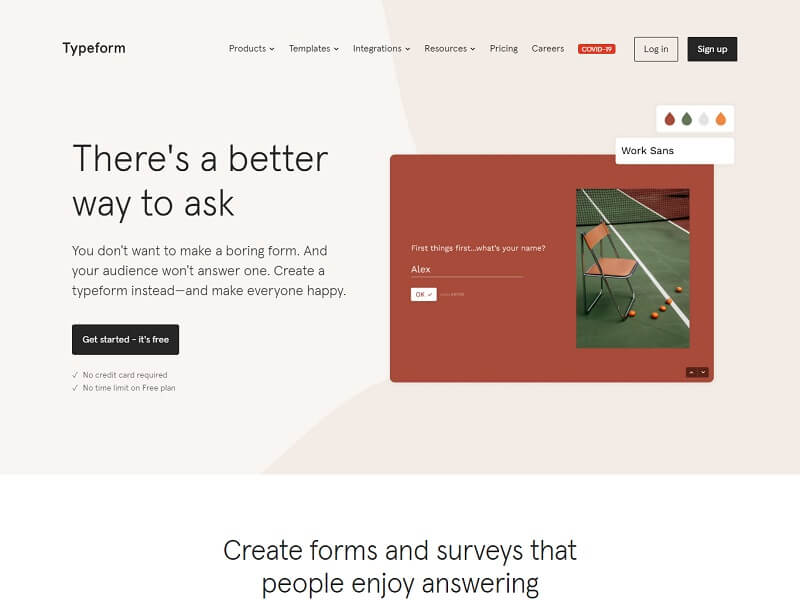 Typeform is another famous option, but it is not the easiest and most basic choice. It is the advanced form used for making quizzes and helps with making questionnaires and surveys. There are various templates available on type form that you can use, and the good thing is you can set up conditional logic according to your requirement in the form. You can easily integrate Typeform with Google forms and other various software and applications as well. This Typeform can be easily integrated with Google Analytics and Salesforce as well. You can also use it with Facebook slack and CRM.
4. Jotform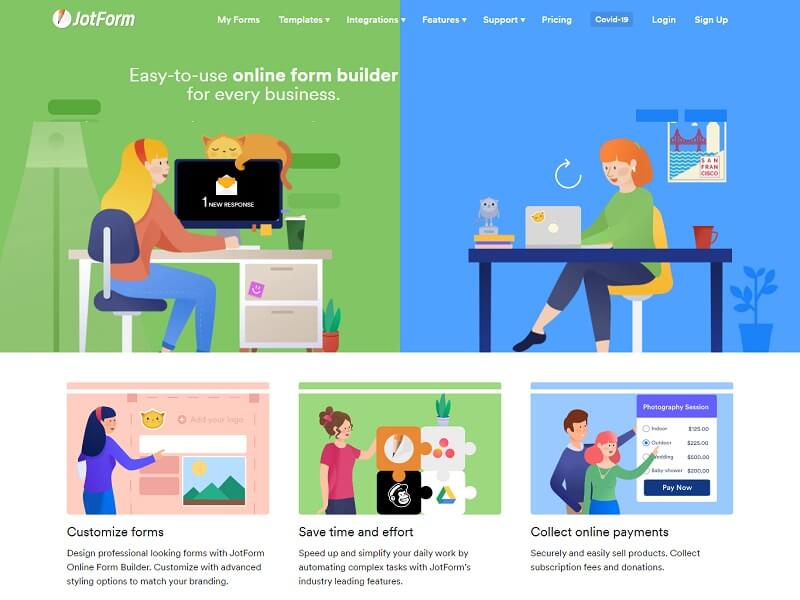 One of the most used options is jotform as well. It is simple and easy to use, and it provides storage of a hundred MB. You can create up to 5 forms, and you can also require 100 submissions with the free version. It is an excellent alternative for Google form as it is similar to the Google form and provides better options. You can create registration forms, and you can also provide the file upload Form with jotform. The initial version is free of cost but has Limited perks. However, you will have to go for the premium version that will cost around 174 dollars per year.
Some of the Other famous options include Microsoft forms and Zoho forms. You will also find out some incredible other features in most of these available options. But if you are looking for the best alternative to Google form, we will recommend you to go for the WP forms as it will help you with the money processing and it can be easily integrated with the WordPress store. There are various features available, and it is free of cost, which is excellent. You can consider the type form for the Zoho form as well. However, if you are trying to find the most used and most user-friendly alternative to Google forms, then WP forms are your perfect companion.