How To Choose a Perfect Domain name For Your Website/Blog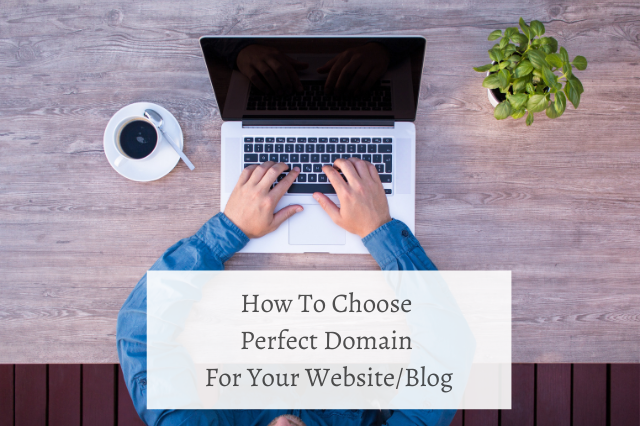 Whenever we make a website or blog, the first thing that comes in our mind is what would be the perfect domain name for our website or blog. Choosing a domain name is similar to choosing a brand name – it requires a lot of thought and precautions. And in this article, we will share with you some tips and tricks on How To Choose a Perfect Domain name that will help you in selecting a perfect domain name.
So what can be the perfect Domain selection tips for your website? We are going to tell you about them all here. But before we start let me first tell you that what is a domain name.
So what is a Domain name? Whenever you have searched a website, you must have encountered a domain name. You must have thought that what is the connection between a website and a domain name. So let me tell you that with the help of a domain name you can search the website on the Internet. This is a friendly naming system from which we can give the address of any webpage and web service.
All websites are hosted on one server and the domain name is the point of that server's IP. whenever you add a website name to your URL bar, then only with the help of your domain name, it points to your server's IP so that you can see the searched website in your browser. Similarly, you can see the website.
Now let's start with How To Choose a Perfect Domain name.
Your domain name is a very important element of your website, it creates an identity for your website on the Internet, so when you take the domain name, you must take some precautions.
Here I am showing you some points by this you will know why a domain name is so important :
When any visitor comes to your website, they will first see your URL.
A good domain name puts a positive and last long impression on the visitor. whereas no visitor likes to come on a useless domain name's website.
Your domain name also helps in SEO (search engine optimization) of your website.
You can later change it as a brand from the domain name itself. The keyword of your domain name helps your website, to rank higher in Google on that keyword.
If you do any type of business or blog, then buy the same type of domain name that reflects your business, this will also help in your SEO ranking.
Through domain name, you can make your business brand more professional. By doing this, there is an increase in awareness of your brand.
Now we are going to give you some tips on How To Choose a Perfect Domain name. Before starting, let's have a look at what we are going to cover in this tutorial.
Use .com, .org or .net
Shorter is better
Buy Domain Name from Reputed Company
Easy to type
Easy to pronounce
Niche keyword that reflects your website
Avoid hyphens and numbers
Use the keyword, keyword planner, and google search
Don't Copy other popular Blog
When you start a new website for yourself, you want to keep everything perfect from the beginning. In such a situation, it is a bit difficult to choose the domain name for the website. So to make this difficult task easier, I gave some best domain name selection tips here:
1. Stick with .com
Whenever you think of any domain name, its extension should be .com most of the time, .Com is the most useful domain name extension on the Internet. According to research, the share of the .com extension on the Internet is about 43%. Apart from this, there are many such extensions which are popular and are used worldwide. Some of the extensions are .net, .org, .in and so on . Websites created with these extensions are also very popular and successful. Every company wants to do its promotion only for the .com extension. If in any case, you cannot find .com, then you can use .net, .org, .in etc. Also, you can check by adding a suffix or prefix in your desired name. You can also use a tool for this if you are not able to do so.
2. Shorter is better
A shorter name is better for choosing the best domain name. When it comes to the length of any domain name you have to keep it shorter and simple. According to research, the common length of a domain name is about 12 characters. When you select a domain name, it should be between 6 to 16 characters. The short name is very easy to remember and easy to type. If you see our website's name, there are 10 characters in it. All this because it is very difficult for users to remember big names. Due to the big name, the user does not know about coming to your website. There can be many reasons behind this either, he has forgotten the name of your website, Or he is making a spelling mistake. So you have to take a domain name with a shorter name. So that you don't face any problems later.
You can also use some Blog Name Generators tool to generate a unique domain name.
3. Buy Domain Name from Reputed Company
Whenever you buy a domain name, buy it from a reputed company. Never fall into the mess of free because you may have to bear it later. Always buy a domain from a company where you don't face problems later.
4. Easy to type
If I will ask you about some of the most popular website's name that are coming to your mind? So I think Google, Facebook, Twitter, Instagram are going to come first in your mind. The most important thing is that these websites are very easy to remember and speak. If something like this is your domain name, then the user will not have much trouble in typing. If your domain name is complex, then the user will reach another website by mistake of spelling.
5. Easy to pronounce
It should also be kept in mind that whatever the domain name you are taking, It should be easy to pronounce. Do not select any domain name that is difficult to speak. Because if your domain name is easy to pronounce, Visitors will share your website easily with their friends. To know whether your chosen domain name is correct or not, For this, you take a piece of paper and write the name you have thought in it. And ask about 8 to 10 people to pronounce this word. If more than half of the people pronounce it, then your domain name is correct.
6. Niche keyword that reflects your website.
Now lets first understand what the meaning of the niche is? Niche meant that what your website is based on. For example, suppose you want to write on health, then health and all terms related to health is your niche. For making a trust value on the internet you have to write only on health.
So taking a domain name accounting of your niche is so much important because it reflects your business niche.
If the domain name is unavailable then you can try some more names by changing the previous names with suffix and prefix.
7. Avoid hyphens and numbers
Your domain name should also be easy to pronounce and easy to spell, But if you use hyphens and numbers then it is very difficult to remember it. Have you ever seen hyphens in a popular blog? Have you ever seen a new website like face-book.com? If facebook.com had done this, it would never have been this much success. If you do this, then there is also an effect on your SEO and the user also forgets your domain name easily.
8. Use the keyword, keyword planner, and google search
Whenever you select your domain, always try that your domain name must be unique. By doing this you will get a different identity on the internet. Never take a domain that resembles the domain of big blogs.
Just like flipkart.com has a matching domain, flipmart.com, by doing this you can not make your own identity.
You can use google keyword planner to choose your domain name's keyword. The keyword planner helps you to understand about traffic, competition, and other tactics related to your chosen keyword.
Whenever you select the domain name, then after that Google search is required.
By doing this, you will know from whom your competition is going to happen in the coming time.
9. Don't Copy other popular Blog
There are also some new bloggers who register the domain name similar to a popular blog by adding suffix, prefix. By doing this, he thinks that traffic will start to come on his blog too. But nothing like this happens and he works for 15 to 20 days and then he leaves and later he started saying that there is no traffic on the website.
I hope the above-mentioned tips on How To Choose a Perfect Domain name will help you to choose the best domain name. Your domain name can lead to the success of your website and before choosing your domain name, keep in mind the above-mentioned things, it will help you to choose a good Domain Name.