How AI Benefits WordPress Websites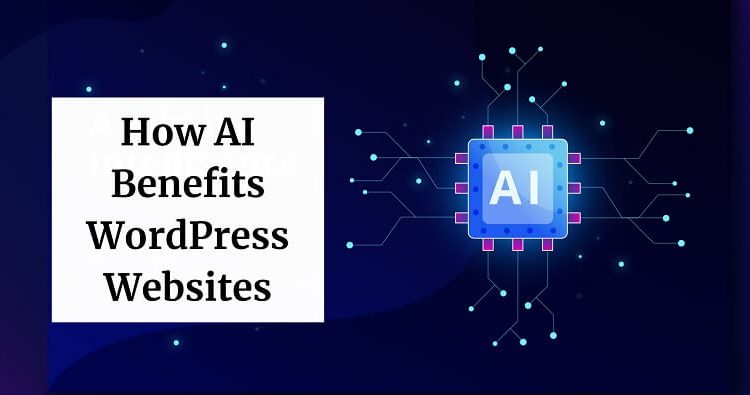 There are many things that come to your mind when you're developing the best WordPress website for your online store or business. It is difficult to balance creating quality content, SEO, and achieving user experience. So, in this article, we are going to discuss How AI Benefits WordPress Websites.
Artificial Intelligence (AI) can make it easy to optimize your website by streamlining some of these tasks. In this article, we take you through AI and explain ways it can benefit your WordPress website.
So let's start our topic of How AI Benefits WordPress Websites:
1. Improve Website Content
Your website is what represents your business online. This is where customers come to view your latest products and buy. That said, having a well-crafted website puts your image as a professional in the online market.
Customers should be able to view your business as being credible and professional by simply looking at your official website. AI makes it easy to establish this image online.
When creating content for your website, you can use AI tools to check for grammar errors and typos. An AI tool like Grammarly will proofread your content before you can publish it on your website.
You can increase the readability score of every blog published on your site, making it easy to convert the most customers to your business.
2. Automate Customer Service To Increase Sales
A good website should always have a live chat feature to keep customers engaged. You can integrate live chat on your website to engage with your prospects, answer their questions, and convert them to customers. AI-based WordPress live chat plugins can help to increase sales by helping you engage with potential buyers.
Most customers want immediate feedback on their inquiries. Therefore, having an AI-powered live chat feature on your website means you can provide an immediate response to all questions customers may have about your products and services.
When you use AI to handle customer inquiries, you won't be attending to requests all day at the customer care desk. You can use chatbots to help your customers navigate your website and find the products and services they are looking for.
3. Help With Search Engine Optimization (SEO)
AI tools can do more than help you create quality content. With the right AI-powered tool, you can increase the online visibility of your WordPress website. Being visible online means customers can find your website on search engines when they search with keywords related to your products and services.
You can improve your Google ranking and appear on the first page, increasing your traffic in the long run.
AI can also help you with keyword research and competitor analysis. You can know which keywords your competitors use to rank at the top. You can also create a list of relevant topics for your website.
AI also helps you with tagging, To write a perfect meta description, and LSI keywords. If you want to beat Google bots and push your website ahead of the rankings, you should have AI-powered software for SEO.
4. Generate Leads For Your Business
AI-powered B2B lead generation tools can increase leads for your business. Lead generation software makes it easy to identify prospects, establish relationships, increase your network, and drive people to your customers.
Generating leads for your business is about reaching out to prospects in their comfort zone and asking them to buy your products and services. With an AI-powered lead generation tool, you can reach out to prospects on LinkedIn, Facebook, and other social media platforms. You can also use these tools for data analysis, which is helpful when segmenting prospects.
5. Provide Business Insights
AI tools can help you with the predictive analysis of your WordPress website. You can gain useful insights that can help you grow your business. AI can study the current market trends and help you predict future markets. You can know what to expect from your customers when developing a new product. This will help you make the right decisions for your business.
Another advantage of using AI is that it interprets user data to feed your website. For example, you can predict which page on your website most people visit. This way, you can optimize such pages by adding forms to get information from customers. You can also predict your customers' favorite products based on their purchase history as provided by AI tools.
Final Thoughts
You can use many AI tools to make your WordPress website a leader in the industry. AI may seem complicated to most people, but its integrations are not that difficult to use.
With the right plugins on your WordPress, you can upgrade your website and make it more appealing to your target customers and your team. If you want the best for your WordPress website, you should look for the best AI tool to streamline the most repetitive tasks like content creation, live chat, and sending emails. I hope you like this article on How AI Benefits WordPress Websites.