Why Do I Need A Website For My Business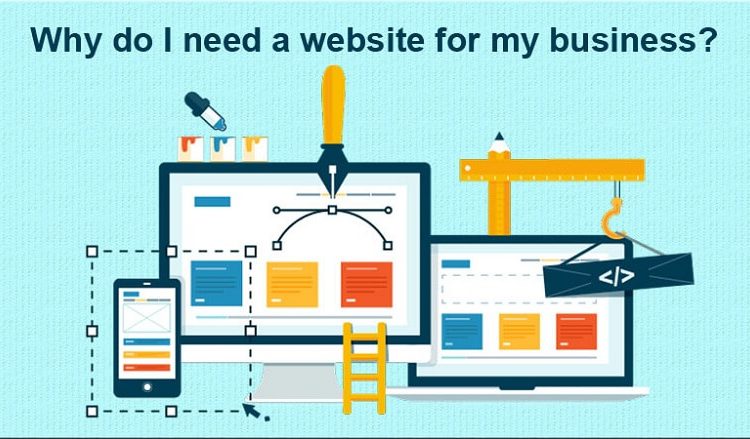 Why you need a website for business it's a very common question that comes in your mind when you start a website. If you are going to start any business, then a website is needed for that. and the reason for this is that in today's time people are spending more and more of their time on the internet and if your website will be on the internet then many customers can connect with you.
A Website makes you professional. people can be more engaged with you. Here are some points through which you can understand that why a website is important for your business.
Why You Need Website
A Website Gives Professional Look To Your Business

If you have a website for your business then the first thing it always shows is how professional you are for your business. because many people think that a website makes your business more reliable. and also a website gives your business a new identity.

People Search You Online

When you have a website then new customers will attract to your business. and they will try to contact you. a good website can help your business rank on top position for a variety of search terms. When your website will be available 24/7 on the internet so it means that any customer can visit you any time. When people find your website online, one of the advantages of this is that it also improves the SEO ranking of your website. and you can make more and more money.

Promote Products Online With The World

By having a Website you get a platform to show your products with the world and this the very best way to sell your products and promote your products. you can give any information about your products online to your customers. you can show your new products online to your customers and interact with them.

Website Is A Way To Contact With Customers

By your website customers can interact with you easily. today's time all people are searches everything on the internet and if your website is attractive well professional then people wants to contact you according to their need. So the website is the way which can interact with customers.

Updated Always

If there is a website which you have developed but now it is old fashioned and you think that your content is outdated for your customers then your update is very easy. So always a website is easier to keep updated.

Display Your Testimonials and Reviews To Your Customers

You can display your best reviews and testimonials online on your website which gives your positive response to your customers. This is a the best way which will create a positive response to your website in the mind of the visitor and they will be more attracted to your website
So we have shown you why all kinds of businesses need a website. you can see how many benefits you will get by a website. but now the question will come in your mind that how do I start a website for my business. So here I am telling you the process of how to make a website.
How To Make Website For Your Business
Choose Domain Name

Register Website Domain

Choose Website Builder Platform

Choose Hosting Provider

Choose any design template

Create Content
How Much Expensive It Will Be
The website can also be free and expensive. It depends on what kind of website your website is. like if you are choosing to DIY then you have to pay a very low monthly fee. On the other end for the custom website from a professional website design company tailored for your business needs. for this, you have to pay a few thousand dollars. Things go into the cost of a website like Hosting, Domain name, Design , plugin & extension, Complexity of design so these are some things that go into the cost of a website.
So I have shown you that why you need website and how you can create website for your business. by website you can grow your business. So here you have seen how a website can be beneficial for your business.