How To Make Money With WordPress Website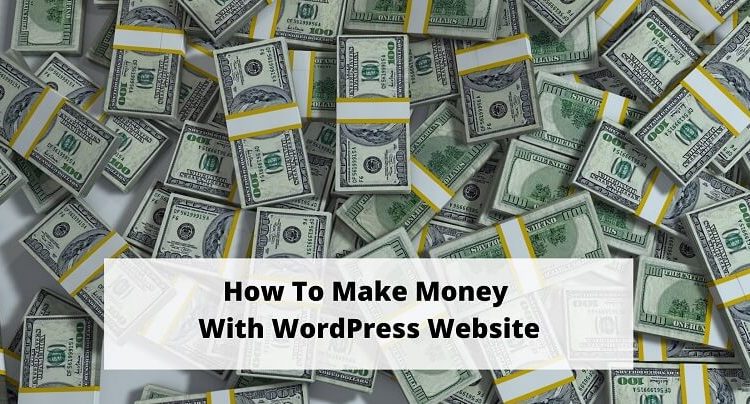 WordPress is one of the most popular site-building platforms because it's easy and free to use. It's also a great way to make some extra income. Whether you have developing chops or not, there's plenty of ways to make money with a WordPress website.
Before you can get started making money, you need to set up your WordPress site properly. Although WordPress is free to use, you do need to pay for a domain and hosting. The best WordPress hosting providers will offer one-click WordPress installation and free domains with their hosting plans. Once you have chosen a domain name and are set up with a hosting plan, you can get started on a plan to make money from your site. Read on to learn about the best ways to make money with a WordPress website.
Create An Ecommerce Business
Turning your WordPress site into an online store is as simple as installing a plugin. This will allow you to list products, run sales, and accept payments. It's up to you what you want to sell. You can sell anything from physical items to digital products and services.
Display Advertising On Your Site
If you've built a site that you really like, an excellent way to monetize it is by displaying advertisements. Most ads work on a pay-per-click (PPC) basis. This means you get paid whenever someone clicks on one of the ads displayed on your site. A good place to start is with Google AdSense, as all that's required is to add a line of code to your site.
Use Your Blog For Affiliate Marketing
WordPress is a really popular site for bloggers, and one of the best ways to make money from your blog is through affiliate marketing. With affiliate marketing, companies pay you to bring them, new customers. So, for example, if you write about computers and you link to a product you use a lot, you'll get paid each time one of your readers uses that link to buy the product you've recommended.
Offer Exclusive Content
If you have an established site with an audience that relies on your expertise, you can set up a paywall for exclusive content. This means that readers have to pay to access premium content like articles, images, music, research papers, videos, etc. However, for this to be successful, you need to be offering something that people are willing to pay for. For this reason, you should make sure you have lots of good, free content that will prove that your content provides value.
Create A Membership Site
If you have a lot of premium content, you might want to consider offering visitors a membership. This membership would allow them exclusive access to your content. You could even offer special discounts to members of your online store.
Ask For Donations
As a creator of content that your site visitors really enjoy, you may want to consider asking for support through donations. You would essentially ask that if people like your content, they show their appreciation through a donation.
Offer An Online Course
Online courses are an excellent way for people to learn new things. The internet makes education simple and easy, so you can make some money by sharing it if you have specialized knowledge. The range of subjects you could offer classes about are endless, it all depends on your area of expertise.
Build Plugins
If you know your way around PHP and understand versioning control systems, you can build your own WordPress plugins. Start by browsing the current plugins that WordPress offers and look for areas that they don't cover. Once you find an area that could use a new plugin, you can build a plugin to meet this need, then make it public and sell it.
Make Sites For Other People
Are you a whiz when it comes to WordPress? Put your skills to use by building sites for other people. There are tons of people out there that can't build their own site or don't have the time. By offering your time and skills, you'll be helping these people and earning yourself a payday.
Conclusion
WordPress offers a variety of moneymaking opportunities for beginners and professionals alike. If you're just starting out, try an eCommerce site or add PPC ads to your site. If your site has been up for a while, you can try affiliate marketing, offer exclusive content, create a membership site, or ask for donations. Also, if you're an expert in a particular area, you can offer online courses. And if you're a whiz at WordPress, you can build plugins or create sites for other people. Regardless of your level of expertise, you can make money with a WordPress website.