​​Here's How You Can Get More Followers On Instagram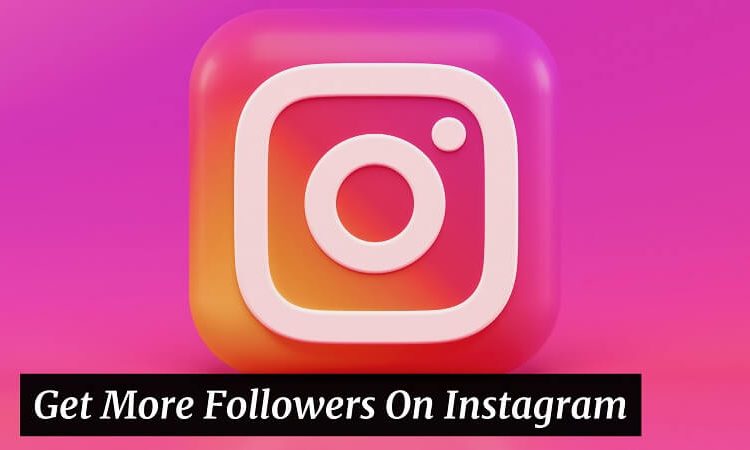 Instagram is one of the fastest-growing social media sites and is a key part of social media marketing. It's also crucial for small businesses. Instagram is one of the most engaging social media sites. The introduction of Instagram Stories has made it even more popular. If you want to use Instagram for your business, it's vital to get more followers. This blog will look at ways to get more Instagram followers.
What Type Of Posts Work Well On Instagram?
Instagram is a fun and engaging way to share pictures with friends. Here are some different types of photos that you can post on Instagram:
There are photos that you take using your smartphone. These are pictures that you could take anywhere, and they are good for showing views you want to share with others.
There are photos that you take using a high-quality camera. These are photos that you could post anywhere, and they will look better than those taken from your phone.
There are photos that you can edit in various photo editing programs.
These are good for photo editing contests and photo editing fun!
Set Up An Attractive Profile
Making an attractive profile increases your chances of gaining more Instagram followers. People like looking at pictures, so a profile full of pictures will likely catch someone's eye. Make sure to fill out the description and add a profile picture like a headshot or logo. And, remember to like pictures of other people from time to time. Not only does that make you seem friendly and like you have a life, but it will also allow you to see who is in your target market and if you want to engage with them!
You can also buy Instagram accounts from other businesses or influencers or websites that sell them. This is much quicker.
Use The Right Hashtags
There's a lot that goes into getting more Instagram followers. One piece of advice that newbies and veterans alike can get behind is to use hashtags. The right hashtags can make your photos stand out from others and get a following of their own! However, the wrong use of hashtags can hurt your chances of getting more Instagram followers, so it is important to find the right ones.
When you are trying to find the right hashtags for your photos, it's important to know what the hashtags are for your niche and the engagement of the people using them. If you have a high engagement with your hashtags and they are relevant to your niche, chances are they will get you more Instagram followers!
Post Quality Content
Increase your Instagram followers by posting quality content:
You want to make sure your photos are high quality. You don't want blurry or pixelated photos.
It's great to post photos of food, but many other people are doing that. You want to make sure your photos are interesting. You don't need to be a professional photographer, but having some knowledge of photography will help you out!
Post your photos on time.
You don't have to post them all at once, but they should be posted in a period that makes sense. For example, if you are a business owner, you might want to post photos of your products at the same time as your business hours, so people know that you are an active business and are open to the public. Also, make sure you post a mix of post types. These should include Instagram stories, reels, guides, and feed posts.
Publish Your Posts At The Best Time
It's important to schedule your posts to post at the right time of day to get the most engagement. You can use a free tool like Later to schedule your posts an hour before you want them to go live. Then use a free Instagram analytics tool to see when your followers are active.
You can then choose a time of day when your followers are most active and see what time your most engaged posts went live. By doing this, you can schedule your posts based on the optimal time of day and get the best engagement on your content.
Follow And Unfollow Others
You are always going to be concerned about keeping up with the latest technology. With so many new apps and social media networks, it's always best to stay ahead of the curve. If you are serious about Instagram and want to increase your followers, it's important to do your research. After collecting data from several sources, here are some helpful tips for increasing your Instagram followers:
Follow other active Instagram users.
Follow people who engage in similar activities.
Give shout-outs to users you follow and people who follow you.
Follow people who have a similar style as you.
Engage in conversations.
Avoid Buying Fake Followers
Buying fake Instagram followers is a quick way to make it seem like you have more people interested in your account than you do. The idea is that it will attract more real people to check out your account and follow you. However, that is not the case.
What happens is that you are tricking people into thinking your account is more popular than it is. You can post quality content rather than focusing on the numbers. You will find that real people will follow you for their reasons, and you won't have to worry about them finding out that you are using a fake service.
Share User-Generated Content
It's no secret that the best way to increase your Instagram following is by posting quality content and engaging with your followers often. The only thing is to post content that attracts new people. One way to do this would be to post content that people can engage with. This could be a photo or video.
The content could also be a question to which followers respond. Another way to increase your Instagram following is to post content that already exists on other social media platforms. This way, the post won't feel too heavy or too intense on one's personal Instagram account, and it can be a more relaxed and enjoyable experience.
Conclusion
We hope you enjoyed our article about 'how to get more Instagram followers.' With this knowledge, we know that you can make the most of your Instagram account and grow your audience when using social media platforms like Instagram. So what are you waiting for? Prioritize engagement to attract your target audience and get more Instagram followers. Download Instagram today and expand your followers and business today!