How Social Media Helps To Get Good Traffic To Your Site?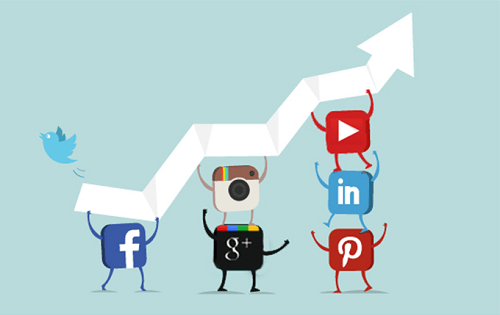 Social media has not only become a platform to exchange thoughts, views, and pictures, but it has also emerged as a popular platform for growing business by driving traffic. Small businesses are actively using these platforms to garner attention and an audience base. In 2023, around 91.9 percent of U.S. marketers were expected to use social media for marketing purposes; this number stood at 86.2% in 2013. 
The most popular social media platforms that can drive traffic to your business site are Facebook, Instagram, YouTube, Twitter, and Pinterest. These social media channels have different features that you can use to drive more organic traffic. But what's important for the business is to grow the traffic and followers organically. For example, the Instagram growth service from SimplyGram can help you gain more followers, which will eventually help your business grow for making money. This article sheds light on how popular social media platforms can help you drive traffic.
Facebook
With more than 2.89 billion monthly active users globally, Facebook is a market leader. Apart from sharing photos and exchanging views and opinions, Facebook also provides umpteen opportunities to business owners to promote their products and service and drive traffic. More than 200 million small businesses are using Facebook. You can even share your Facebook business page on other social media platforms, blogs, emails, and Facebook groups. 
To drive traffic from your Facebook page and profile, you can link your website to your Facebook page. Here, you can find a tab called About Us, where you can add your website link, phone number, email address, and other relevant details of your business, such as location. You can add CTA or Call-To-Action button on your Facebook posts to drive traffic and increase your sales. 
Instagram
After Facebook, if there is a social media platform actively drawing viewership and followers, it is Instagram. With a special business feature installed in 2016, Instagram has become one of the leading choices for many businesses to promote their business and drive traffic.
Instagram is a powerful social media channel that can help connect to audiences. You go for the live streaming on Instagram and create polls to engage with more audiences. Plus, you can use hashtags in your stories and tag your friends to follow your Instagram page. On Instagram, you can create stories with links, and people can click on your link to buy your products. 
YouTube
It is the second most visited website after Google, and you can use your YouTube channel to drive more traffic to your website. Starting your YouTube channel gives you the leverage to connect with maximum audiences. Moreover, you can easily share links on Facebook, Twitter, and other platforms to gather more views. To make your videos more appealing, you should optimize your YouTube videos and metadata with the right keywords. While the quality of the video is paramount, you must add verbal call-to-action in your video to drive traffic. Also, add your product and website URLs in your description section. 
Twitter
  Along with the other powerful social media platforms, Twitter has also emerged as a popular platform to engage people and promote business. You can drive traffic to your website and blog via Twitter, at the same time, you can also use the features like Twitter Chat to organize conversation on a particular topic, share recorded and live videos; organizing Twitter polls also works well to enhance the brand value and gain brand recognition.  
Concluding thoughts
Earlier, social media platforms were used only for social networking. But these days businesses are taking advantage of these platforms to drive targeted traffic to their main site. Also, these platforms are now offering specific features for business promotion and enhancing traffic like live-streaming, contests, webinars, Q& polls, etc. Most importantly, they offer amazing opportunities to engage with the audience and build a loyal customer base.