Simplify Your Design Tasks With These Graphic Design Tools
Hello there, in this article, we are going to discuss simplifying your design tasks with these graphic design tools. So keep reading.
The field of visual communications around the globe has started to blow up and tap many industries, from conventional publicity materials like brochures, company profiles, logos, and infographics, to digital materials like social media postings and website content. These graphic design forms have turned into powerful and compelling assets that many entrepreneurs love to execute because they yield favorable results.
With the power of technology merged with the internet, artists' options to develop high-quality graphic designs expanded. Many online graphic design tools are available — giving convenience, comfort, ease of work, and a wide array of editing features. In most cases, graphic design software centers on background removal. Some offer customizable templates, while other apps leverage stock photos and high-resolution images. Hence, plenty of programs for creative outputs can reasonably suit what you are looking for. In this article, let us explore some of them.
Why Good Design is Important
Producing visual content to aid audience communication is called graphic design. It is the best approach to convey ideas visually, which is crucial for brands wanting to connect with their target market. It is available in a variety of formats, methods, and media. Many artists mix and match colors, typographies, shapes, and other elements to craft the best output for marketing, advertising, and the like.
Today, graphic design is a demanding and competitive field. The industry where it belongs is constantly evolving due to visual information's growing significance and value in influencing customer decisions. The worldwide graphic design market has risen on average by 0.6% between 2017 and 2022, which is a great leap from its previous figures. Therefore, practitioners must maintain their skillset and regularly update their knowledge of graphic design tools to advance their careers. These visual design tools will assist you in realizing your creative potential, whether you have worked as a graphic designer for years or are just starting in this industry.
Coming from the point that there is much available graphic design software, the problem now comes with the question of "how to simplify your design tasks using these graphic design tools?" Let us untangle that posed query in this article and learn more about some of the top graphic design tools and design tips for artists of all kinds.
Graphic Design Tools for Your Needs
Here are the eight (8) tools that are crucial for graphic designers like you who want to unleash the next wave of visual experiences. These graphic design software vary depending on their use, specialty, pricing, and other features.
1. Removal.AI: Remove Backgrounds from Images Automatically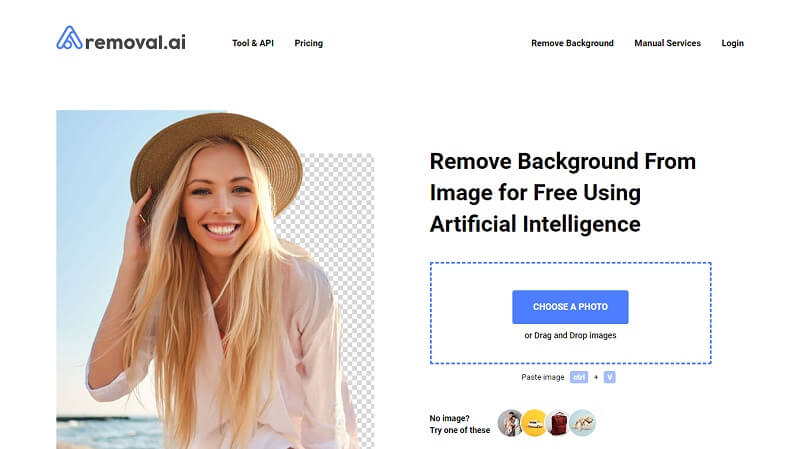 Using breakthrough and novel technology, Removal.AI, a renowned specialist in modern software, offers a range of services that enhance photos at the push of a button. It is an outstanding photo editing tool that maximizes artificial intelligence technologies and prime background removal capabilities for images. This graphic design tool combines knowledge-based methodologies and data-centered approaches to create unique, engaging, and valuable designs. Hence, there is an assurance that you can elevate your style to transform your creative outputs better.
Removal.AI advances its platform by catering to your needs. It instantly creates a transparent background to alter your photos into works of art, eye-catching banners, presentations, product catalogs, and other graphics. Here are some design tips and advantages you can reap when using Removal.AI.
Top Benefits:
Get photographs with a transparent, white, or custom background in three seconds or less.
Automatic subject recognition for images
Clean, distinct, and smooth cutout edges
Processing a single upload of more than 1,000 photos
Place texts and effects
Use the background eraser tool to edit the foreground manually.
Presets for use in various markets.
Enables speedy posting of your photographs.
Indeed, this graphic design tool is more than just a simple background remover. Instead, it also offers some editing features that can ease your workflow. Removal.AI often upgrades its features to keep up to date, making it the finest venue for your creative works.
All of these mentioned pros are available to you at justifiable costs. You may produce excellent outputs for you and your clients for free.
Nevertheless, you may also try out a monthly subscription for only $63.99, or $0.13 per page, wherein you can edit and enjoy 500 pictures. While a lifetime subscription, on the other hand, is available for $8.99 for ten photos or $0.90 per image. Removal.Ai is just one click away, a user-friendly graphic design tool that will support your artistry and make your outputs cut above the noise.
2. Easil: Drag, Drop, and Design Your Graphics Easily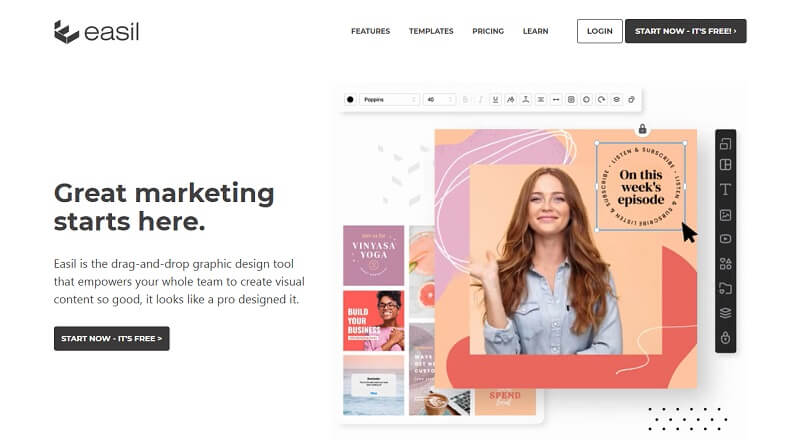 You only need to remember three words when you want to simplify your design tasks using Easil: Drag, Drop, and Design. These are the primary components this graphic design tool offers to the market. This graphic design tool aids in the creation of brand assets and project deliverables. Your team will adore Easil when you want to venture into a do-it-yourself creative route.
With Easil's brand kits, which include color schemes, fonts, typographies, videos, and around a million free stock images, you can guarantee a top-notch design that can captivate more clients and audiences. Aside from starting from zero, depending on your vision, you can also hit the ground running with their customizable templates that can be elegant, bright, modern, and elegant based on your preference.
Easil can be used in social media posts, brochures, letterheads, posters, and other materials. Its drag-and-drop editing allows you to reposition graphics, images, and text rapidly. Among other features, Easil can help you transform your concepts into different magical ways so that you can profit and share your superb designs with the world.
Top Benefits:
Easy-to-use graphic design software
Brand Kit that enables you to store and access all the elements in one place.
Flexible locking permission
Design approval workflow
Resize promptly for digital or print
Choose from thousands of expertly designed and trendsetting templates
Suitable for everyone, including non-designers
All of Easil's basic elements are provided without cost. However, you can also try Easil Plus for only $7.50, and Easil Edge, which offers superior designs, is just $59.
3. Kittl.com: Find the Perfect Design for Your Next Campaign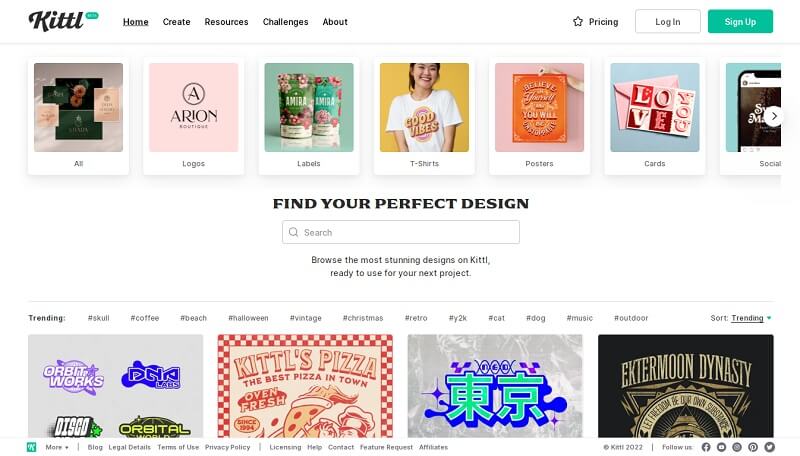 Kittl.com is a browser-based template graphic design software with thousands of modifiable templates. It is a powerful tool that aims to simplify complex design and ease your burden in producing creative materials. It is a cloud-based and browser-based platform making it more efficient for you to utilize and navigate.
You may take advantage of Kittl.com's potential to help your companies achieve success by using its wide range of tools, which also enables you to access different icons, portraits, typographies, and textures. You can easily distort any text with real-time text transformation, and change colors using its magic recoloring, texture clipping, and ready-made templates.
Top Benefits:
No software to install
User-friendly and intuitive design platform
Countless templates, typefaces, and graphic components.
You can create graphics in seconds
An illustration library
Premium images, banners, and text styles options
You can watch how-to-do videos on their website to learn more about design tips and widen your creativity.
Having these pros, Kittl.com's advanced tools make it the perfect graphic design tool that caters to your creative needs. Knowing how credible and reliable this software is is essential because it can efficiently support you and your team in generating relatable, trendy, and persuasive content online and offline. Indeed, Kittl is a go-to platform you should see and learn because designing has never been this effortless and seamless.
Brilliant designs can already be created without spending any money. However, it is highly encouraged to take advantage of Kittl's Pro subscription, which costs just $10 per month to access unlimited vector exports and projects, and a full commercial license with 1GB upload space. Kittl's Expert subscription, which costs $24, can give you all access to the platform's premium templates and 10 GB of upload space. Lastly, its Business subscription, which costs $79 per month, enables you to work with up to five more people in one account with advanced customer support and exclusive branding features.
4. Flexitive.com: Create Unlimited Variations of Your Designs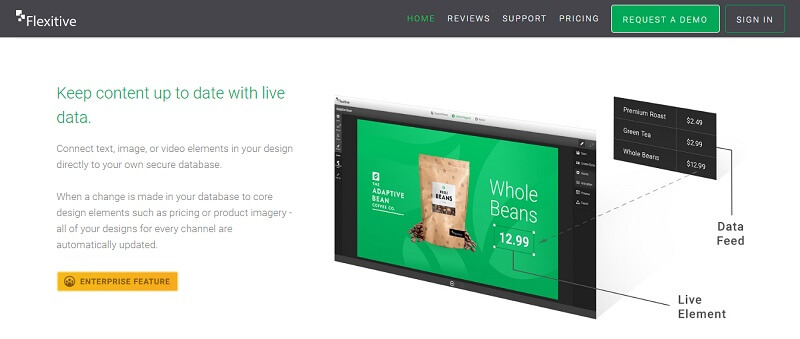 With Flexitive.com, brands, and agencies can accelerate the creation and execution of omnichannel designs. Because of its distinctive elements that you may use for free, this graphic design tool differs from other graphic design software. With Flexitive's developed "responsive" and "dynamic" design solutions, the marketing and advertising field may exhibit themselves at their best and improve their imagery and communication materials.
You can create changed forms of your work to clarify your thoughts because Flexitive.com advances efficiency across many metrics by utilizing a wide selection of designs and A/B testing. With the help of Flexitive's responsive design technology, you can rapidly and effortlessly develop variable outputs in a variety of fixed or completely adaptable sizes.
Top Benefits:
Responsive design and dynamic design production technology
Automate omnichannel design production and distribution
Provide better designs for use across all channels
Production of many versions to customize and strengthen your concepts
Develop a single base design that can be modified to fit countless dimensions and versions
Make global materials that can be updated instantaneously across a huge number of designs.
With Flexitive's Team Membership, you can create designs for cross-platform omnichannel communications with 100 GB of cloud storage per user. This deal can also manage many users, their permission settings, and the sharing of design folders among team members to aid productivity for just $59 per month. Flexitive's Enterprise subscription is also available for just $89 per month. With 200 GB of cloud storage per user, this subscription is ideal for companies who wish to distribute and develop outstanding designs for their brands.
5. Img.ly: Design & Build Any Creative Use Case For Your App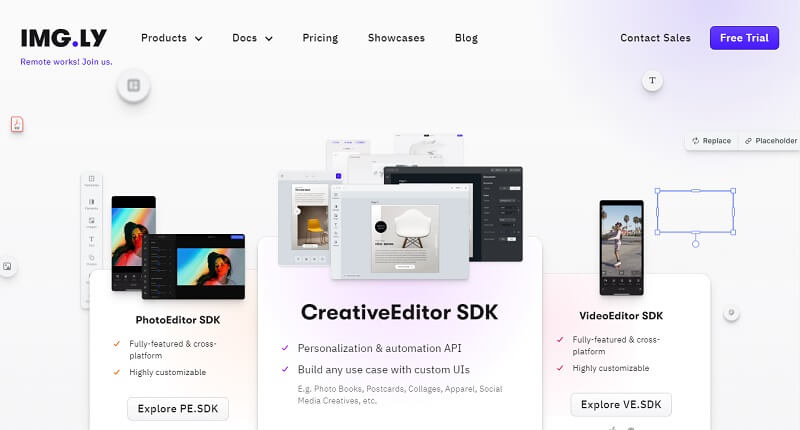 Since producing great designs typically involves repetitive, time-consuming operations, many creatives want assistance from different graphic design software. Undoubtedly, IMG.LY can help you with your day-to-day editing cycle and support you in building creative use cases for your app.
IMG.LY allows creatives to speed up their production without sacrificing the quality of their final products. Also, you can personalize the graphics for your applications by utilizing different free features. Since it was initially developed roughly ten years ago, this graphic design tool has already established its credibility in assisting groups in raising their level of creativity and output distinctiveness through several editing tools and remarkable pre-made elements and templates.
Top Benefits:
Photographer's SDK is the best Android, iOS, and web photo editing app. The PhotoEditorSDK can be customized to suit any use case, ranging from straightforward edits and filters to unique templates and annotations. You can regenerate photo books, postcards, collages, clothing, and also social media creatives. The SDK can be flexibly customized to match the appearance and feel of your application correctly.
CreativeEditor SDK is a cutting-edge, feature-rich design editor that is simple and flexible enough for every use case. The SDK's headless API and a great degree of customization let you create a unique UI. With just a few lines of code, you can build cross-platform creative experiences for every use case.
VideoEditorSDK is an industry-leading collection of vital video editing tools, ranging from filters and transforms to video and audio composition. It is trusted by thousands of top-tier businesses to integrate video creation into their applications.
Generally, the main objective of this graphic design tool is to greatly aid you in producing exceptional designs with convenience. IMG.LY wants to assist your team by offering resources that enable making layouts and editing videos much simpler and more efficient than the conventional method. Your group, or even just you as an artist, can successfully adapt to market demands and surpass other newly entering and established businesses. Also, you can always check their website if you want to unlock their exclusive subscription offers.
6. Designstripe: Create Beautiful Illustrations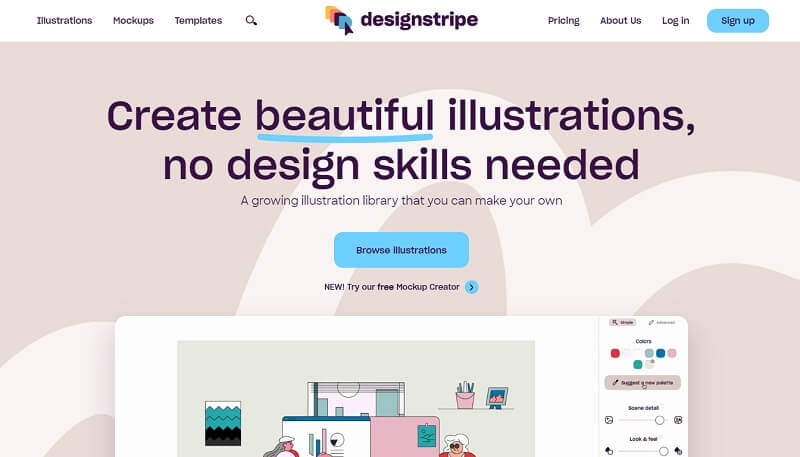 Many people anticipate that creatives will instantly finish many outstanding designs. Given that various industries are highly competitive, artists and individuals in the visual communication landscape need to adapt and reach these expectations. This is where DesignStripe enters the picture. With this prominent graphic design tool, many designers can concentrate on their areas of specialization, which saves them time and effort when deciding where to kick off their output. With the aid of different user-friendly editing tools under DesignStripe, individuals may focus on demonstrating and improving their abilities rather than starting everything from scratch.
Top Benefits:
You can add or erase objects from your scene while preserving composition and subject matter.
You can easily swap and alter things that best match your creative vision.
There are various new styles added daily to keep up with the trend.
You can utilize different color combinations based on your brand or personal preference.
Many available templates can elevate your artistry.
You can turn your designs into amazing mockups directly in your browser.
Above all, DesignStripe, as a global, distributed, and multicultural organization, aims to assist companies in releasing innovative products like brochures, mockups, digital postings, and other materials linked to design. But what makes it a standout is that you can already enjoy its power for free. But if you want to maximize its tools, you can go beyond its free segment and subscribe to its $20 per month offer to gain unlimited access to its available styles and have them in SVG, PNG, and JPG downloads. Yet, there's more to come since they plan to offer a Team subscription that will give your organization exclusive tools and other high-quality features like multi-user support and brand and color unification.
7. Drawkit: Hand-Drawn Vector Illustrations for Your Next Project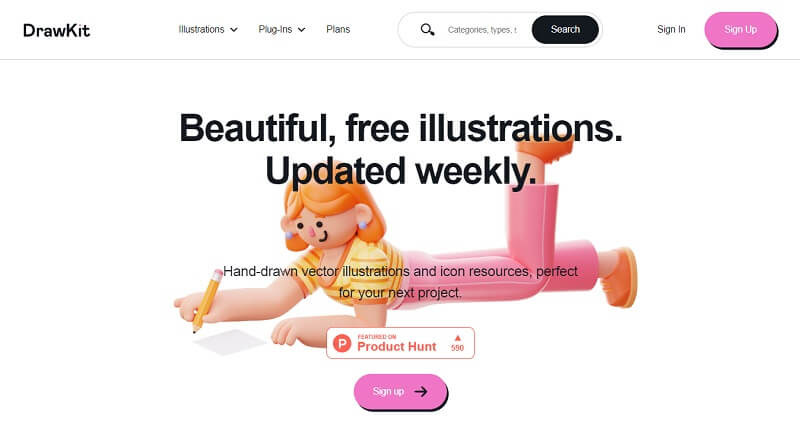 If you want access to beautiful hand-drawn vector graphics that are compatible with your business's strategies and brand goals, use Drawkit. Also, this sophisticated graphic design program has developed over time and expanded its platform by daily adding new drawings for your convenience.
Since Drawkit has already made a name for itself as a go-to resource for photographs and graphics online, this visual communication software is now a top design tip acknowledged by many creatives worldwide. It also provides a large number of options that can assist you in showcasing your creativity even more, like its animations, illustration kits, and contemporary designs and templates that can capture the audience for your company and establish a reputation in the market.
Top Benefits:
Free illustrations you can use and customize
Hand-drawn vectors and icon resources are updated weekly.
Offer diverse illustrations depending on your topic, like mental health, marketing, education, holidays, and other subjects.
Provide access to 2D, 3D, icons, animation, and mockups
Help you transform your web page into a more engaging and interactive one.
Besides this, the appeal of hand-drawn vector drawings makes them ideal for small enterprises and personal use. Drawkit has a ton of flexible graphics that best fit your demands, whether in digital marketing or e-commerce. Hence, it is a great deal you want to take advantage of. But aside from enjoying the free access, why not check out their Pro subscription, where you can relish unlimited access to its pro materials and priority access to its new collection for only $79 a year? Besides, you can also try their lifetime subscription, where you can get a great deal of access to endless professional and fresh content for just $295.
8. Renderforest.com : Access all the Design Tools You Need in One Place.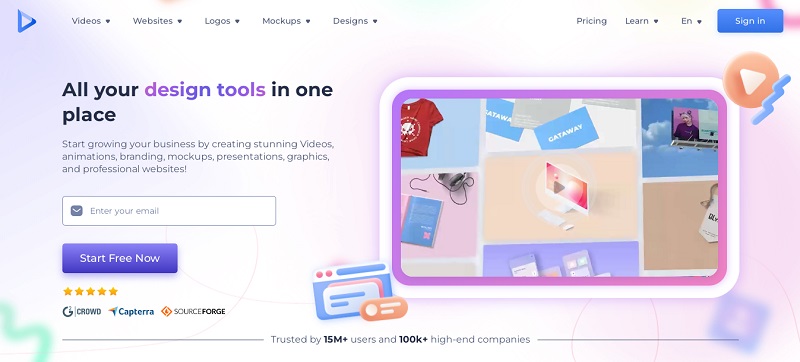 If you're in need of a logo, website design, or professional video and don't want to break the bank, Renderforest is your one-stop shop. With a wide range of easy-to-use video templates available on the site, you can create high-quality designs yourself at a fraction of what it would cost to outsource.
Top Benefits:
Captivating explainer videos, top-notch quality intros, and outros, stunning music visualizations
Easy to use online tools, you can create a custom logo that reflects your brand and guidelines.
Create beautiful product and company mockups to expand your brand recognition and sales.
Responsive websites are designed to load quickly and look great on any device
Create an unforgettable impression with beautifully designed, high-quality presentations.
Create stunning printables, documents, and more with high-end designs
Moreover, Renderforest has 3 different package deals based on what your needs are. The Lite plan starts at just $9.99 a month and is meant for businesses that are still growing. If you need more advanced growth tools and better designs; then the Pro plan might be right for you at only $19.99 per month. Lastly, the Business solution is perfect for enterprises or teams who want to produce extraordinary results and it's also only $19.00 per seat!
Conclusion
Graphic design has a challenging way to thrive. It is a complex industry to conquer and prosper. That's why you need to find the most effective graphic design tool that can be instrumental in achieving your goals. Besides this, the presented graphic design software ranges from different areas of graphic design. Your task now is to explore them and find out what best suits your capability and which tool can deliver good outputs for you.
When choosing which app to utilize; start by considering your current needs and the functionality you anticipate as your business and skill set develops over time. Graphic design tools can be expensive, especially subscription-based products. Yet, these are reasonable investments you can always rely on when you really want to stay and flourish in the arts and communication field.
Short Bio:
Lyn Pasco is a retouching and editing expert from Ephotovn.com who has worked in the graphic design and photography industries for over 3 years. Providing both personal and commercial clients with creative solutions, she takes great pride in her work.