Templates or Custom Coding: Which approach Should You Go For?

Questions to Ask Before Deciding to choose Templates or Custom Coding:
When you choose one in between Templates or Custom Coding you have to know about all the benefits of both. As an online entrepreneur, there are times when you have to build your web application. At that moment, you come across two options Templates or Custom Coding; you can either code your web application from scratch or acquire a free or a  no-code premium template.
The main difference between Templates or Custom Coding is the time and effort taken. Coding a web application from scratch can be very time-consuming and it also pushes back your development cycle for a couple of months. On the contrary, customizing templates might take a day or two depending on your expertise. However, a template might have limited flexibility when compared to a custom-coded web application. Also, it makes sense for you to code your web application if uniqueness and branding are your top priority.
If you're wondering whether to code your web application from scratch or use a template, we've created a checklist to help you make an informed decision in choosing Templates or Custom Coding.
Do You Have the Required Coding Skills?
Based on the project requirements, do you need to acquire extra skills to develop the web application? In what way is the current project differs from that of previous projects you handled? Do you understand the project fully from design, coding, testing to execution?
If you determine that you possess the appropriate skills, then you can opt to develop your web application.
However, if you realize that your skills are insufficient, the best option will be to use admin templates or web application templates. The main point here is, to be honest, and determined whether the learning curve involved for you to develop your web application is worth the time and resources or not.
You might choose to challenge yourself but ensure you can win the coding battles that you pick.
Do You Have Sufficient Time to Develop the Web application from Scratch?
Firstly, what is the project deadline? Can you accommodate your schedule and develop the web application?
Using admin templates is easy and fast. Even though you may need to modify a few lines of code while customizing the web application, overall the process is much faster.
If the project has a short deadline and you need a web application up and running within the shortest time possible, then using an admin panel template is the better option.
If you are a product development company or an agency looking for a scalable way of building web applications without compromising on performance or aesthetic appeal, then WordPress themes are a great way to speed up development. You could also build simple web applications using web application builders that allow you to drag and drop elements to create your web application with ease. we can share pro and cons of choosing one in between Templates or Custom Coding,
Pros and Cons of UI Kits and Ready to Use Admin Templates & WordPress Themes:
Pros of Using Templates:
No surprises in design:

With Free and Premium WordPress Themes and admin web application templates, what you see is what you get (WYSIWYG), there is no guessing on how the web application will look like. When customizing your web application, you already have a picture in your mind what it will look like. The UI kits provide UI interfaces that are smartly coded by prominent developers.
Themes and templates enable you to build a web application that is free of design flaws. With little or no technical knowledge, you can build a professional web application quickly through simplified steps. You can even customize the UI template as per your preferences by changing the pictures, graphics, colors, and layouts among other features.
Nowadays, UI kits also have fully-functional demos that you can go through and even test to see if they meet your expectations. Before selecting a UI kit template, make sure you log in and find out how well you can manage it and how flexible you are with it, then select the one you can comfortably work with.
High Speed:

Developing a web application from scratch takes a lot of time, certainly can even take a month to complete it. With the WordPress Themes or angular templates, the website or web application will be up and running within a short time-frame and requires minimum time to develop a web application.
Once you have paid for a template, a download link is sent to you and then you can begin with customization right away. Furthermore, you do not have to waste time hiring an expert coder to develop the site as it is with custom coded web applications.
All you need is to have your content and pictures ready to customize the admin theme in a way that suits your needs. You can set up a full-fledged and operational web application within hours when using ready-made web application templates.
Low Costs:

A professionally designed template can be purchased for as cheap as $39-299. You get several plugins and functionalities pre-built in these templates, you don't need to pay extra for each feature. These templates are readily available online, all you need is to check out the list of features and make sure that they meet your requirements. The template approach can end up saving you a lot of money as custom coded web applications start from $5,000 and can even go up to as high as $10,000 depending on the complexity of your project.
Versatility:

Admin panel templates make it possible to add and change content very easily. There is no prior coding expertise required for you to perform activities such as publishing articles, videos, and images.
Also, once you buy one template, you can use it to make many web-applications by customizing separately with different contents, images, and layouts, and many more. The UI templates have many pages each of which can be customized differently. For instance, MaterialPro React Redux Admin provides over 250 pages, which can be customized and tweaked in different ways to create multiple unique web applications using the same admin panel theme.
Choice:

There is a wide range of templates available to meet your specific needs, you can choose from WordPress Themes, Website Templates, or React templates depending on the technology architecture you need for your web application.
The best part is that within each template there are several page variants and live demos to serve you as an inspiration for your product. With thousands of design permutations and combinations on offer, you're spoilt for choice.
Functionality:

Templates come with built-in features that save a lot of time and makes customization easier. The features range from editing capabilities to SEO capabilities. For instance, the WrapPixel's dashboard UI kit has all necessary user-interface elements such as buttons, layouts, Photoshop files, feedback modules, widgets, and typographical settings, to allow you to create an impressive User interface.
Some UI kits provide add-on features such as photo galleries, communication features such as live chats, blogs, and bulletin boards.
More robust and complex UI templates will offer dynamic eCommerce capabilities such as ordering online, and credit card processing.
All these features have been tested by myriad users, and therefore are ready to plug and play right out of the box. This helps eliminate errors and malfunction.
The features require backend support from the hosting companies so when selecting a hosting company, conduct a thorough investigation to find out whether it supports the feature you would have on your web application.
Support:

Template developers and marketplaces offer dedicated customer support, in case you have any problems with the template that you've purchased. The support comes in the form of live chats, tutorials, community forums, or support ticket systems. If you need direct assistance, some companies offer customer help services bundled with the product.
Cons:
Limited exclusivity:
Admin templates that are freely available on the internet are not proprietary. The same design may be used by many individuals and companies at the same time. This means you may end up with a web application that is not unique. However, some templates do allow for customization and tweaks that help you set apart your web application from the competition to a large extent.
Limits on customization:
Web templates can be customized up to a certain point, which may not meet your business requirements. A lot of time might be required to spend on trying different tweaks with the template. You may end up spending more than you would have spent on coding from scratch.
It is difficult to select a template that will accommodate the content you would like for your web application. Otherwise, you may end up with a template that has limited space and looks overcrowded.
Pros and Cons of Coding Your Web application from Scratch:
Pros:
Accelerated learning:
In the current world, do it yourself (DIY) is the thing people highly prefer. You can equip yourself with a 'high income' skill if you learn to code a web application from scratch. Nowadays, all the information you need to learn to code is freely available on the web.
With a good internet connection, you can learn coding from YouTube or other online learning platforms. When you adopt a good design strategy, you only need to invest a few hours to learn the coding basics. After learning, it will take you just a few hours to set up your web application.
Web application coding skills like CSS, HTML, and JavaScript will help you in managing your web application and performing other basic tasks for your web application such as SEO.
You know all the ins and outs:
In the current era of digital transformations, technology is evolving at a very fast rate. As a business owner, getting ahead of technology is quite difficult but has become an essential part of the exponential growth.
For example, back in the days, HTML used tables to organize the web page. Later, web application design standards gradually changed, and then DIVs were introduced as an advanced way of organizing the web pages. Web developers who were familiar with using tables found it easier to transform using DIVs. Those who were unfamiliar with tables took more time to learn DIVs.
Brushing up on your coding skills and developing a web application from scratch means that you know your web application like the palm of your hand. Every line of code, every word of content, and every design element is something that you're familiar with. This means that you know exactly where to look if something goes wrong.
Ultimate flexibility:
Opting to use templates limits your creativity. The majority of the available admin or dashboards templates have fixed designs and structures. Some of these templates have fixed color schemes and admin panel features.
For you to acquire extra features, users are required to acquire either premium templates or pay annual subscription fees. These increases the web application design cost. As a result, you are forced to stick with the templates features whether you like it or not.
However, coding web applications from scratch gives you ultimate flexibility. As a developer, you can design and structure your web application based on how you feel its best suited for your business. You can design and add extra features on your dashboard or admin panel based on your coding ability or business needs. Coding a web application from scratch allows you to add features anytime you want.
Cons: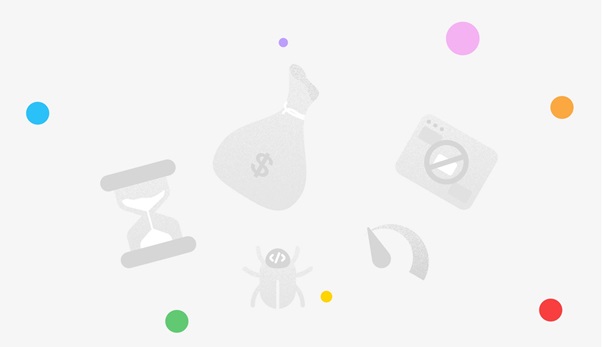 It is time-consuming:
If you go for a template approach, setting up your web application might take a few hours or at most a day of work. Web templates offer drag and drop features which make it easy to incorporate new functionality your web application.
However, if you opt to code your web application from scratch, you should know that learning coding skills is not sufficient. But you also need to understand web application development standards to ensure that your web application meets the required quality.
For example, to develop a web application using Angular, you will take at least 2 weeks to learn Angular. Now, imagine that you studied Angular JavaScript only for Angular 2 or 3 to be released. That means you will need to start learning all about the new updates. Hectic, right?
On the other side, you also need to focus on other important tasks like marketing your web application, understanding clients, and doing market research. It can be tough to become a part-time coder and a part-time businessman.
Extremely expensive:
Apart from consuming a lot of time, coding a web application from scratch is very expensive. In the US, an expert web developer earns an average salary of $60,000 annually. Developing an e-commerce web application will take you around two months. That is over $10,000 spent on developing an e-commerce web application. You might be forced to hire different talents based on the projects.
On the other hand, you can acquire admin templates for single-use to extended use for as low as $39 – $299. This means that you can get templates and start your web application at a low cost and then upgrade slowly as your business grows.
May look amateurish:
Do it yourself projects are characterized by unprofessionalism. Even though DIY projects start with proper and clear design goals, the end product is usually a far throw from what was promised.
Developing a web application requires a combination of skills from backend developers, front end developers, and designers. You might not possess all these skills.
These results in a disorganized web application with no consistency, jumbled images, unstructured pages, and poorly written content. The web application lacks a professional touch and exhibits a lack of skills.
In web application development and design, first impressions matter. Customers are likely to purchase or return to a web application with a professional touch.
Buggy and unoptimized:
Coding your web application from scratch might not produce the expected results. Using templates guarantees that you enjoy products developed by professionals. You benefit from years of skills and experience. Template design companies hire different professionals to ensure that each developed product meets the expected professional standards.
When you optimize to develop your web application, critical features like SEO optimization are disregarded due to a lack of adequate skills.
So What Should I Optimize for?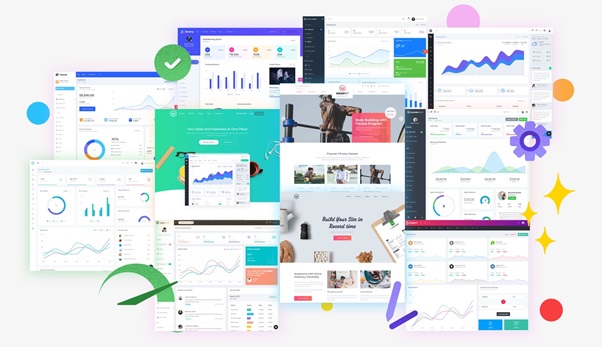 When it comes to user experience design. It's very difficult to give an absolute answer about which approach is the better one. It all boils down to your specific requirements from your web application or app. If you want a basic eCommerce site or data backend that's uncomplicated and straightforward, templates are the right way to go. However, if your product is something that no one has ever attempted to create, custom may the only way forward. Templates or Custom Coding both have their different benefits it's up to you which one is best suitable for your work.
However, like design and development experts, we'd love to give you a definitive answer to the question. Share the exact requirements and features you're looking for in a web application at info(at)wrappxel.com. And we'll give you personalized advice on which approach to adopt, all for free.
Did we help you make up your mind in choosing Templates or Custom Coding? Let us know in the comments below.
Read Also – 18 Best Free Popular HTML Website Templates