11 Tricky Tips to Improve Your Content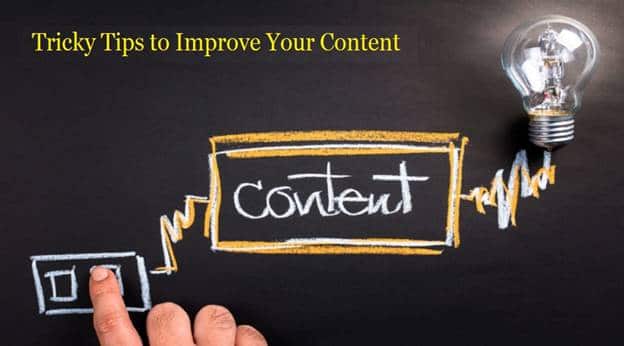 Digital marketing is beginning to mature, with more businesses shifting their focus to optimizing their content. As more messages need to be sent across various platforms, improve content should stand out and earn a lot more attention, whether organic or paid media.
But what can you do with your content to have that "thumb-stopping power"? Read on as I show you the different ways you can improve your content!
How to Improve Content
Content is one of the main factors in a successful website, so you'll obviously want to continue improving it correctly!
Are you ready to take your website content to a whole new level? With advice from Brisbane SEO Services, these are 11 tricks you should follow for content improvement:
1. Mix Up Content
Everyone responds best to different things, not all of us will like one trend! So if you want to reach as many people from your target audience as possible, mix up the content with the same message.
Some may respond to promos and discounts, others to action-oriented videos, or even emotional messaging. And of course, make sure that your message is relevant to them. Mixing it up can really maximize your impact and have you learn which tactics work the best for future outreach strategies.
2. Always Test, Test, Test!
Unfortunately, some marketers don't incorporate tests into strategies, or not doing it as well as they should. When creating a content plan, you should look into what you want and need to test.
You need to go beyond the typical testing plan, more than just colors and wording. Test how people respond best to your product pricing, images, and more specific details, all of which you can easily test online.
3. Look At Influencers
As you look for inspiration for content strategies, you shouldn't just research your competitors, but influencers. Influencers live for their content, knowing what their target audiences respond well to. Remember: Food videos were made by good bloggers and not brands or bug businesses!
Research influencers to come up with more ideas on approaching content. Social media platforms like Instagram, Twitter, and Pinterest can help you find newer and more interesting concepts your target audience will like.
4. Have More Fun
When looking at well-performing content, you've probably noticed that there are emojis and relatable catchphrases. These can increase email open rates and catch people's attention.
Instagram Stories are also interesting, using Boomerangs, stickers, or slow-motion video formats, which LinkedIn using, too! With all this in mind, you can see how people want more fun and engaging content. So be sure to add more of it into how you write, incorporating entertaining media as well.
5. Find Real Consumer Insights
The absolute best marketing content is made through the help of real consumer insight. Business content focuses on what, which are the product features.
You'll need to dig even deeper to understand the reason why such product features are crucial and how it impacts people. By doing this, your content will bring you better results and interest people further into both your content and what you offer.
6. Focus On Strategic Analytics
Businesses would look into reports and analytics, but you don't get much actionable and deer information. When reviewing analytics, ask yourself these questions:
What is this information telling me and what does it mean? What do I need to do about the report?
This is a good analytics method that focuses on making your approach more actionable. When doing this next time, the main goal should be to create actionable and implementable items.
7. Build Content Based On Relevant Connections
A lot of content falls flat if they weren't based on relevant connections. So if you want your content to hit people's hearts and interests, it should be relevant, contextually.
For example, football season has begun. How can you relate the times with what your business has to offer? There should be a proper connection to it, and not just say, "football season is here, so you need to buy from us!"
8. Use Newer Channels
When looking into the improve content you create, even beyond marketing content, look into the ways you can repurpose content on various channels.
Sure, you can use the typical social media channels like Facebook and Twitter. But what if you had content many more people can use in other channels like LinkedIn or SlideShare? This will give you more of a reach and lead interested readers to your business and website!
9. Reinspire and Repurpose the Best Content
Sometimes, it may feel tricky to create a lot more ideas or concepts, and we can run out of things.
You can check different online sources like Google Trends, Pinterest, or Buzzsumo for more inspiration for newer ideas. There, you will see the current trends, as well as what people are looking for and sharing.
You can also opt to repurpose your most popular content, turning it to infographics or videos.
10. Grab Attention With Better Tactics
In the midst of competition, you want to go all out and break through the crowds. As more traffic moves to mobile, you'll have even less time to get that attention.
People scroll faster and want quicker-loading websites and content. Because of this, you have to check your content and see if it can capture attention in just a few seconds and have your audience hooked!
11. Experiment With Other Formats
Think outside the box as you create content, exploring other platforms and blog formats without spending too much. For example, you can try using Live videos or Stories on social media channels. This is useful if you want to create a mini-training course, which can generate leads and an audience!
Wrapping It Up
I hope that these tips on improving your content helped you out! So don't wait any longer and implement these tips on your website and content today.
Do you have any questions or want to share your tips and experiences with improving website content? Share it in the comments section below, all your thoughts are much appreciated.