Will Article Spinning Get You to the First Page on Google?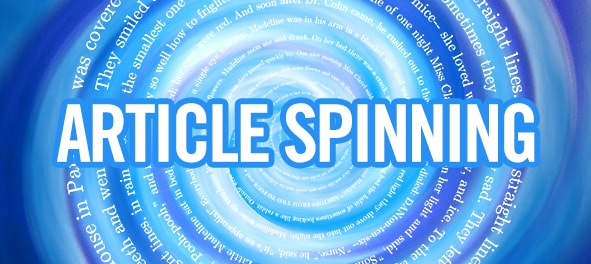 If you want to make it onto the first page of Google, you know that you have to produce quality content. Google wants websites to be continuously updating their content so that readers can get the information they want. But, if you have a business website, you might not be the best writer in the world. Yes, you are passionate about what you do and the brand you have. But, it is a different story trying to create content that people want to read.
So, you have probably been tempted to look for ways to make things easier. You may have heard people talking about article spinning and how it might be able to offer results when it comes to ranking. Let's take a closer look at this topic as there are some things you should know.
What is Article Spinning?
First of all, if you are not aware of what article spinning is, let's cover the basics. Essentially article spinning is taking an article or blog post that is already published online. Then, you are going to use it to write new content. It involves making tweaks to each sentence and using different synonyms so that it looks different. In particular, there is article spinning software out there that is able to do this for you.
Sounds great in theory, right? article spinning is supposed to be the way around plagiarism and a tool to create content without having to do all of the hard work. After all, content should be created on a regular basis to help with SEO. But, it takes a lot of time to find interesting and relevant topics, research information and write in an engaging way. This is why people try to cheat.
But, we have some bad news. Article spinning is classed as a black hat SEO tactic. There are so many risks that it should not be part of your website's plan. There are no ways you can cheat when it comes to SEO. If you really want to improve your ranking on Google, you have to put in the hard work.
Alternatively, you can hire an SEO agency to do it for you. This is something that ClickSlice can help with if you do not have time. Visit https://www.clickslice.co.uk/and you can check out the team. With years of experience, you can boost your ranking the right way and with white hat SEO strategies. This will make sure that your website does not end up in trouble.
Why is Article Spinning Risky?
There are a number of reasons why you do not want to get enticed by article spinning. Is it possible to improve your ranking? The answer is yes. But, you have to be prepared for the risks associated with using any black hat SEO strategy.
First of all, consider that you might end up plagiarising content. While you may use software and even proofread what you have created, there is still the risk that you are copying someone else's work. So, with this, there is the possibility that you could get in trouble with the articles.
Then, you have to think about the possibility that you will be punished by Google for your content. In particular, if Google finds that you have not followed their guidelines, they are going to punish you. The penalties can be severe. For example, you might have your ranking reduced. This means that all of your hard work will have gone out of the window and you may no longer appear on the first page where an audience can find you easily. In some cases, Google can even decide to remove you from the search engine altogether. In other words, nobody is going to find your website.
You also want to consider the fact that the people reading it might not like the content. Often, using article spinning software will produce content that just does not make a lot of sense or it is not what the reader is looking for. It can read poorly and simply not flow well. So, what happens is, that people will stop reading the content and click off the page. This is not going to make readers come back to your website nor see what else you have to offer. Plus. Google is going to look at the bounce rates of your site and know something is up.
In conclusion, article spinning just is not worth it. You have to focus on creating unique content and doing this on a regular basis. This can be a lot of work. But, it is best to look at creating quality and not going for quantity. Even if you are only able to produce small amounts of content a month, this can have more of a positive effect on your website than using risky black hat SEO tactics.