ATS – Betting Stats Odds And Bett Tracking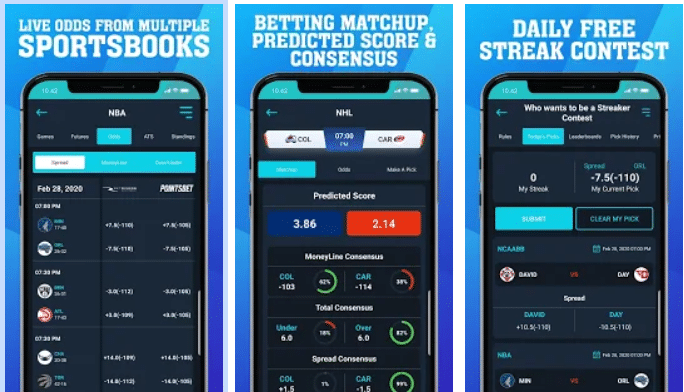 Are you looking for a balanced review of the ATS betting app? Well, ATS stands for Against The Spread. A lot of applications allow you to bet but very few of them give you additional features for free. ATS allows you free access to many of these additional features. An overview of these features includes:
A Sportsbook
A Feature To Keep Track Of Your Pickings
Predictions About The Score
Match Information
Daily Betting
Public Consensus About The Pickings
Live Odds
Bets.
To take a better look at this application, we will guide you through some of the features that make ATS a great betting app.
SPORTSBOOK:
The application provides you with an efficient and smooth mock sportsbook. The stats and figures are changed very quickly and accurately. You can make bets every day along with parleys. There is a rating feature allowing you to rate your picks from 1 to 10 units. Additionally, you can pick game sides, 1st Halves, Quarters, Periods, Totals, Money Lines and more.
ODDS:
Odds for almost all leagues are displayed in the app's interface. The change in stats is reflected very accurately and just as fast as they are being displayed along with every match in live real-time. These live odds are available for NFL, College Football, MLB, NBA, College Basketball and NHL from over 8 US sportsbooks, and many more leagues that are expected to be added.
LEADERBOARDS AND STANDINGS:
The easy and understandable User Interface allows users to easily navigate the application and you can view the information about each sport according to its prevailing season and also display the latest team standings. Apart from that, you can check your rankings against other cappers. You can follow other users and see their pickings and bets. You can also get:
Regular League Standings
ATS standings
HomeAway
As A Dog
Favorites and more.
GAME MATCHUPS:
The application provides you with the latest matchups between teams or players depending on the filters, you set for yourself. The users betting consensus feed from the sportsbook area is also displayed. Score predictions and team's performance stats are also visible to the user, like stats about the last 10 games played and about the times the current contesting teams have been head-to-head.
STREAK CONTEST:
This daily contest allows you to win prizes for free. You can win real cash for streaks. You can do this by making picks against the spreads daily. If you win 6 times in a row you are awarded a T-shirt and if you win 7 or more in a row you can get real cash prizes depending on your winning streak. You can play this by making a pick, watching a short video and submitting your choice. There are no limits on playing this game for you to enjoy and make some extra money.
COMPATIBILITY:
This application is currently available in the Play Store for Android users only. It is expected that the iOS version for Apple devices will be released soon on the App Store.
EASE OF ACCESS:
The registration and sign-up process is fairly quick and quite simple. Specially if you're already using their online betting sites, you will find the app to be just as good and smooth if not better. Once you register, you can search up any type of waging opportunity and place your bets there instantly.