How to Choose the Best WordPress Theme in 2023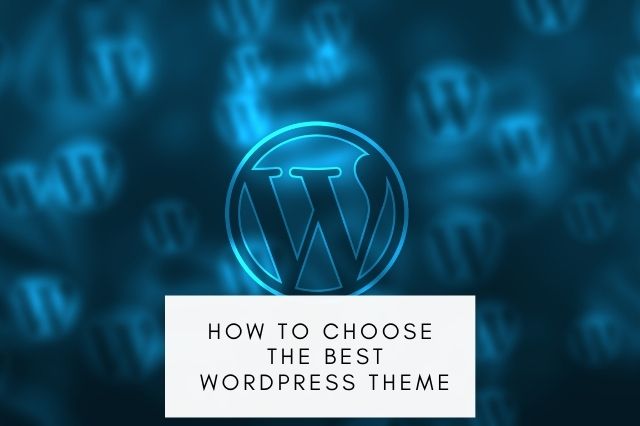 WordPress themes are very important features of the most used CMS. As such, new themes are constantly rolling out in a bid to enhance the design of the platform's website. Currently, there is a myriad of new theme releases and theme updates, designed to cater to web users, specifically for the year 2023. As a website owner, you need to ensure that your site is updated with the latest 2020 WordPress themes as well. Choosing a perfect theme for your site is a difficult task, In this article, we will share points on How to Choose a WordPress Theme so that you can pick the best one according to your site's needs.
Wondering what a theme has to do with the year?
Well, people are always changing their expectations for modern websites. They simply expect a website to reflect the current times. Therefore, you need to ensure that your visitors' standards are met so that you can satisfy their needs.
Failure to which your website could risk driving people away due to its outdated performance, which is unacceptable.
So, Why Spend Time Choosing a Proper WordPress Theme
Choosing a theme is one of the most important decisions you will make while setting up a successful website. So having knowledge of How to Choose a WordPress Theme is very important before you make any decision.
A theme can literally make or break a website. It is the face of your website and plays a major role in how your users perceive it.
And since WordPress creates all kinds of websites, each theme can cater to the different markets. Therefore, a good theme should complement the content of your website.
Additionally, the themes are fitted with many customization options. If not properly coded these options can make it difficult for one to switch between themes or use different WordPress plugins. Meaning you may end up having to pay a developer to help you change the theme on your website.
Thankfully, there is a way you can minimize the risks involved when choosing the perfect WordPress theme for your website. In this article, we will discuss the main tips to consider when choosing the Best WordPress theme in 2020. First, read on to find out the different types of WordPress themes available in the market today.
Types of WordPress Themes
WordPress features five different types of themes that you need to be aware of before talking about How to Choose a WordPress Theme for your blog or business. They include:
Free Themes – You can get these themes free of charge but with limited features.
Freemium themes – they are also free themes; however, they require paid upgrades as plugins to scale up the features.
Premium themes – You need to pay for the themes, and they offer all the possible features that a vendor can offer.
Custom Themes – These types of themes are custom built by developers to suit a list of requirements that a client provides.
Theme framework – These themes can be used as foundations for other themes.
Tips on How to Choose a WordPress Theme in 2020
1. Choose a WordPress Theme from a Trusted Source
As a safety rule, never download your WordPress theme from an unreliable or unknown source. Always look for themes from trustworthy and official sources. This way, you get a guarantee that the WordPress theme lacks coding errors or the ever-annoying spam links.
The safest place you can get a WordPress theme is from the official WordPress website. Here you can get countless options for both free and paid themes.
You should also consider reading theme reviews to ensure that the latest WordPress version can support your theme, as well as ensure the developers are prompt in responding to user inquiries as they arise.
2. Strive for Simplicity
Leonardo Davinci, a famous artist once said that Simplicity is the Ultimate Sophistication. He was right because, if you choose a simple theme with an attractive design, you are more likely to attract more site visitors and increase opportunities.
WordPress themes come with lots of different colors, flashy animations, and complicated layouts. You may need some of the features but in most instances, they may not be necessary for your website.
Therefore, you have to get a theme that supports your overall goals, looks good, and does not compromise on simplicity and usability.
Ensure that the themes presentation style is not complicated and serves the purpose of good and practical web design – to help users find necessary information from your website.
A good theme should look good, be able to get you new subscribers, and simple enough for users to navigate your website.
3. Go for a lightweight Theme
The type of theme you select plays a major role in the foundation of your blog or website. Ergo, it will have a profound effect on the website's overall performance and load times – regardless of whether you host it on top tiers hosting companies such as Bluehost or WordPress.
The time it takes to load your website is very important for your business in terms of SEO efforts, conversions, and user experience. Therefore, you should be very careful in choosing the right theme for your site. So, how do you know whether a theme is lightweight?
Easy! You just need to run tests on the theme by using performance-testing tools like the popular GTmetrix. Whether the theme is free or premium, you only need to install it on a test site then run the theme through a GTmetrix to see how it performs.
4. Ensure Theme has Cross-browser Compatibility
Just because a web browser is popular among your friends and acquaintances, it does not mean that all your website visitors all use it. You may be surprised to find that some of the users could be using different types of browsers on different devices such as a smartphone's built-in browser to access your site.
Moreover, a theme may look perfect on the browser you use, but it could be broken when opened in other types of browsers.
That said; ensure that your WordPress theme has cross-browser compatibility. Some developers rigorously test their themes using browser compatibility testing tools before releasing them into the market.
They make sure that they clearly mention this on their websites. If they do not, you can always manually run some basic tests to see how the theme works with browsers Chrome, Google, Safari, and even on different mobile browsers.
5. Ensure the Theme is Highly Responsive
A responsive theme should be able to adjust its layout across the different screen sizes, orientations, and devices. Over the last few years, more and more people have been accessing websites from mobile devices such as smartphones, tablets, and other devices.
Today, a large number of web traffic is generated from mobile devices. Thus, you must ensure that the theme you choose for your website is highly responsive if at all you want to rank higher on search engines such as Google.
Most WordPress themes are usually responsive by default. However, some theme vendors are still selling fixed-width layouts, making them unfriendly to mobile devices. Therefore, ensure the theme is highly responsive to avoid driving away your website visitors.
6. Look for High-Quality Support Options
The main downside of using free themes for your website is the fact that there is no guaranteed support for when you need help. Some developers may be generous enough to provide free support for their themes but most of them do not offer such options.
However, Premium WordPress themes feature top-quality support for the users. If you happen to mess up with the WordPress theme, you do not have to figure it out on your own or pay a third-party developer to fix it.
You simply need to reach out to the developers via online forums and email for support. Just make sure that that the theme has good documentation and support options. Many premium themes offer detailed documentation with 1 year of email support.
There's also the option of hosting your website with providers such as Bluehost which include a number of premium WordPress themes on all their hosting plans. This, of course, comes with a price, but you'll need a web hosting provider either way if you plan on building on a website. That is why I believe it is worthwhile taking this factor into consideration when choosing your provider.
Final Thoughts
There you have it. Choosing a wordpress theme for your website should never be a rush job. Selecting the best WordPress theme to use on your website could literally take days of researching and testing.
However, you should put in the effort because the theme will define your users' general experience and your workflow. The above-mentioned tips will help you to choose a WordPress Theme that will help your site hit its ultimate goal. Happy theme hunting!