LinkedIn For Developers : How to Attract Investors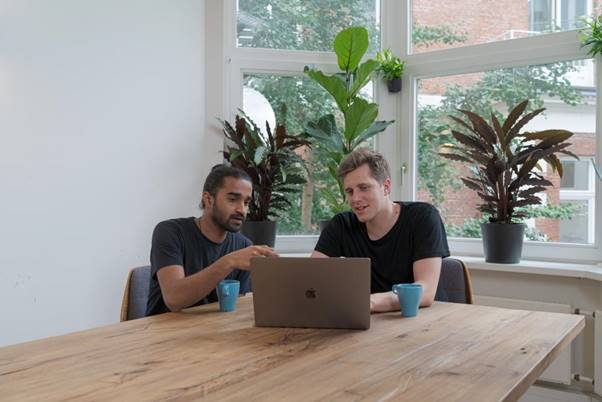 The success of a business idea derives from the love of customers. Sounds easy, right? However, you would need first to develop your product, propagate it, and make it recognizable. In this case, a developer would need some fundraising or credible investors like investors on LinkedIn to hire a team and create software that would turn from a startup into a profitable company.
How to find investors for a project, then? Developers can use different means from crowdfunding platforms to contacting investors directly. Simultaneously, they can ask friends or family for help. Yet, this usually works for small projects. The tech startups require a more significant inflow of money. Thus, developers may resort to venture capital funds or use angel investor networking to attract substantial sums. In this regard, one of the best places to look for investors on LinkedIn.
This article is to show how to connect with investors on LinkedIn and even find angel investors online.
How to Find Investors for a Startup: Basics
Potential investors for startups or projects require certain things from developers to be done. First of all, don't even look for investors unless you have your plan developed and your code secure. Some people copyright their code to protect the business. When you have ideas set up, try to identify the class of investors to be appropriate for your project. Hyper-growth startups, desiring millions, would need venture funds. The ones that require fewer investments, around $ 100,000-900,000$, for their growth would target angel investors. Importantly, for starting a developer agency, the developer can get assets from family and friends or create a credit line.
Contacting investors
In this regard, the entrepreneur has various ways to contact them. The good old email outreach strategy is an option. Nonetheless, you would need to find business email addresses via databases or extract them from websites, devise a great pitch, and hope that your email will hit the inbox.  For sure, finding a crowdfunding platform is another way. Yes, if your idea is great, people are likely to follow.
However, for this to happen, you would need an excellent team, some marketing efforts, and a supportive community. The latter is what, for many, is the hardest thing to do. Lastly, the special events organized by investors can facilitate you in getting funds. Yet, it will require some advanced networking skills and knowledge of how to sell yourself right.
Why LinkedIn? Selling and targeting
Notably, you may want to consider investors on LinkedIn as your leading connection strategy. Why? Irrespective of the model, to connect with investors, you would need an appropriate image, reputation, and an attractive plan, allowing you to write targeted investors and have some background.  As LinkedIn is a network for professionals and entrepreneurs, the developer with an idea can use it to create self-image, find an investor, research them, prepare a pitch and approach them.
Compared to other channels, LinkedIn unites the different approaches and offers the developer to contact via direct messages or ads, develop their community by sharing content or creating groups, and participate in digital events. LinkedIn has networking principles at its foundation in terms of utility, making it easier for entrepreneurs to conduct business. Thus, on LinkedIn, a developer can apply the principles of prospecting strategies, like social selling and targeting.
Social selling allows you to develop business relationships to connect with more people and get warm introductions. In other words, it is a soft selling via networking but online. At the same time, the proper targeting will help identify the investor that will best suit your interests. For this reason, LinkedIn can offer advanced search.  As a result, the professional focus of this social media makes it a tool that you can use to look for venture companies or even find angel investors online.
How to Approach an Investor on LinkedIn
How to reach out to investors? When trying to connect with investors on LinkedIn, the developer should think of the image their profile conveys and the communication to get to the investor. You have to be credible and determined in the eyes of the investors. Simultaneously, the success of your efforts depends on your research. You can have a pool of workers of venture companies or angel investors to contact beforehand. Also, you may look for investors that support successful projects. The following tips can help you get the investors you are targeting or connect with new people in the sphere:
Create a profile worth of investment
When you connect with investors on LinkedIn, your profile becomes a business card. What things matter? Focus on the photo, headline, summary, skills, and experience. The picture should be professional, while the headline should reflect your goal. Besides, spend some time writing a decent summary, showing your goals and expertise. Experience and skills are vital as well. They will show the investor how good you are and what to expect from you. Upon this info, they will decide whether to accept your invitation or not.
Make more connections
This action may not be as necessary as a profile, yet, it can be very effective in the long run. How? Connections give access to pages' profiles. Thus, when someone accepts your invitation, you get access to the profiles of your network. In terms of research, it means more insights and the ability to reach more investors. From the communication point of view, more connections allow you to ask for introductions if you have developed good relationships.
Conduct a search based on keywords
Next, it is impossible to find investors for a project without proper research. LinkedIn offers you advanced search possibilities due to keywords and filters. Combined with previous data on the people or companies providing investments for your niche, it can bring great results. How to find investors for a startup using the right combination of keywords?
The right way would be to search for people using the name of your niche. Next, choose the advanced filters and add the location, 2d and 3rd connections, and keywords.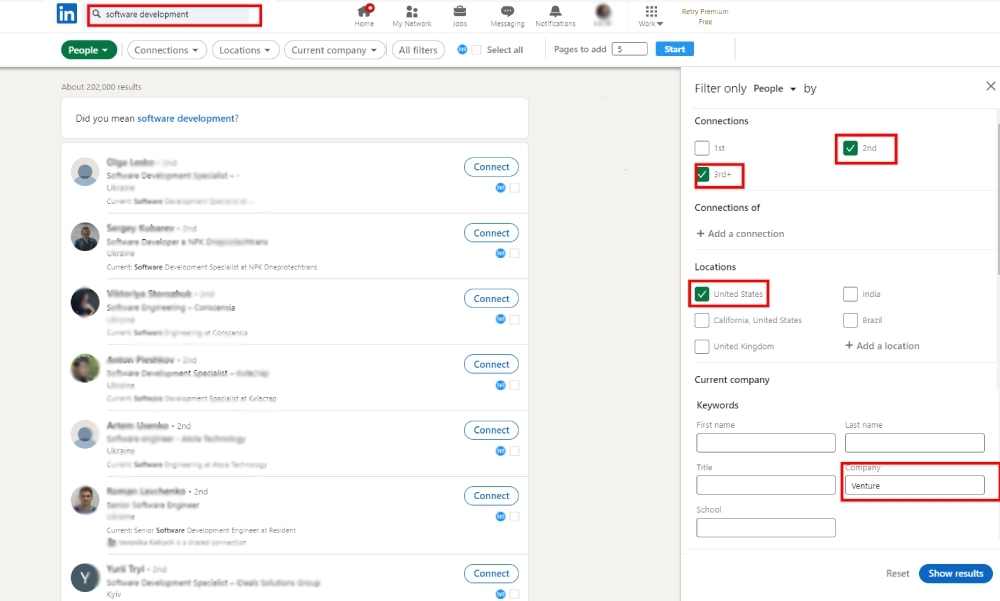 The best keywords to insert into the "Company" field of the search filters are "Investors," "Angel Investor," "Venture Capital." The reason is simple. Many venture funds or angel investors have these words in the names of their companies.  At the same time, you can google some info regarding other successful projects or tech startups in a similar niche. If you manage to see the connection, you can target the business actors who invested in them. Having names or at least a name of the investment fund narrows your search. After it, you can filter info based on the position of the investor.
Establish a relationship and offer value
As soon as you identify the target investor, try to build a relationship with them. Before approaching them, explore their profile, interests, content, and groups they are members in. It can help develop an ice-breaker in your message. Next, you have two possible scenarios. The first one is that you have someone from their network who can introduce you to them. It increases the chances of establishing a relationship.
The second one is when you are not acquainted. In this case, use the rules of outreach. Yet, avoid pitching your idea or offering anything in the first messages. A good tactic is to write them an InMail or send an invitation to join your network with a short notification. In it, explain your motives, identify the possible benefits for both, and demonstrate that you have shared values. Your text will depend on your research and your level of acquaintance. However, make the message short and precise.
Find an occasion and send them your offer
Yes, you should develop a relationship with the investor before pitching. You try a bald move and pitch your idea after they connect with you. However, you would need to be brief and tactful. You can write three lines "for their information" that you are looking for "investors" for your software business. At the same time, you can use other events to pitch your idea to the investor. For instance, you may happen to meet them at a conference. You can use it as an occasion for greater engagement. Also, you can comment on their posts and ask questions regarding the investments. If they respond, you can continue your communication.
Do not stop informing them
Notably, if they ignore your offer, it does not mean that you should stop communication. You may send them updates on your success. In this regard, the email newsletter can be just fine. There are email LinkedIn scrapers that allow you to extract corporate emails. After some time, they may contact you. investors on LinkedIn value their time and money. Thus, they may need time to research the niche and identify risks.