How To Find Guest Blogging Opportunities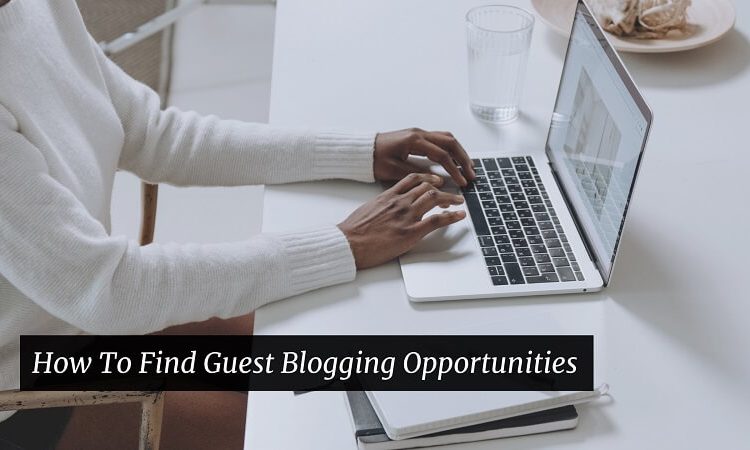 Do you have trouble finding guest blogging opportunities? Have you sent a bunch of emails but haven't received a response?
Sure, it's irritating and makes you want to give up, but don't. Guest blogging is an effective way to increase site traffic and generate more exposure for your business. That additional traffic and exposure will benefit you as a blogger, marketer, or owner of an internet business.
Finding blogs that accept guest posts can be difficult. The thing is, guest posting involves more than just writing good material. You must identify the ideal websites to get your work published and know how to target them for your guest posting campaign to be successful. Here's how you can find those websites and secure those guest post opportunities.
1. See Where Your Competitors Post
By seeing where your competitors post, you can get lots of guest blogging opportunities.
You're not the only person in your niche making use of guest posts. In fact, 60% of bloggers publish one to five guest posts per month. That goes to say that your competitors are most likely guest blogging as well.
That can be both a blessing and a curse. On the one hand, it makes it harder to land those guest post opportunities. On the other, you can use those insights to find guest post opportunities for your site so you can increase visitor numbers and increase your blog followers.
Here's how to do some basic competitor backlink analysis.
First off, create a spreadsheet to list your biggest search competitors. You probably know your competitors. You can add to that list by checking which sites repeatedly turn up in the search results for phrases that matter to your business.
For instance, if you search for "how to become a content creator," you'll get something like this.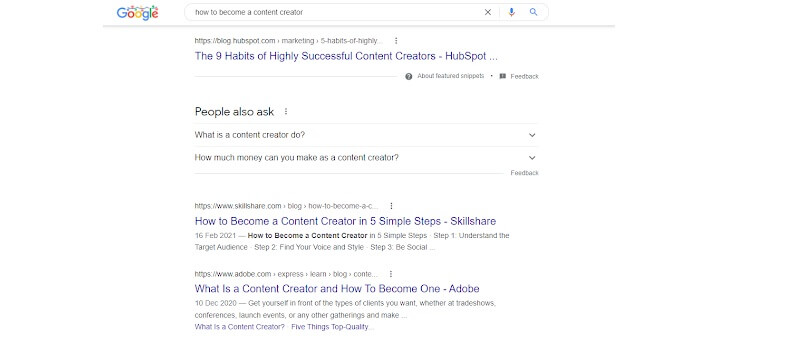 You'll notice that the top rankers on this SERP for the keyphrase "becoming a content creator" are Hubspot, Skillshare, and Adobe. If Hubspot is among the top rankers on the SERPs for other terms, it makes Hubspot a search competitor.
Once you have your list, check the backlink profile of your competitors. You can use tools like SemRush and Ahrefs for this. Simply input the competitor's homepage URL, and click referring domains.

The result page shows all of the sites that link to the site. Remove the ones you won't be able to guest post on, like Wikipedia. Create a shortlist of sites based on relevant website metrics. Key considerations include relevancy, site traffic, trust flow, and site authority.
List all the referring domains that link to your competitors. You'll have plenty of sites where you can guest post on that master sheet. Next, use an email finder to get the contact details of a person in the editorial team at each company and send your pitch. You can even schedule recurring emails to follow up with the editors.
2. Create A List Of Websites Using Relevant Keywords
Another way of finding guest blogging opportunities is by using Google. The process is straightforward, but it's a bit more long-winded.
Essentially, you use a combination of keywords to find guest post opportunities. Here are examples of guest post search terms to begin your research:
| | |
| --- | --- |
| 1. Your keyword "guest post" | 7. Your keyword "suggest a post" |
| 2. Your keyword "guest article" | 8. Your keyword "contributor guidelines" |
| 3. Your keyword "contributing writer" | 9. Your keyword "accepting guest posts" |
| 4. Your keyword "write for us" | 10. Your keyword is "submit an article" |
| 5. Your keyword "guest post opportunities" | 11. Your keyword "submit news" |
| 6. Your keyword "guest column" | 12. Your Keyword "become a contributor" |
Another strategy is to search for the name of people in your niche who actively guest post. For example, you can search for them using a phrase like "NAME + guest post."
Here's an example of this approach using the name of someone who writes many guest posts in the marketing niche.

You'll have to click through the results and check the suitability of each site. You can examine factors like domain authority (DA), website traffic, and trust flow.
List the domains you find in a spreadsheet. That is a free way to create a list of guest post sites. However, it's a lot less effective and more time-consuming than reviewing referring domains.
3. Joining Online Communities For Guest Blogging
Joining relevant online communities in your niche is a great way to find guest post opportunities. You can network with other people in your niche by joining relevant communities. Networking is a great way to find guest post opportunities.
To begin with, you must find suitable communities. Facebook is an excellent platform for online networking. You'll find lots of great communities. For example, I'm a member of the B2B Bloggers Boost group, a community for content marketers in the B2B sector.

The group is a great place to network with my peers and discover guest post opportunities.
You must actively participate in the debates in these communities and contribute to the shared resources to make this strategy a success. People will come to you with new opportunities. You just have to win their trust and create relationships.
4. Engage With Successful Bloggers
If you read enough blogs in your niche, you'll know the influencers in your niche. An excellent way to open up guest blogging opportunities is to connect with these people.
You should establish a communication channel with the editors and proprietors of the most authoritative websites. Even if you're not guest posting, keeping in touch can lead to new opportunities. After all, you can get introductions to other content creators in your niche.
The best way to start that relationship is to do people a favor.
You should approach this by considering the connection from the other person's point of view: what can you do for them, rather than vice versa? Maybe you can drive traffic to more of their content. Or, you can introduce them to other people in your network.
By developing a relationship before making a guest post request, you'll drastically increase the chance of getting a positive response.
5. Use Social Media
My final recommendation for finding guest posting opportunities is to use social media. There are various ways to use social media to find guest post opportunities.
The first and the most logical way is to network and engage with other people in your niche. That's what social media is for, after all.
My preferred way of using social media to find guest post opportunities is through LinkedIn. It's an excellent platform for finding and connecting with editors at popular sites. It's also more effective for one-to-one connections than Facebook.
If you want to use LinkedIn for networking, you should do the following.
First, search for the name of an authority site in your niche. Let me use Hubspot as an example.

Most businesses have a LinkedIn company page. Click on the page and then click "people."
You can then search for a person at the company to connect with. I recommend searching for a job title like "editor".

Once you've found someone who fits your criteria, you can send a connection request. For example, connecting with the "Senior Content Manager" at Hubspot would probably make sense if you wanted to pitch a guest post there.

As you might imagine, many marketers want to write for an authority site like Hubspot and they can easily reach out via LinkedIn to get their work published and get good exposure for their business.
In Closing: Guest Blogging Opportunities
Guest posting is crucial to your brand's success. You can also increase your online authority and gain from SEO. For your guest posting campaign to succeed, you must be strategic. That means you must choose the right websites for which to write. If you've never done anything like this before, this list is a fantastic place to start.
It might be challenging to obtain good-quality guest writing opportunities if you don't know where to look. This guide discussed some strategies you can use to land guest post opportunities. One of the most direct approaches is competitor analysis. Using tools like Ahrefs to conduct backlink analysis will help you identify sites you can pitch.
Aside from this, you should invest time in online networking. Joining online groups, befriending bloggers, and engaging in online communities are great ways to find fresh guest post opportunities.
Author Bio:
Nico is the founder of Crunch Marketing. The company works with enterprise SaaS clients, helping them scale lead generation globally across EMEA, APAC, and other regions.