Tips To Make Your Website User-Friendly and Immersive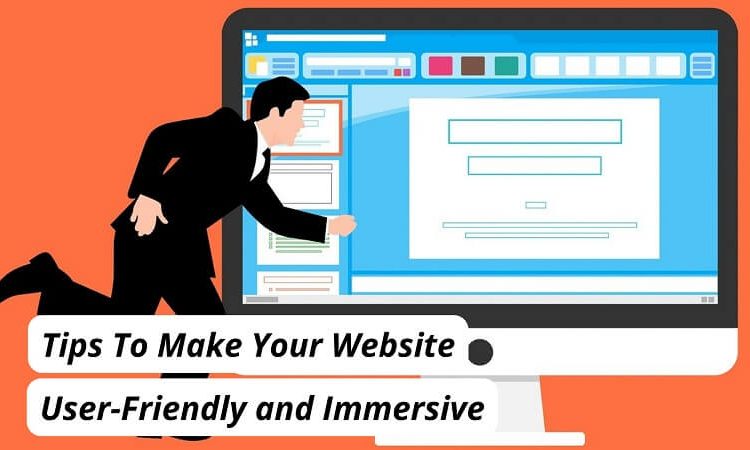 Hey guys, today in this blog post, we are going to discuss the tips to make your website user-friendly and immersive. So keep reading.
Is your website traffic declining, causing your Google search rankings to fall? Or perhaps, you're struggling to maintain user activity and compel users to spend more time exploring your website? Either way, these issues stem from an outdated or substandard web design that fails to impress its target audience.
Modern-day businesses operate in the digitized age of the 5th Industrial Revolution, governed by futuristic web designs, artificial intelligence, immersive graphics, and visually rich aesthetics. If your website lacks interactive themes and tech-savvy widgets, your brand image is bound to suffer.
Elevating user experience is easy as long as you understand your target audience and their design preferences. Read on to explore some tips to make your website user-friendly and immersive.
1. Make Navigation Simpler & Easier
Is your website designed to provide users precisely what they seek without demanding extensive time and effort? Modern-day users aren't accustomed to waiting or scrolling incessantly until they find what they seek. Popular platforms like Netflix, Amazon, Facebook, and others have made users accustomed to extensive personalization by deploying artificial intelligence to identify user needs and preferences.
Simple and straightforward navigation lies at the heart of a user-friendly web design. Users should be able to find what they need quickly and efficiently. Naturally, this demands a functional site structure with multiple categories and a comprehensive home page detailing everything they need to know.
2. Fix Technical Issues & Compatibility Challenges
Technical issues are an enormous red flag that makes users increasingly conscious of their safety while navigating a website. Google alerts its users to stay clear of websites that do not have security certificates or run the risk of exposing their devices to malicious bugs and viruses.
Addressing technical issues is imperative to make your website safe and attractive to its target audience. Smartphone compatibility is vital because smartphone users have increased considerably in recent years, and a vast majority of your target audience is likely to access your website via smartphone or tablet. It is important to ensure your web pages are compatible with various screen sizes and devices.
The page loading speed is another crucial factor that can compel users to leave your domain and log onto your competitor's fast-loading website. Besides this, the loading speed has a profound impact on SEO rankings and user experience. Moreover, you can improve the loading speed by addressing faulty background codes and images that take too long to load.
3. Add Elements that Hook the User
How can you encourage users to spend more time on your website? The best strategy is to infuse your web design with elements that hook the user, compelling them to stick around and explore immersive features. In order to execute this strategy, you need to understand your target audience, user preferences, and engagement patterns.
Does your target audience enjoy listening to podcasts? Or perhaps, your target users enjoy playing games at an online casino? Many websites feature lengthy podcasts, video panel discussions, surveys, games; and quizzes to encourage users to spend more time exploring the domain.
Interestingly, Google's bots and crawlers keep track of user activity, and websites that retain user engagement for longer periods enjoy higher SEO rankings. Gamification, podcasts, interactive quizzes, performance graphs, and also engaging blogs are some fabulous tricks to boost user engagement by offering an addictive experience.
Final Thoughts
Understanding your target audience is of the utmost significance when curating a personalized website experience. Modern-day users won't settle for anything less than complete and total personalization; businesses can adopt AI-powered tools to deliver such seamlessly customized experiences.
Suppose you don't understand the underlying drives motivating your target audience to go online and engage with websites. In that case, you cannot make meaningful changes to enhance their experiences.