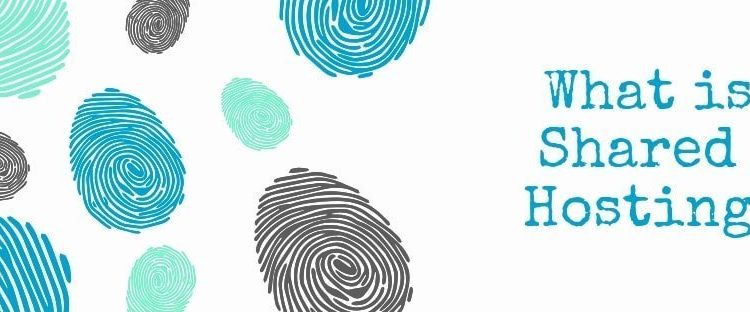 Shared hosting is a type of web hosting this is the most popular web hosting. but before giving information about shared hosting here first, I am giving you some knowledge about web hosting and what is web hosting, Web hosting is a service that allows organizations to post your website or web page on the internet. there are so many types of web hosting provided and choosing the wrong web hosting type can cause a big problem for your website so you should always keep in mind the type of web hosting you want for your website.
What is Shared Hosting
Shared hosting is the most popular and least expensive hosting service. It means that the server on which your website is hosted also hosts other websites. and when many websites are hosted on one server, it shares all the resources of the website services such as memory, storage, CPU, bandwidth, etc.
you have complete access to your hosting account, on which you can manage the account from FTP or the hosting provider's software.
These server hosting plans have a reason to reduce the price that a lot of websites are hosted on a single server simultaneously. And the cost of internet bandwidth with the server is shared by all the website owners. It is the best economical solution for an individual and small to medium-size business that does not have much traffic and needs fewer resources. But if there is a traffic increase of the website, then customers have the option of VPS, dedicated hosting available. On which they can switch but these are more expensive than shared web hosting.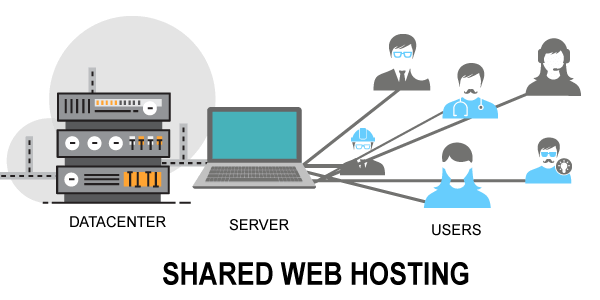 Why choose Shared Hosting
Shared hosting may not fit your needs but shared hosting is still the most popular web hosting platform. This is the most affordable hosting option out of all the hosting plans. Most individuals, small-medium-sized businesses that do not have a lot of traffic on their website prefer a shared hosting environment.
Now the question will come to your mind that why shared web hosting is a good choice for only small business websites.
This hosting is a good choice for small websites and blogs because small business websites typically don't require a lot of bandwidth or resources to support them and also a new website or small website doesn't require much space on the server because they tend to be simple and straightforward with the fewer website and file data so that's why they don't need a lot of server space or any kind of other resources.
So by sharing the hosting server with other user shared hosting allows you to get your small website space it needs at a very lower cost. so shared web hosting allows you to share hosting space and cost with others. and it helps your website to get the speed and space you need.
Let's understand Shared Hosting by an example :
Suppose you and your friend are buying a fridge but you don't need whole space inside of fridge because you have only one or two items to keep inside it and And you do not need the remaining space so now if your friend also has something to keep in your fridge then you can share it with your friend and you both can share the amount of fridge and the space inside the fridge will be used by both of you. and cost will be divided by both of you. so now you both are sharing this fridge.
So this is shared web hosting just like fridge there is a server on the web which you are buying for the small website but you don't require the whole space because you don't have much data and file on the website so you don't need it and now you can share it with other users.
Advantage of Shared Hosting
Easy to setup: Shared hosting is very easy to manage because most of the hosting companies are provide a control panel to manage the website.

Extendibility :All companies offer a lot of plan and package in shared web hosting.According to your requirements, you can choose a suitable package. The smallest package allocates you limited domain, lowest disc space and bandwidth, but good packages have additional features such as more disc space, more website, and bandwidth options available. You can upgrade the package according to your requirements.

Low-cost : This is the cheapest hosting of all hosting plans, which has very low monthly fees.If you choose a half-yearly or yearly plan, then you are offered even more discounts than monthly.

No Technical Knowledge required
Disadvantage of Shared Hosting
File Restrictions : All the websites hosted on the server have to depend on the guideline or software of the web hosting company as it is a shared environment. Due to the security of the hosting company you cannot install all types of script or software. It is possible that the application you want to run cannot run due to being restricted.

Server Crashes: There are chances of server crashing because it on shared with other websites also.

Performance: If your site is the host with a site whose traffic keeps increasing unexpectedly then it also hits the performance of other websites along with your website.

Even if all the website is of normal traffic in the shared environment, due to lack of another website (poorly built or designed), the performance or working of your website can be affected. It is possible that any such scripts and programs are run on a website that needs system resources, so in this case your website suffers.

If a website runs SPAM script on shared hosting, then the security of your website is also at risk. When this happens, your website becomes unreliable. The pages of the website will open slowly or not open, scripts and databases may not run correctly and the entire server itself will become unstable. In this case the technician has to reboot the server so that all the websites hosted on the server are down for some time.
Is Shared Web Hosting Right Choice For You?
Shared hosting is good for those websites who have
Limited data and file on server
Watching their budget and want to save cost
No coding and any kind of technical knowledge required
Easy to set up their website
So these are some features of shared hosting which you can keep in mind when setting your website and choosing a hosting plan for your website. and the right choice before taking any hosting plan is very necessary for your website.
Best Shared Hosting Providers
Here we are giving you some best-shared hosting providers which you can use for your website.