Boost Your WordPress Site's Performance with MilesWeb WordPress Hosting
Is your website built in WordPress?
Are you now looking to make it available on the internet for your audience? Probably, you've come across several web hosting options to host your website. One of them would be WordPress hosting. This type of hosting is specially designed for websites built in WordPress.It already has WordPress installed on its platform and also the server is fully optimized for WordPress.
There are tons of providers in the market that provide WordPress hosting, but which one to choose is a big question. To make your task of choosing the WordPress hosting provider effortless, we will provide you a summary of one such provider that offers enticing features at cost-effective prices. Here, we are referring to 'MilesWeb'.
This web hosting company is known for delivering competitive rates. This doesn't mean you will have to compromise the speed or uptime of your website. Bringing all of these essential factors for the product into consideration, they still have the lowest price in comparison with other providers.
About MilesWeb
Back in 2012, three people who have extensive expertise and experience in the web hosting industry established MilesWeb.
The organization started to provide all the small business owners with an effective web hosting service at economical rates.
Their main asset resides in their support staff, a community of individuals with vast experience and skills in Windows and Linux systems and its management. They have expertise in handling control panels like cPanel and Plesk, virtualization technologies, server migration and more.
MilesWeb provides massive web hosting services for almost all kinds of websites. If you've got a simple website, for example, their shared hosting package will be enough. If you have a big website like eCommerce, they have an AWS driven company hosting solution. If you want to sell their web hosting packages, you can even do that as they offer the best reseller hosting.
Their other offerings include: dedicated hosting, VPS server, email hosting, Magento hosting, cPanel hosting, unlimited hosting, business hosting, managed Digital Ocean, managed AWS cloud, SSL certificate, Spam Experts, G Suite, Office 365 and tons more.
To know more about MilesWeb watch this video:
MilesWeb WordPress Hosting Plan Includes:
Pre-installed WordPress:
When you host a website on the MilesWeb WordPress hosting platform, you don't have to start from scratch. You get a WordPress application ready-made for hosting your website. This saves precious time for uploading and installing process of WordPress on the site.
Automatic WordPress Updates
Once you host your website with MilesWeb, you don't have to worry about the updates of WordPress. All the updates are enabled automatically on your WordPress platform. Your WordPress updates for the themes/plugins would be automatically patched.
SSD Storage
MilesWeb WordPress hosting service comes with SSD disk included. An SSD drive is much quicker than a traditional hard disk drive. When your platform is hosted on a server that has SSD capacity, it provides 200x higher output for your website. The rotating mechanism was used by the HDD drives and is therefore known as spinning drives while, the SSD drive uses the flash mechanism to store data, which is why they are also known as flash drives.
Website Security
For any website, installing an SSL certificate is a must. This helps you not only in ranking but also in gaining the trust of your website visitors. With an SSL certificate, all the information exchanged between the web client and server on the website is encrypted and stays secure. MilesWeb provides a free SSL certificate to keep the crucial data of your website protected. They have integrated the Lets Encrypt SSL certificate for their entire web hosting plan and WordPress hosting plan as well.
Free Domain
Why spend more, if you get it for free? Yeah, you will get a free domain with MilesWeb WordPress plan. Simply check whether your domain name is available using their domain checker and register at zero cost. Pick a domain name for your business and that's all! With a 1/2/3 year purchase of their WordPress Hosting Plans (Heart and Diamond), you get a. COM or. IN domain name for free.
MilesWeb WordPress Hosting Price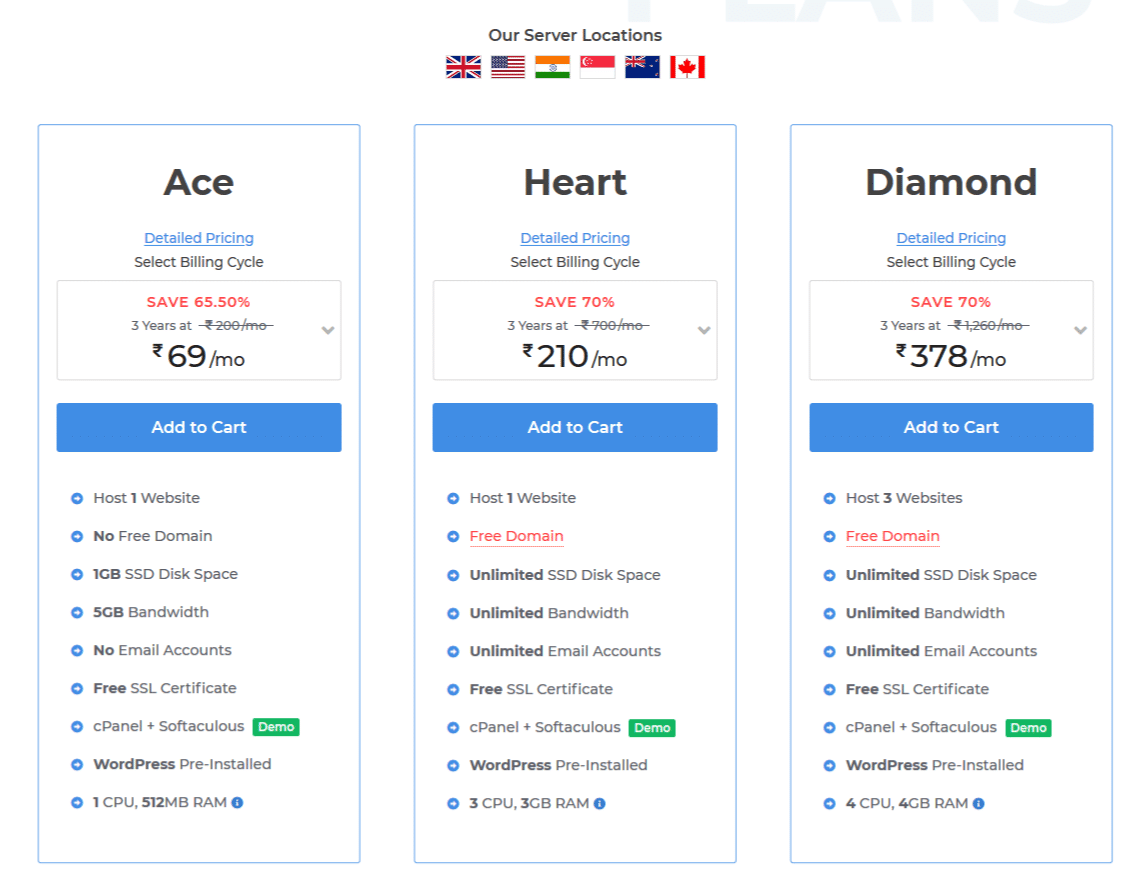 MilesWeb WordPress hosting plans are widely popular and are known as the best WordPress hosting in India.
It starts from Rs. 69 per month as currently, they are having an offer going on. This basic plan is named Ace and lets you host 1 website, 1 GB storage space, 5 GB bandwidth, Free SSL and cPanel. While the other two plans are namely Heart and Diamond.
The Heart plan costs Rs.210 per month with free domain, one website, unlimited SSD disk space, unlimited bandwidth, unlimited email accounts, free SSL certificate and cPanel. With the Diamond plan, you can host 3 websites with unlimited bandwidth, unlimited disk space, free SSL, free domain, unlimited email accounts and cPanel.
Bottom Line
MilesWeb provides a decent price with outstanding WordPress hosting services. Their excellent WordPress hosting features ensure your website is stable, fast and always up.
When you're trying to purchase cost-effective WordPress hosting and features filled, then MilesWeb is a perfect option. There is no risk in checking out their services because they are fully assured about their quality of hosting and they are providing a guarantee of 30 days.