Aweber vs Mailchimp – Tricky Tips to Choose for Better Marketing of Your Business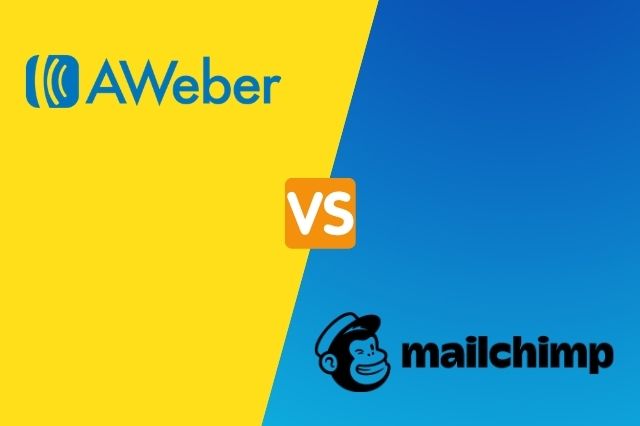 The world has changed its ways rapidly, and the most amazing is the ways of exchanging information that has made the world closer than ever. One such system is an e-mail which has made it easy to communicate in any part of the world in seconds. Have you ever used an e-mail application? There are countless email software like Mailchimp the growing e-mail application with a better marketing plan for you. Both of the applications are awesome to use. But are you confused about these two? Well in this article we will tell you that which is better for you and why, so keep reading this article. In this, we will talk about Aweber vs Mailchimp in deep and definitely you will get all the solutions to your problems.
Before discussing Aweber vs Mailchimp in detail, let's explore how e-mail has secured such worth in the presence of so many other communication means. Some reason why e-mail is overpowering to other communication tools are following:
The e-mail has a well-arranged way of storing your messages, so the retrieval of the previous messages becomes easy. Other tools don't give you such a facility.
You don't have to pay extra for the e-mail. It just needs to have an internet connection.
E-mail is not bound to a particular device; on the other hand, you can see even older e-mails on any other device by just logging into your account.
You can attach any of the files with the e-mail, while other communication tools do not allow this.
The above-given facilities make it inevitable to choose e-mail as a communication tool.
Now, let's start with Aweber vs Mailchimp:
What is Mailchimp?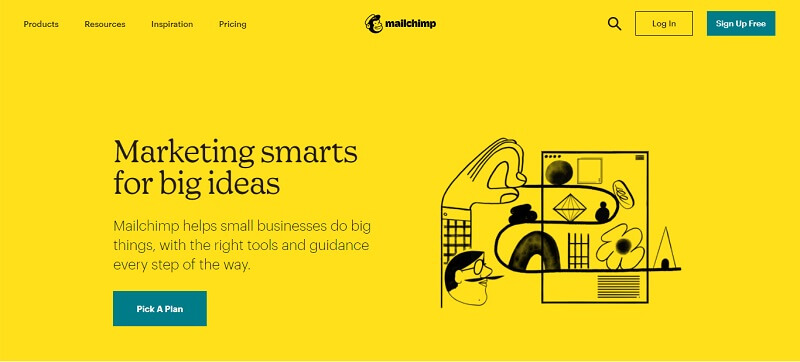 Are you a business person and watching some e-mail service for marketing? If it is so, you have come to the right place as I give you the details about an e-mail service ideal for marketing purposes. Yes, I am talking about Mailchimp, one of the best-known e-mail services for marketing purposes. Mailchimp not only ensures the delivery of your e-mail instantly, but it also offers plans for marketing your business. It offers four plans.
Free Plan
Essential- that cost 9.99 dollars per month
Standard- that cost 14.99 dollars per month
Premium- that cost 299.99 dollars per month
Your subscribers, the number of users for the account, analysis report- everything depends upon the plan you have bought.
Distinctive Features of Mailchimp:
There are some of the features of Mailchimp that make it a tough competitor when compare with some other e-mail service.
It is an application developed for the web, so it is compatible to run on any website, and there is no need to download any other program to run it.
Mailchimp provides you prepared templates for different campaigns.
It allows you to send auto e-mails by reading and analyzing the behavior of the customers.
Creates more individualized responses by adding names and particulars of the customers.
This platform allows the owners to send e-mails to their prey subscribers for some campaigns.
Mailchimp provides you guide about the tools and services it offers to have a better experience.
How to Make an Account on Mailchimp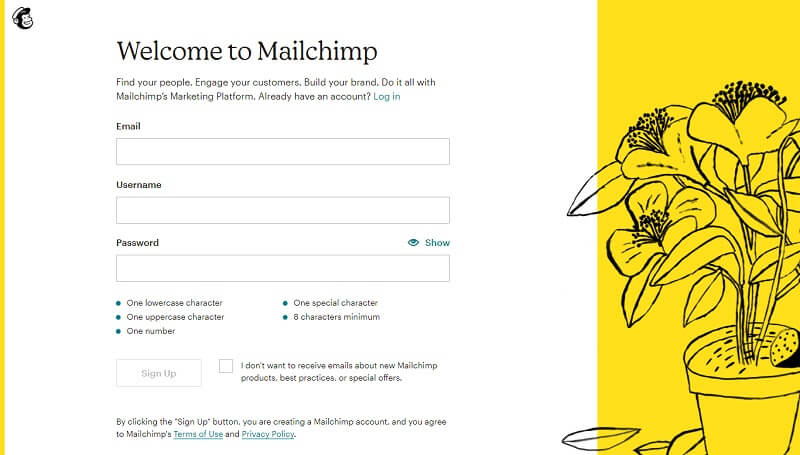 Open the site mailchimp.com.
Click the Sign-up button.
Give the required information, name, and e-mail address.
The site will send you a confirmation e-mail at the given e-mail address.
Click on the confirmation link to activate your account.
The link will lead you towards getting some more information. Give all the information and click on "Save and Get Started."
You have created your account. And you can now add the necessary things to your profile.
You can enjoy features for this free account, but if you want some more, you have the facility to buy a more advanced plan to meet your needs.
Pros:
Let its user customize the interface.
A variety of features are free of cost.
Easy to re-engage the subscribers.
The facility of market analysis.
Provides easy import.
Cons:
Don't provide advanced templates.
The interface is tricky.
Also, guys if you have a website and planning to build a website and confuse about which Website builder is good for you then do check out our article about Webflow or Elementor.
What is Aweber?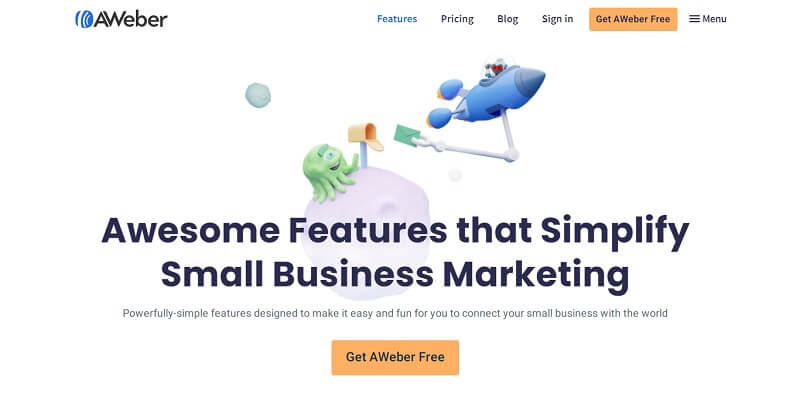 We have another fantastic app to manage your e-mail activity for your business, that is Aweber. They are famous for their service of auto-response to the clients, which is an awesome feature undoubtedly. Web Analytics is the other feature that helps your business grow by tracking products for sale.
Aweber offers prepared templates to send e-mail to the target audience that is designed professionally and greatly impacts your sales.
Distinctive Features of Aweber
There are some features of Aweber that make it an incomparable e-mail application for marketing purposes.
Its auto responsiveness makes it unmatched.
It offers three mobile applications that make it convenient and handy to use.
Drag and Drop feature.
Reliable to deliver e-mail.
It provides Sign-up forms for both desktop and mobile.
You can get an e-mail newsletter to get in touch with new offers.
How to Make an Account on Aweber?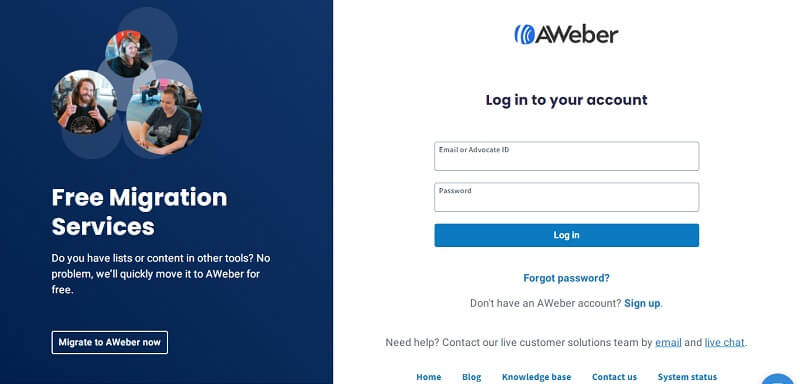 Open the website aweber.com.
Click on Sign-up.
Provide the required information, i.e., website address or some social media account address.
Then choose the industry you belong to by choosing from the given industries.
Now, add your company's address to the address bar, which should include street address, city, state, postal code, and country.
After that, provide some required information by selecting the options and finally fix the goals you want to achieve for your business.
You have created your account now.
Pros:
Low-priced as compared to others.
Simple to use.
It allows you to build your page.
Aweber provides a variety of ready-to-use templates.
More supportive than its competitors.
Offers easy to import.
Cons:
Lack some of the features its competitors have.
Need the approval to try some new features.
Which one is More Beneficial?
Though both are easy, useful, and convenient, each one has some lead to the other.
You don't want to involve in technical complexity; Aweber has the upper hand in helping you over Mailchimp because it involves fewer technical terms.
Are you facing the problem of importing your subscriber to your desired platform? Go with Mailchimp because it has a simple and effective procedure to import than Aweber.
Are you an innovative person and like to modify everything as per your choice? Opt for Mailchimp, which comes with more templates than Aweber.
Aweber is the winner in terms of offering visual tools to make your editing easier.
Final Verdict On Aweber vs Mailchimp.
Though both serve the same purpose of growing your business, each has its plus points and market worth. You are free to choose where you find satisfaction and effectiveness.
So that it now I hope you will get an idea of which platform is better for you. If you have any doubts fill free to ask me in the comment section below.