5 Best Shopify Contact Form Apps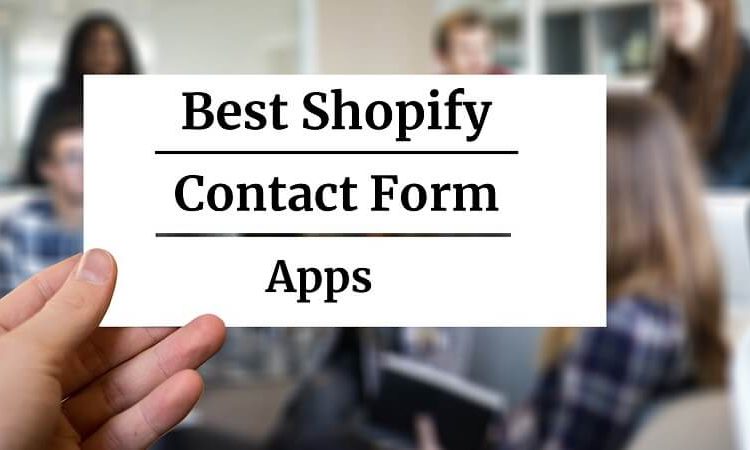 Hey guys, in this article, we are going to talk about the 5 best Shopify contact form apps that you can use in 2023. So keep reading.
Every eCommerce business knows how important a "Contact Us" page is. It should provide multiple touchpoints for customers, such as phone numbers, email addresses, physical locations, and a customer-centric contact form.
For Shopify stores, there are several built-in contact form options. If these are too generic, there are customizable contact form apps available that can integrate with your Shopify store.
Why Create a Custom Contact Form?
A rudimentary contact form can appear lazy and unprofessional to customers. A customized contact management system shows that you put some effort into creating a better customer experience.
A custom contact form allows you to add branding elements and extra information, such as:
Your logo.
Your own wording that injects your brand personality.
Personalized images.
Footers with additional information like contact details, operating hours, and where to send media inquiries.
Social media handles.
A live chat feature.
A CAPTCHA feature to reduce spam.
Multiple fields. For example, a drop-down query list to help route queries to the right department for faster resolution.
A link to a terms and conditions or shipping details page.
A link to a "Help" or "FAQ" page
An embedded map with directions to your physical location.
Is a Contact Form And Contact Management System The Same Thing?
Both these systems collect contact details and queries. Where they differ is in how this information is managed.
An online contact form is a communication channel that may forward messages to one or more email addresses in the organization or form part of a contact management system.
Contact management software is more robust and may be part of a customer relationship management (CRM) system.
If a contact form is linked to an individual's email address, that person may not respond immediately because they missed the email or forgot to reply. If, however, queries flow into a CRM or help desk system, customer service agents are likely to respond faster and be alerted to any unattended or unresolved queries.
5 Best Shopify Contact Form Apps
Shopify is able to integrate with many third-party applications and offers several contact form apps in the Shopify app store. But which one is right for your business? Here are 5 of the best Shopify contact form apps to consider:
1. Contact Form – Contact Us Form
Build customized contact forms, product question forms, survey forms, and subscription forms with Contact Form – Contact Us Form. Choose from over 700 fonts and various backgrounds, text colors, font sizes, and borders.
You can add multiple email receivers and include a "department" field so that the customer can choose to send their query to a specific department. You can also add an "upload documents" field so that customers upload relevant documents to expedite queries.
2. Constant Contact
Constant Contact is a contact management system designed to help businesses convert contacts into leads. It collects and stores email addresses so you can reach out to potential leads and nurture new customers.
For example, you can set up an automatic welcome message to initiate a relationship with the customer. While you don't want to appear too salesy, you could offer a special offer or discount for first-time customers.
Exit monitoring technology detects when customers are about to leave the site and triggers a pop-up that prompts customers to complete their form.
To measure the success of email marketing campaigns, you can track email open rates, engagement rates, and click-through rates.
3. Mighty Forms – Form Builder
With Mighty Forms, you can pick one of their templates to build stylish application forms, contact forms, payment forms, lead generation forms, and survey forms. This is a great option for eCommerce stores as you can create forms to generate quotes, sell subscriptions, and receive payments.
To boost Shopify SEO and conversion rates, create forms that include product images and pricing. Customers can also make use of the "save and resume" feature. Should they not return to complete a form within a certain timeframe, an automatic email reminder can be triggered to remind the customer to complete the form.
4. Zero Spam Contact Form
Spam can be a big problem for websites, especially if the email is the primary form of customer contact. Many contact forms come with built-in spam filters to reduce the volume of spam a business receives.
Zero Spam Contact Form includes reCAPTCHA, developed by Google, to eliminate intrusive bots. reCAPTCHA requires the user to perform fewer actions, making it more user-friendly than other CAPTCHA tests.
Zero Spam Contact Form is a simple and cost-effective Shopify contact form app. Choose a theme or enhance your form's design with CSS coding.
5. Wholesale Application Form
If you run a wholesale business, the Wholesale Application Form is the perfect contact form solution. Download the form from the Shopify app store and create a wholesale application, order, catalog inquiry, and vendor registration forms.
All contacts are saved in a centralized list that integrates with Shopify Customers, Shopify Marketing and Mailchimp so you can efficiently manage your relationship with clients.
When customers want to contact your company, they want a fast, seamless, and frictionless experience. A well-designed contact form can make the process smoother for both you and the customer.