5 Criteria for Choosing The Best Email Marketing Tools for WooCommerce Stores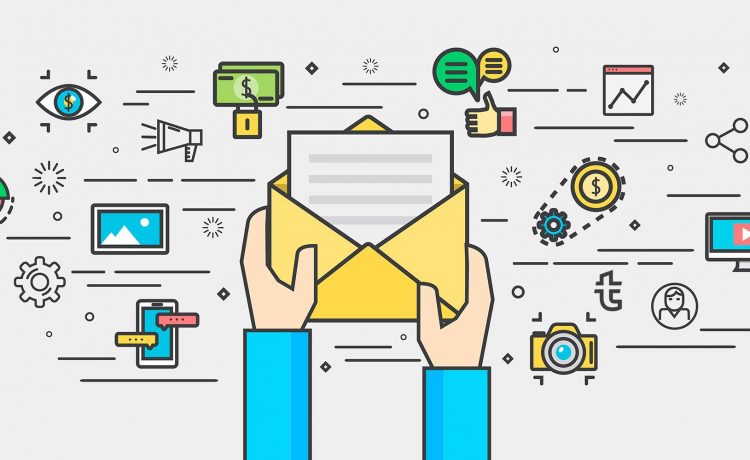 You can send WooCommerce emails from your store, but they're transactional in nature, that is, they're only sent out in response to a specific action or event that takes place on your website. Examples include account and order creation emails, payment receipt emails, order processing, and order completion emails. These are important emails, sure, but a far cry from 'real' marketing emails.
If you want to increase customer lifetime value – and your profits – then you need to use email marketing tools that are built for WooCommerce sellers. But how do you choose which one's right for you? Scroll down as we share 5 of the most important features you should look for when selecting the best email marketing tools for your WooCommerce business.
But first, here's why email marketing is necessary for all eCommerce businesses:
It's incredibly profitable! Every dollar spent on email marketing results in about $42 in sales. (source)
Your email list is 100% yours. You're not dependent on the whims of Google, Facebook, Instagram, Twitter, or any other platform that can potentially block your marketing efforts.
You have full control over the type of content you want to send to your subscribers, so you can educate them about your products, share your latest posts and updates, and of course, promote your products and services.
You can boost your brand's image and credibility, and in the process, improve customer relationships as well.
You can direct traffic to your website, which gives you bonus SEO points!
If you're new to the world of email marketing, don't fret. Check out this free and very comprehensive eCommerce email marketing course from Blue Odin: https://www.blueodin.io/email-marketing-course/
What to look for in email marketing tools? Here are 5 must-have features:
1)   It should allow list segmentation
Sending out the same email to EVERYONE on your list may seem harmless enough. But think about it for a second and put yourself in your customers' shoes… Say, for example, you bought a vacuum cleaner from an online appliance store. You probably got a few transactional emails along the way – from order creation to order delivery and completion. These are fine because you were expecting these emails.
But a week later, you suddenly received a couple of emails from the appliance store telling you how to use their air fryer along with some recipes. You'd probably be very confused. You didn't order an air fryer, why would they send you air fryer-related emails, right? I won't blame you if you become annoyed enough to click on the Junk/Spam button instead of simply unsubscribing from their email list.
The point here is to NOT make the same mistake as the online appliance store. Use an email marketing service with built-in segmentation to send relevant and personalized emails to your audience. Doing so may boost your revenue by as much as 760%! (source)
Not sure how to segment your list?
Here's an infographic to give you an idea: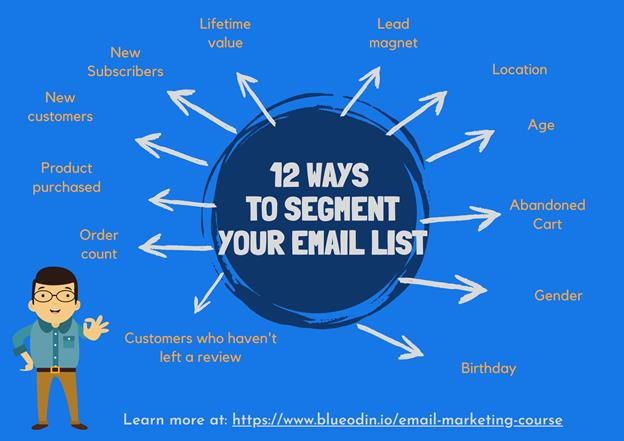 2)   It should allow you to send personalized emails
Just like segmentation, personalized emails are also a must in email marketing. By default, WooCommerce collects your customers' details such as their first name, last name, email address, order number, order date, and coupon used (if any).
If you use an app like Blue Odin (which allows the use of placeholders when writing emails), you can quickly send personalized emails to your subscribers. Take a look at the screenshot below: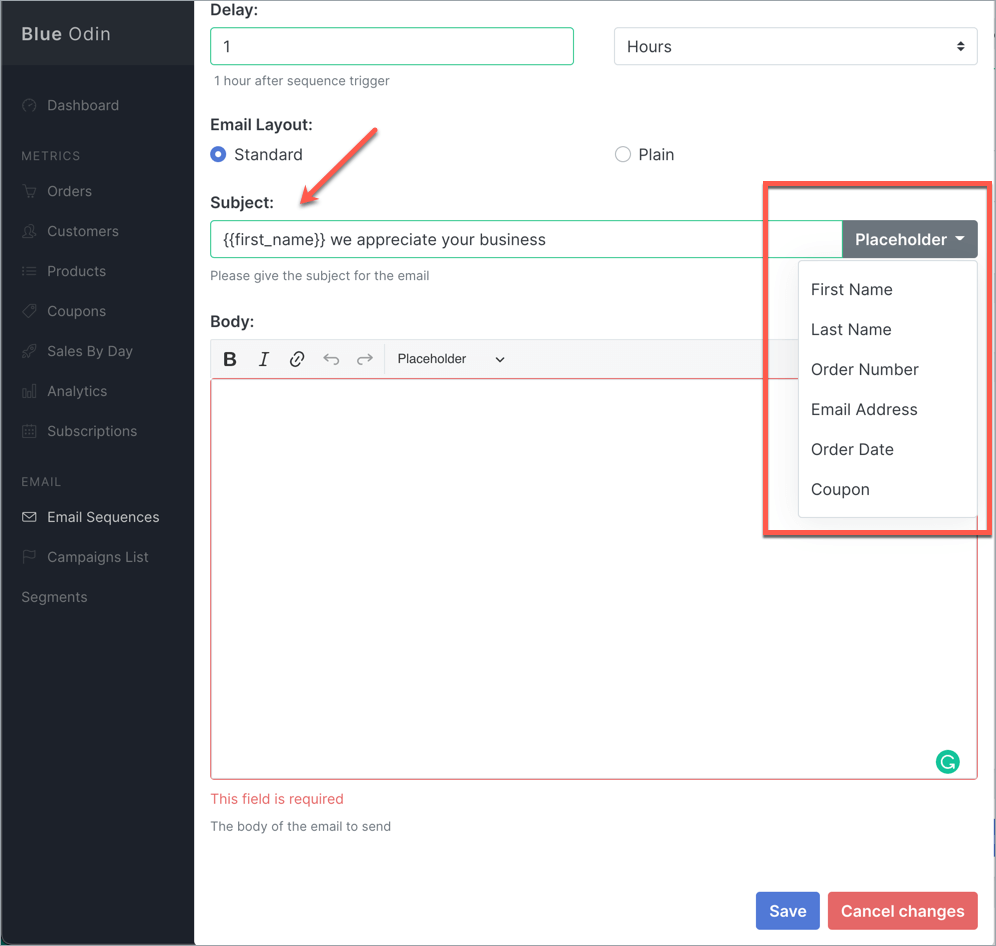 Here's a pro tip:
Add your recipient's name to the subject line (see screenshot for example). Doing so may increase your open rates by up to 18.30%! (source)
3)   It should allow you to send automated emails
Email automation is another must-have feature when choosing an email provider. It allows you to create a sequence of emails beforehand and when certain "triggers" are met, the email is automatically sent out. This is literally set-and-forget email marketing. When done right, automated emails can lead to a huge boost in profits!
These are examples of emails you can automate:
Welcome series
Onboarding series
Lead nurturing emails
Cart abandonment emails
Product Upsell and cross-sell
Subscriber special offers
Blue Odin also uses a visual editor, so sending automated emails is quick and easy. Here's a screenshot: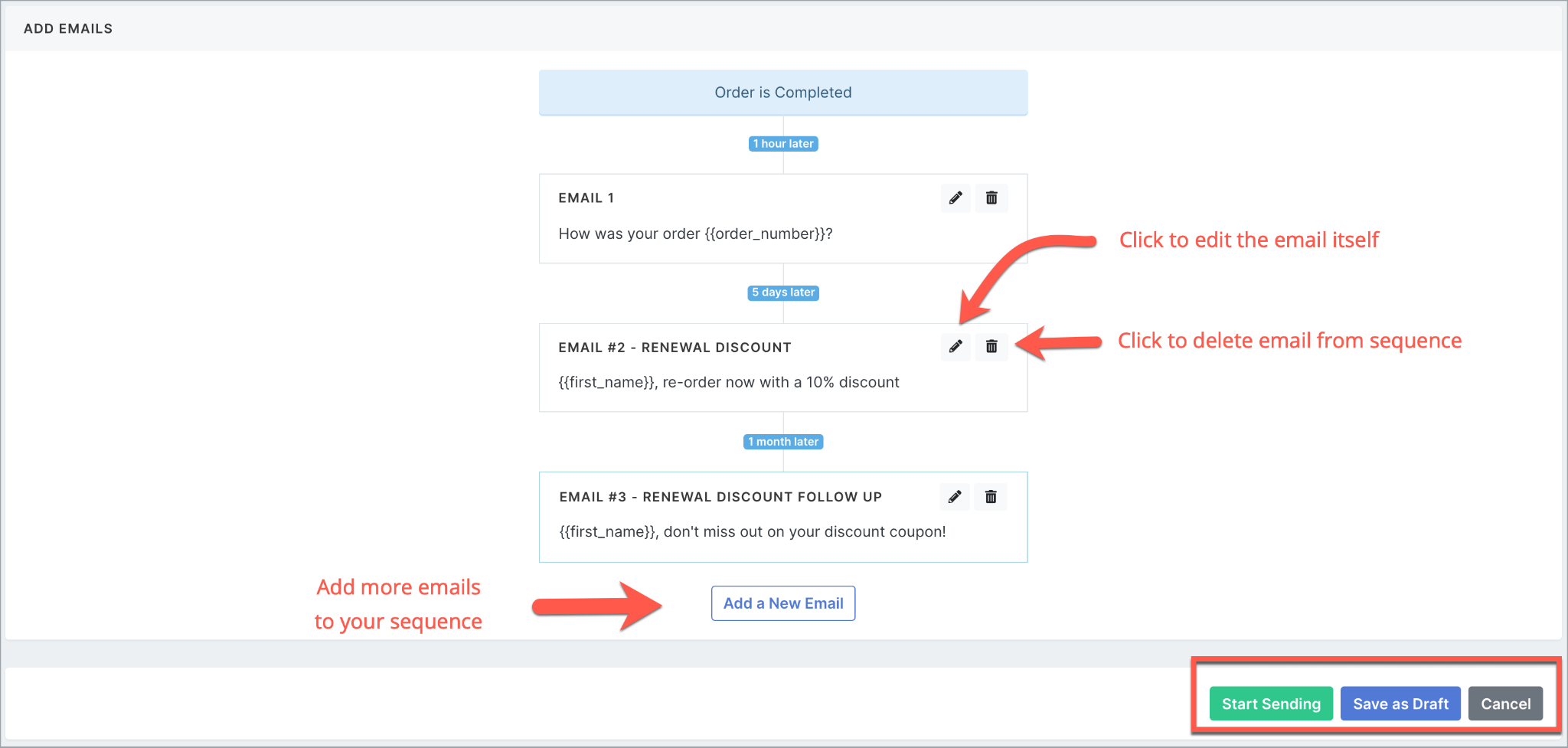 You can add as many emails as necessary to your sequence. Plus, you're also free to create any number of email sequences for your customers – perfect for WooCommerce businesses of all sizes!
4)   It should allow you to send email campaigns
Email campaigns are non-trigger-based emails that you can schedule and send to your customer list. It's great for sending regular newsletters, product launches, flash sales, and seasonal promotions.
Here's an example of a promotional email that you can send out as part of your email campaign: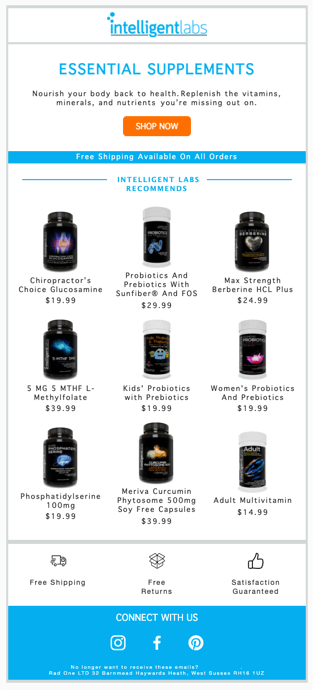 5)   It should tie in with your WooCommerce sales dashboard
Wouldn't it be nice to have an email marketing tools that also imports your WooCommerce store data and gives you detailed insights on how your store is doing? Most email providers DO NOT offer this feature, which not only saves you time and money but also improves your bottom line in the long run!
Fortunately, this is something Blue Odin can uniquely offer to WooCommerce stores. Once you import your store data (you can import ALL of your WooCommerce stores for free), you'll get a bird' eye view of how your entire business is going and figure out areas you can improve on.
Here's a screenshot of Blue Odin's all-powerful sales dashboard: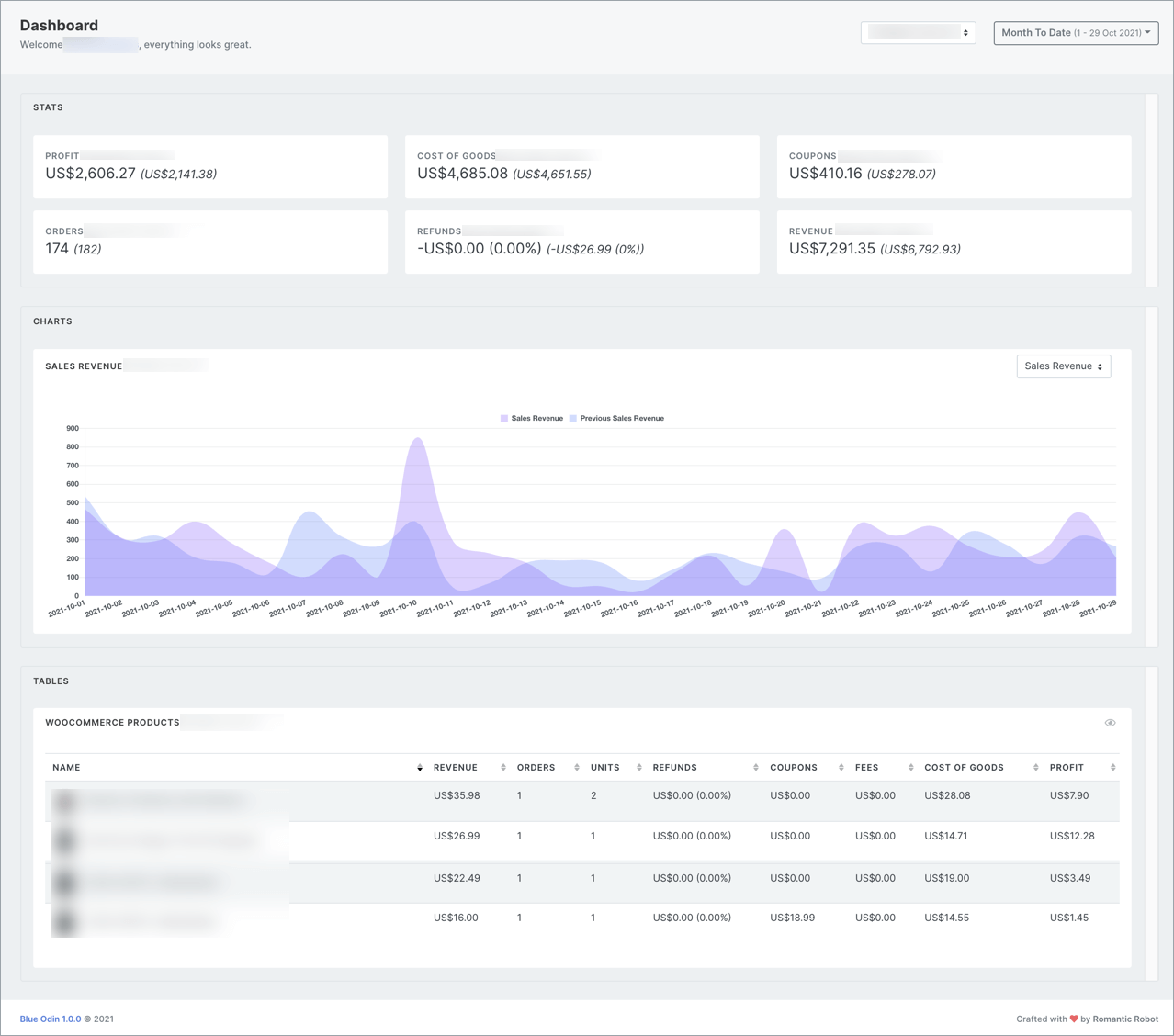 Learn more about Blue Odin and how it can help your WooCommerce business
Blue Odin has the most important aspects of email marketing down to a science – segmentation, personalization, email sequences, and campaigns. But it's the WooCommerce sales dashboard integration that truly makes it a powerful marketing tools for managing and growing your entire business.
Ready to try Blue Odin? The first 100 users get a FREE lifetime account. Click here to get started!