How to Create a Website without Skills of Coding within a Week
The title of the article sounds provocative, doesn't it? On the surface, it seems impossible to create a website in a couple of days without knowing any of the programming languages. Still, modern technologies open the door to the world of IT and web design for everybody, regardless of their skills.
You can benefit, for instance, from applying to the web design studio and having an order done for you. Plus, you can use a website builder or a content management system and launch a site independently.
All these solutions work but some of them are more progressive and effective than others.
In this article, we will cover two ways to create an appealing, user-friendly, and SEO optimized website fast and with minimal time and money inputs.
The first option is suitable for those, who don't want to deal with it independently. Recently, TemplateMonster has announced about the launch of the ready-to-use solution with the vital steps of the site creation process already done for you.
Let's take a glance at this all-in-one package solution and move to the next part – a detailed guideline on creating a website on your own.

Ready-to-Use Offer for Fast and Stress-Free Website Creation
In short, it is possible to have your website created by talented specialists with more than 16 years of experience in the industry. An all-in-one offer from TemplateMonster contains:
professional hosting (InMotion) and a domain name (for 1 year);
a template from Zemez and its installation;
adding Social profile links.
For non-eCommerce websites:
5 pages & 10 posts customization;
logo and color scheme customization;
SSL certificate.
For eCommerce websites:
Currencies, Shipping, and Taxes setup;
payment modules setup;
products import (up to 1000 items);
screen reader support.
The aforementioned features come along with a consultation with a manager. He will clarify all the peculiarities of the future website to make it meet the expectations of the client. The website is supposed to be ready in a week.
Another good news is that the offer is currently available with a discount. A new price makes up $149, while an old one was $279. Unfortunately, the special price will be actual only till February, 8.
Therefore, if you are interested, you can make a purchase on the official website of the provider.
If you still want to go through the entire process on your own, here is a step-by-step guideline on how to do it fast and avoid common mistakes.
6 Steps on the Way of Creating a Stunning Website
1. Choose a Content Management System
In the great variety of the available CMSs, there are undisputed leaders such as WordPress, Drupal, Joomla, etc. Without a doubt, each of the CMSs has amazing features and contains both pros and cons.
While it is truly difficult to choose, we would recommend considering using WordPress. Firstly, it powers more than 30% of all websites worldwide. By the way, it is more than all other CMSs empower combined.
So, people keep on choosing this CMS because:
it is free and comes up with a large number of free solutions;
it has an impressive library with themes and plugins and most of them are free;
it has a user-friendly intuitive admin back end where it's possible to create and edit pages and post in a couple of clicks.
Once you choose a content management system, you can move to the next responsible step.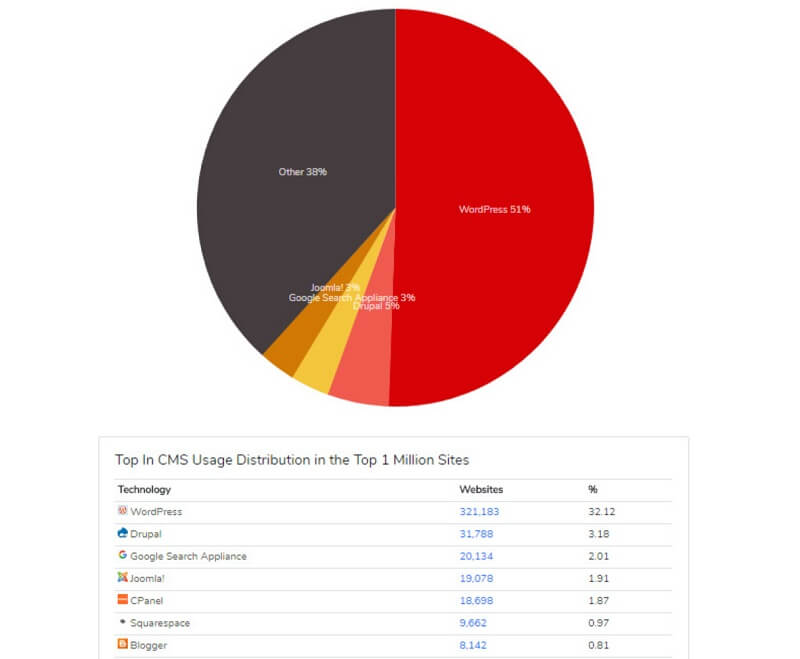 2. Choose a Web Hosting and a Domain Name
This step is one of the most important ones because the performance and the speed of the website depend directly on the quality of web hosting.
Before signing the contract it is crucial to make research based on the specifics of your website, your needs, and budget. Still, there are a couple of universal vital factors to consider:
Uptime Rates
Even a couple of hours offline can lead to a reduction in the search engine machines ranking, loss in revenue or clients. Therefore, when choosing a hosting plan, pay particular attention to the uptime guarantee. The rates shouldn't be lower than 99,5%.
For the record, there is a great tracking tool that notifies its users about the downtimes and provides the statistic about the work of the particular hosting service.
Customer Support
Even if something goes wrong, it is important to fix the issue as soon as possible. Thus, give priority to the companies that provide 24/7 customer support in multiple channels – chats, email, phone calls.
Speed
Without a doubt, speed is one of those decisive factors that do affect SEO, positive UX, conversions, and more. A contribution of the web hosting company to the fast loading speed isn't substantial but it still influences it somehow.
For instance, here is a graph that shows how loading speed of the websites varies by different hosting plans: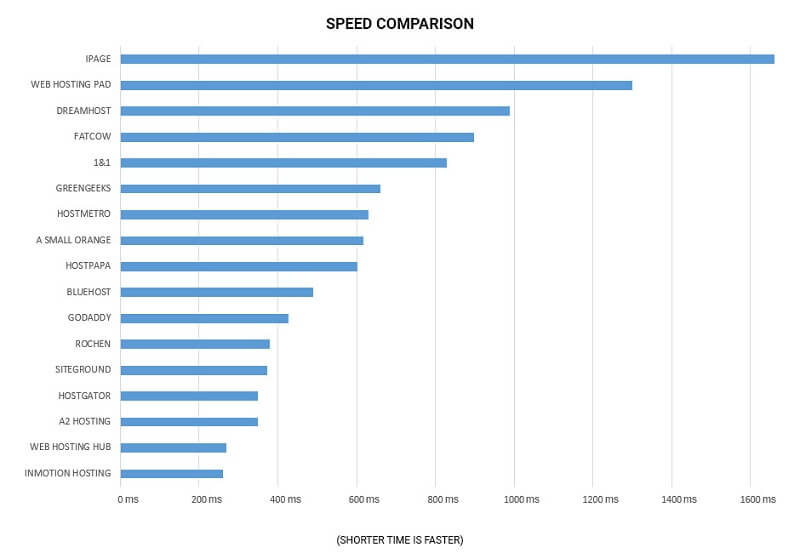 Thus, when choosing a plan, pay attention to the average speed.
Limitations and Financial Issues
Some web hosting services set limitations on switching between the hosting plans or providers, for instance. There are also some limitations related to the account setting and so on.
That's why it is crucial to clarify such issues before signing the contract. Look for the service with clear financial policies and terms.
Speaking of the domain name, try to make it concise and reflect the idea of your activity somehow. For example, if you own a company that produces vehicle motors, don't name your website pinkyclouds.com.
On average, a domain name will cost you as low as $12 per year. Still, the prices depend on the company and terms of domain name use.
3. Install WordPress and Choose a Theme
Fortunately, there is no need to deal with coding even when installing WordPress. Most of the hosting plans already include the one-click WordPress installation process. Such companies as InMotion, GoDaddy, DreamHost, and BlueHost already freed their clients from dealing with an installation. They either provide special installation apps such as Softaculous from InMotion or make it possible to install WordPress right from the admin panel.
Anyway, you only need to fill in some information and click the "Install" button.
Afterward, you can choose a WordPress theme. There is a library with free solutions. Though they are cost-effective, it is more likely that a couple of hundreds of other websites also use this theme as 75 million websites are hosted on this CMS.
Therefore, in order to contribute to the brand identity, it makes sense to make investments and purchase an original WordPress theme. By the way, any WordPress theme from the TemplateMonster marketplace and its installation are already included in the price of the aforementioned ready-to-use solution.
When a theme is purchased, go to the Dashboard > Appearance > Themes and add a theme you have just uploaded.
As it was mentioned, you can stuff a website with pages and posts. Pages make up a foundation of the website. They contain posts that you can add and customize to your taste.
In order to add a page, got to the Dashboard > Pages and add a page. Don't forget to add a title and stuff it with content. In order to add a post, also go to the Dashboard > Posts and add a post.
You can also add a page to the menu. For this purpose, go to Appearance > Menu and add the page.
Another important issue is the logo. The logo of the website contributes to the brand identity as well. It will help to memorize and recognize your company, blog, gallery – the brand. As a rule, there are a couple of ways to get a logo.
For instance, you can apply to the designers on the Upwork or Dribbble. For a cheaper option, visit Fiverr. There, it is possible to order a logo that will cost you from $5 to $20. Basically, there, you will find works of the average quality but it is a suitable option for a limited budget,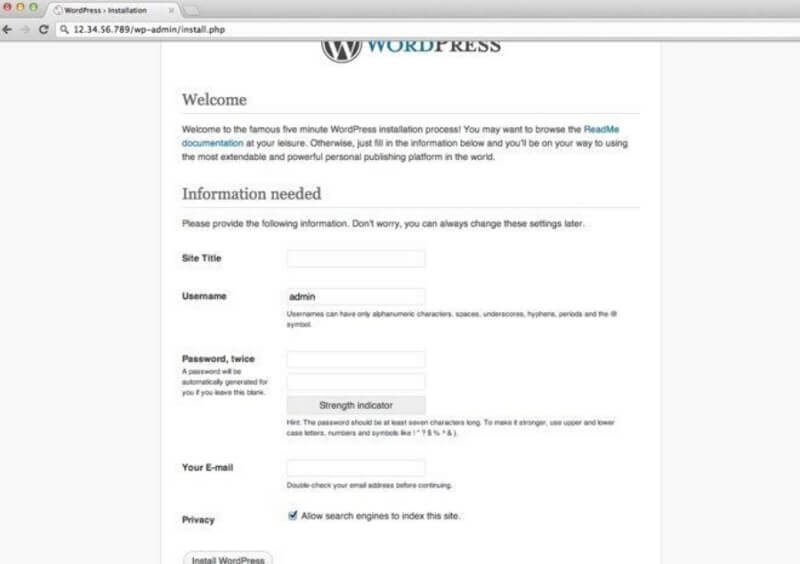 4. Install Plugins
One of the final touches lies in installing the plugins. This is a controversial issue because too many plugins irritate the visitors and slow down the work of the website. On the other hand, they add additional and irreplaceable functionality.
WordPress library contains more than 50,000 of solutions for different purposes. By the way, there are groups of plugins that truly deserve attention. Those contribute to SEO, analytics, speed optimization, etc.
In fact, there are more issues to consider before launching a site. Many issues contribute to the design of the website. In its turn, an overall picture of the site creates an image of the company. It influences the reputation of the person/company indeed.
Therefore, creating an appealing and convenient website makes sense.
Without a doubt, you can do it independently. Still, don't forget that there are ready-made solutions that save your time and money but lead to the result that worth your expectations.
For example, the aforementioned solution from TemplateMonster already contains the needed resources to create a professionally looking website within a week.
Hopefully, with this knowledge and resources, you will manage to create an outstanding, user-friendly, and SEO optimized website that will suit the specifics of your activity 🙂