MilesWeb Unlimited Hosting for Unlimited Company Growth
When it comes to hosting, nothing is worse than having your website crashed because you have exceeded the limit of your hosting account. You can get an error as "bandwidth exceeded" which transforms into trouble. This is where unlimited hosting comes into the picture. You can find a lot of web hosting providers that provide unlimited bandwidth so that you can host your website that has high traffic without any hassles.
Unlimited Hosting- Explained
You may have seen hosting companies all over their websites with unlimited hosting deals but have you ever wondered why they offer you unlimited resources?
If you decide to upload 10000 TB of videos to a shared hosting server, will you be able to do so?
The simple answer is No! That's because your hosting package has been assigned with a certain amount of resources that are to be used while hosting your site on the server. You cannot upload files more than what the restrictions have set to your account.
Unlimited hosting as the name says simply means unlimited resources to host your website.Basically, the bandwidth, storage space and resources are limitless and you can host your site without any restrictions.
Let's discuss about one such provider that offers unlimited web hosting at a low price.
MilesWeb
MilesWeb is a leading web hosting provider in the market on today's date. There are a number of web hosting solutions offered by MilesWeb such as shared hosting, business hosting, unlimited hosting, Magento hosting, cheap reseller hosting, eCommerce hosting, VPS server, dedicated server and more.
This company was established in the year 2012 and has come a long way. They have more than 18000+ customers worldwide.
Attributes of MilesWeb
MilesWeb stands strong on its three pillars:
24/7/365 Support
Do you have any server-related queries or need help on any issues? Ask the MilesWeb experts via live chat or email at any time and they would happily help you solve your questions and recommend the best solution for your website.
30 Day Money Back
Opted for MilesWeb web hosting service but not 100 percent satisfied? You can seek a refund within 30 days of your order purchase. They are very much sure about their quality of web hosting and therefore they have no issue in offering a money-back guarantee.
99.95% Uptime
Your website should be available to your visitors at all hours and this is the biggest concern for any website owner. Their Tier-3 and Tier-4 data center allows them to serve an uptime of 99.95% to their customers.
Features of unlimited hosting offered by MilesWeb
The cost of MilesWeb's unlimited hosting plan starts at just $0.60/mo. This plan is named as Tyro. There are two more plans offered by MilesWeb under their unlimited hosting namely: Swift and Turbo.
The plan of Swift plan is $2 per month and the Turbo plan costs you $2.60 per month. Currently, MilesWeb is giving a discount of 80% on their web hosting. The prices mentioned above are after discount.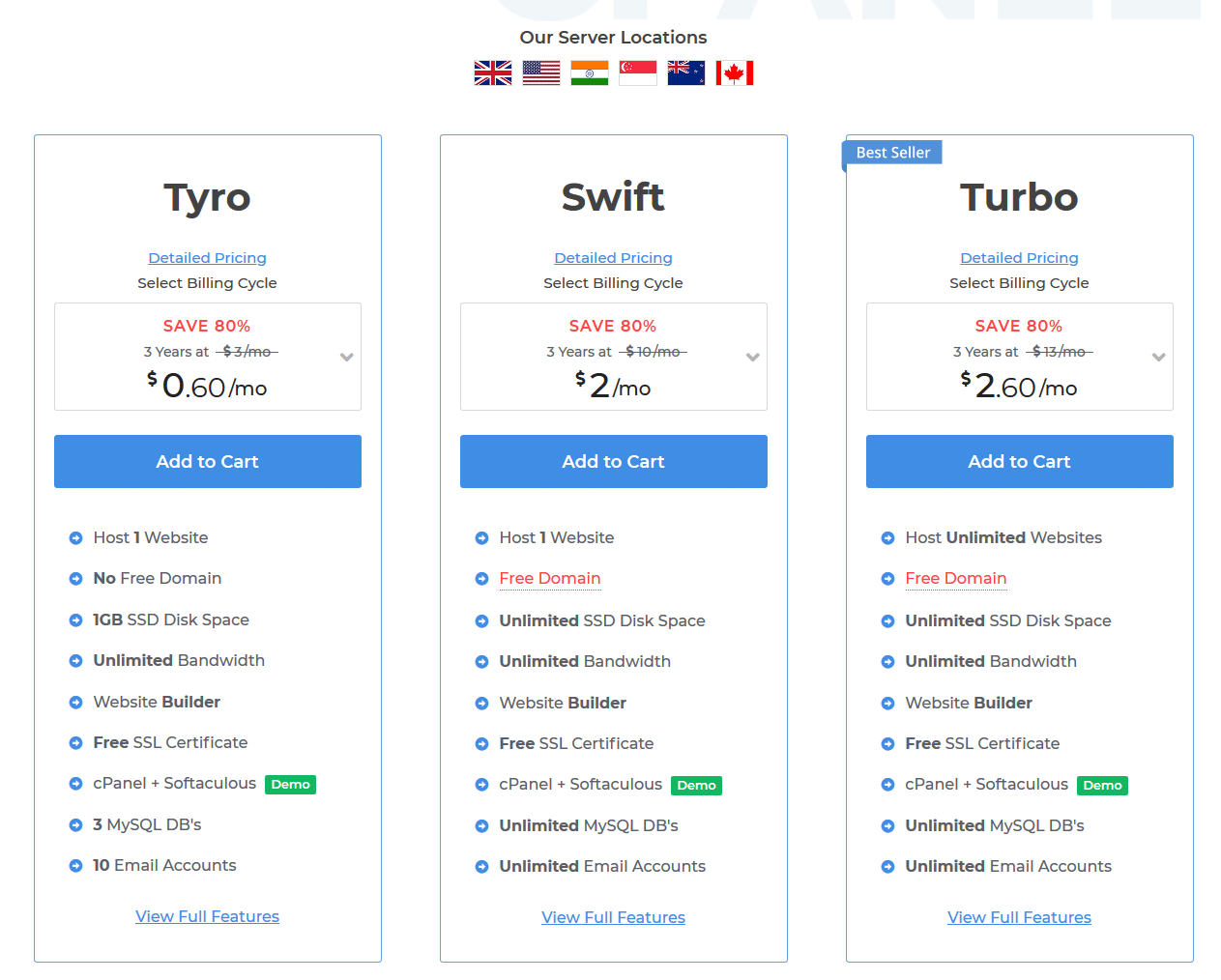 Powerful features of Unlimited Web Hosting
Free SSL Website: MilesWeb offers free SSL certificates with unlimited web hosting plans to keep data safe in an encrypted format on your website.
Build Your Website Easily: With the inbuilt website building tool, you can easily build your own website without knowing the coding and programming. Just drag and drop the elements in the theme chosen and then publish.
SSD: On all their unlimited web hosting plans, you get SSD drives that store and retrieve the data faster and provide high performance compared to HDDs.
Secure email accounts: With IMAP / POP3, you can quickly gain access to your email address. Emails can be accessed via webmail at any time, from everywhere.
Easy control panel account: With MilesWeb, you get cPanel as your control panel. cPanel helps you to conveniently handle the activities on your account. With the help of cPanel, you can manage your website files, FTP accounts, e-mail accounts, etc.
One-Click Software Installer: Using Softaculous, you can install more than 400 apps with a single click. This makes the installation process extremely easy for any application.
Get the latest versions of PHP & MySQL: You'll have all the tools required to launch your website. Their servers are designed to PHP and MySQL versions which are extremely reliable and compliant.
Choice of Datacenter: Select any server location in the UK, USA, India, Canada, Singapore and Australia. Doing this will help you reach the region where your target audience is located.
Keep Away from Malware: The website is checked regularly for viruses and malware and if detected, it will be removed automatically.
Conclusion
Now that you know what unlimited hosting is, it's time to opt for one. So, without giving any second thought, choose MilesWeb unlimited hosting plans that offer you tons of features at economical cost.