TikTok Duet: 6 Hacks To Make It Viral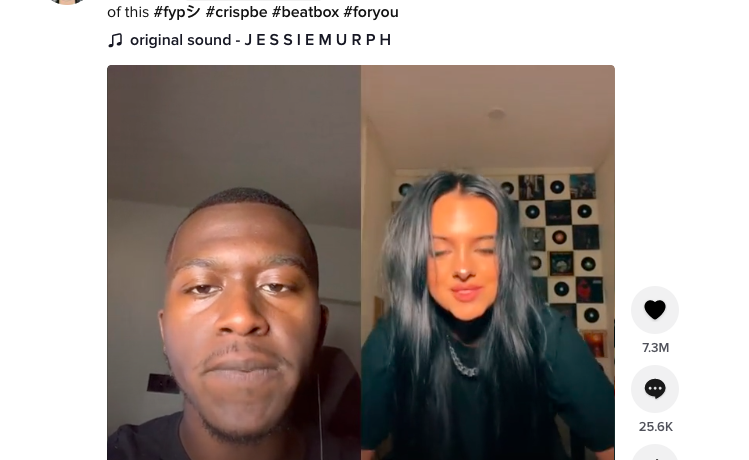 Could a TikTok duet make your business a smash hit? With more than 130 million monthly active users in the U.S., and an ever-growing audience around the world, TikTok is taking the world by storm. Companies everywhere are beginning to invest in this platform as a way of generating audience attention and creating new sales opportunities. While TikTok has a host of fantastic features to explore, from custom sounds to filters and effects, one of the most popular capabilities is the TikTok duet. A tool that allows multiple content creators to work together, the "Duet" has been the first step in the rise to stardom for many brands.
If you're wondering how a lot of TikTok influencers make it big, duets are often the answer. The question for today's growing companies is – how do you leverage the TikTok duet correctly to help your business grow? Here's what you need to know:
What Is A TikTok Duet?
Starting with the basics, a TikTok duet is a form of TikTok content which allows users to create content featuring another video inside their own. Both videos appear side by side on the screen, essentially offering various ways for influencers and brands to interact.
With a TikTok duet, people can effectively "respond" to popular videos with their own content, using existing videos as a launching point for success. Like any social media strategy, TikTok duets generate some excellent results when leveraged correctly.
There are some excellent examples of duet chains out there, as well as plenty of instances where companies, individual influencers, and brands have generated new sales opportunities based on duets alone. With TikTok duets, you can:
Connect your brand to another famous person or influencer
Highlight the unique nature of your brand and attract new followers
Improve your brand reach and connect with new fans
Expand the variety of the content you share on TikTok
Partner with other brands and market leaders
How To Duet A Video On TikTok
Like most features on TikTok, duets are reasonably easy to use. The first step in building a duet is making sure you have "duet" enabled on TikTok. The person you want to duet with will also need to enable this option. To turn the duet on, go to your profile on the TikTok app, and tap the three-line button on the corner of the screen. Tap "Privacy," then "Duet," then select the "everyone" option to make the Duet option public.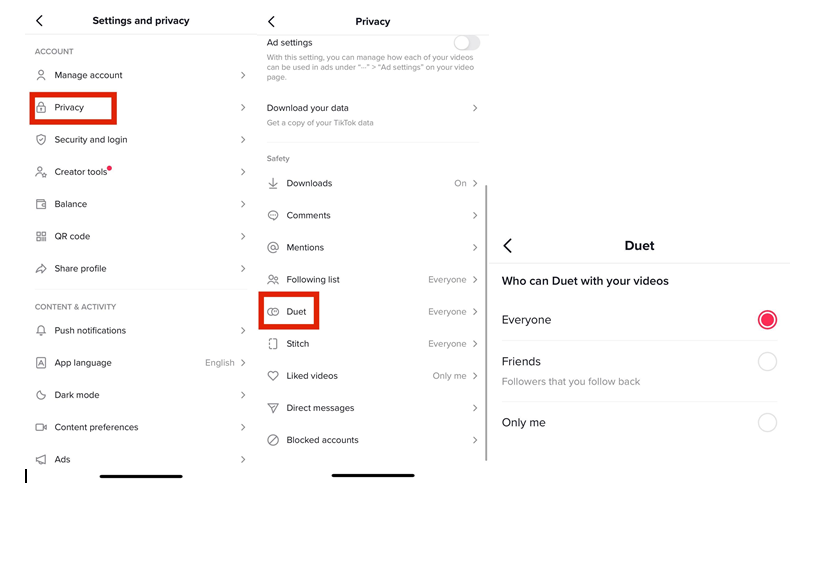 Once you have duets turned on, go to the video you want to create the duet with. The best option is usually to choose a video with a lot of existing views, or something from an influencer in your industry. Click the "duet" button, then:
Add filters: You can adjust your video by adding a filter, activating makeup, setting a timer, or changing the speed of the video on the side of the screen.
Record your video: Start recording your video by pressing the red button in the center of the screen. Remember to use sounds to make your content more engaging.
Add text and stickers: Enhance your video with text, stickers, and anything else you like.
Create your caption: Add your caption to the TikTok duet video, using hashtags to make your content easier to find.
Post your video: Preview your video then hit "post" when you're happy
Remember, it's best to let the person you're going to be doing the duet with know you're going to be posting this content, so they can help with promoting it. Plus, you'll need their permission to use the content, or you could end up in trouble.
6 Hacks To Make Your TikTok Duet Viral
Now you know the basics of how to create a TikTok duet, it's time to implement your own twist to ensure you make your content as appealing as possible. The more you experiment with duets, the easier it'll be to ensure they're a success. You'll also be able to use your TikTok business analytics (if you set up a business account) to track which of your campaigns get the best results. Here are some handy hacks to get you started.
1. Add A Unique Contribution
The purpose of a TikTok duet is to connect your company with another creator, while also demonstrating your unique skills and the quality of your content. Don't just repost something great you've seen – add something original. In the example above, the original creator's music video is further enhanced by the Duet poster's skills as a beatboxer. By adding something new to the video, the Duet creator makes the content more exciting than it was on its own. This is a great way to build traction for your brand.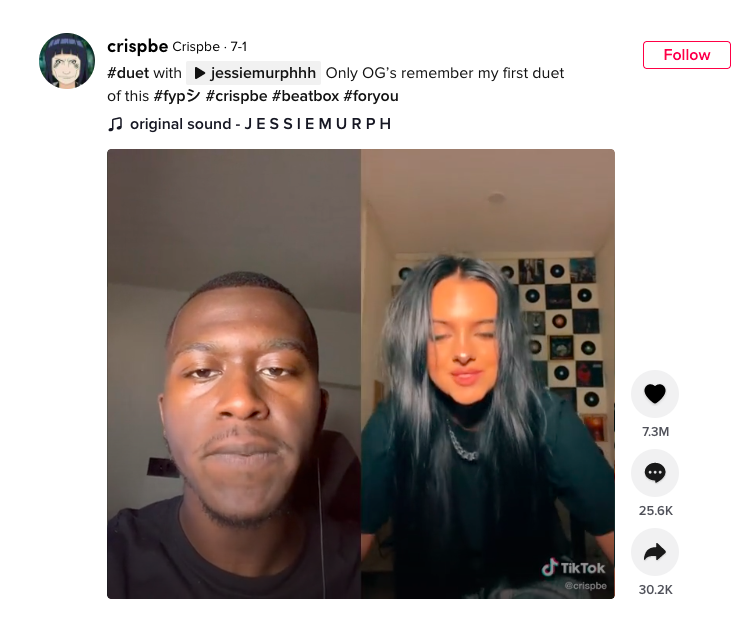 You can experiment with any kind of addiction, from funny commentary and captions to adding your own musical effects.
2.  Add Informative Or Comedic Commentary
If you don't have the creative talent to add new music or effects to the content of your TikTok duet, you can still capture the audience's attention with commentary. Throughout TikTok, some of the most popular videos feature someone commenting on an existing video to provide additional information about the clip or make people laugh.
If you're going to be doing a comedic commentary, make sure you consider the humor of your target audience, and how they're likely to respond to the things you say. If you're adding informative content, double-check your sources are correct. Remember, you can add your commentary either verbally, or by simply implementing captions over the top of the video.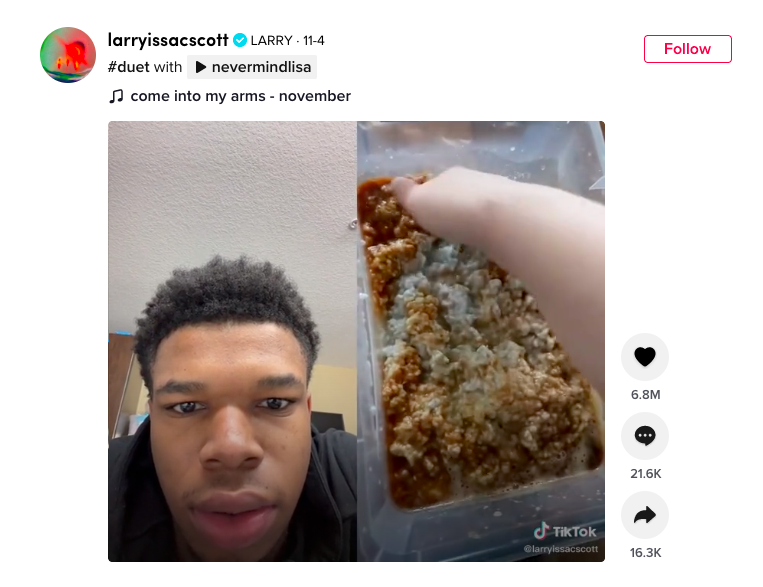 3.  React As A Professional
Reaction videos started life on channels like YouTube, but they've quickly gained popularity on TikTok, too. If you have a specialist skill or a reputation as a professional in your field, reacting to a piece as a professional can be a great way to grab attention. Search TikTok users to find someone creating content related to your niche. The ideal video should be one with many viewers and engagement, so you can leverage the existing appeal of the content. Next, add your response over the top, making sure you highlight your position as a thought leader, so your viewers know why they should value your opinion.
Try offering actionable tips and guidance, so the people who created the original video can build on the comments you share. This could even be a good way of starting a powerful relationship with an influencer in your field.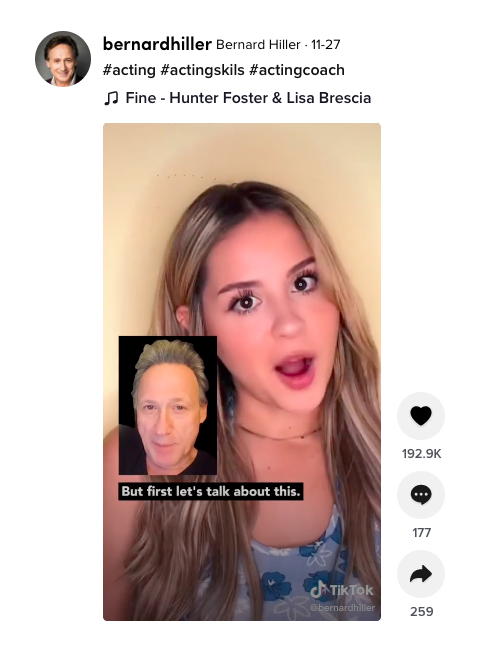 4. Mimic The Original Video
If you don't have any specialist knowledge to use when responding to a video in a TikTok duet, and you're not sure how to showcase your skills with the video, you can always try the simplest option. Mimicking the existing video might seem simple, but it's actually a great way to create a unique visual effect on TikTok.
Make sure you create a sense of coherency by choosing the positioning of your video carefully compared to the other content creators. You can either follow the inspiration video exactly or emphasize a specific part of that content if it's relevant to your brand. You might also decide to mimic the video exactly for the most part but add your own unique twist to make the finished content more engaging.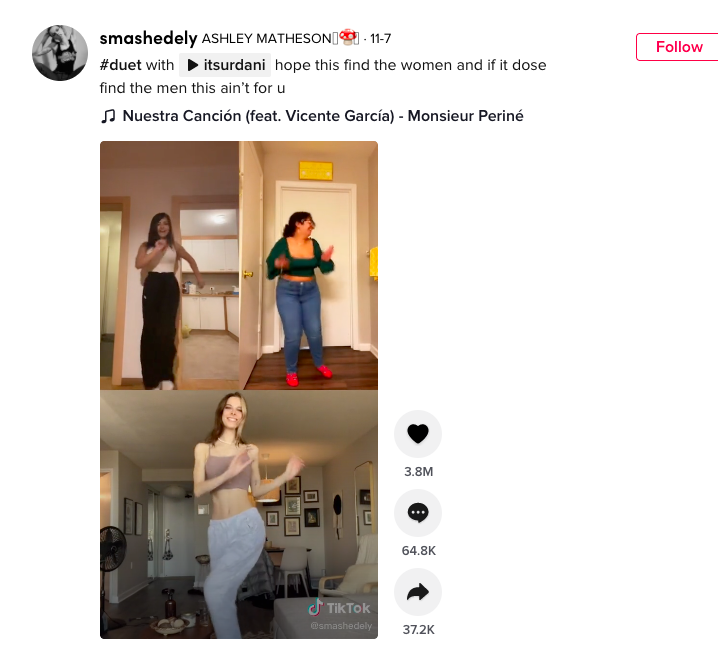 5. Master The Content
Duets are common among TikTok hashtag challenges, where people attempt to replicate the things they see (like dance moves or athletic feats) to be part of a trend. If you're going to build on this concept, the best thing you can do to make your duet incredible is to ensure you're great in the video. Watch the content you're going to be building your TikTok duet with a number of times to ensure you know how everything works. You should be fully aware of all the dance moves and individual details of the video, so you can do them perfectly.
Once you've absolutely mastered the video, and you're confident you can show off your skills well, post the video and invite other people in your audience to duet you and demonstrate their own capabilities. This is a fantastic way to build engagement with your TikTok duet.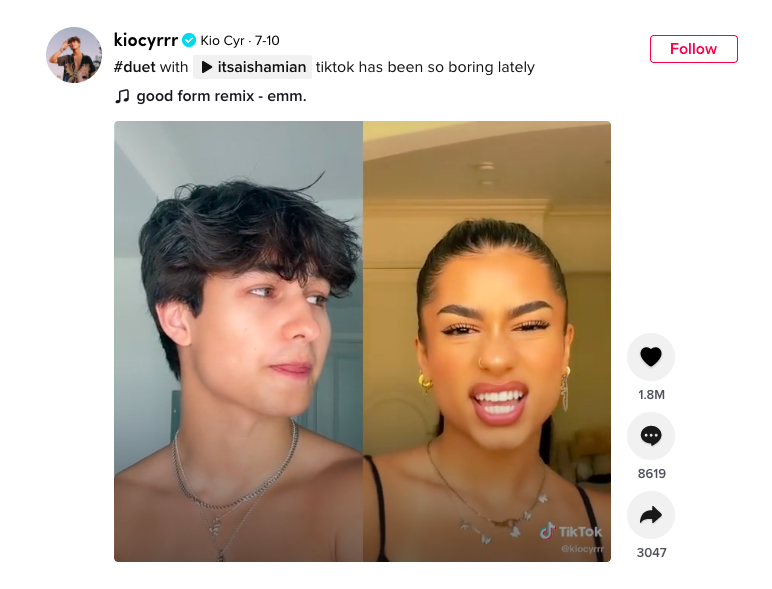 6. Duet Your Own Content
Finally, if you're trying to build your position as an influencer or thought leader in your space, one of the best things you can do is bring attention back to the content you've already created. You don't have to only duet with other people – you can duet with your own content, too. Choosing some of your most popular videos to duet with is a great way to create a content series that keeps your customers checking back for more. You could consider adding extra content to the original video or doing a "before and after" duet where you showcase what went on behind the scenes of your video.
Doing a duet with yourself isn't just a great way to pull more focus to your top videos. It can also be an excellent opportunity to demonstrate your authenticity and unique personality to your target audience.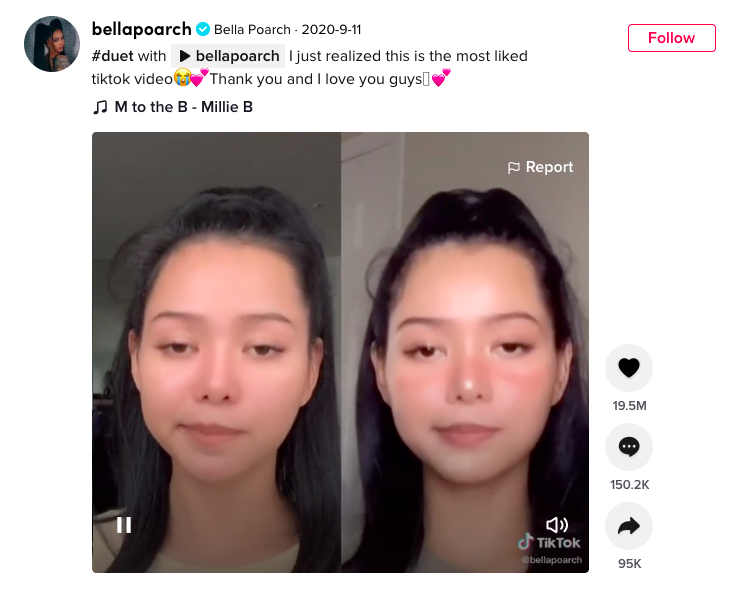 Do Your Best Duet
TikTok duet content is some of the most popular on the platform – connecting to all kinds of viewers. If you want to improve your reach on social media or strengthen connections with potential partners and influencers. TikTok duet could be a fantastic way to get started.