7 Ways to Engage With Your New Leads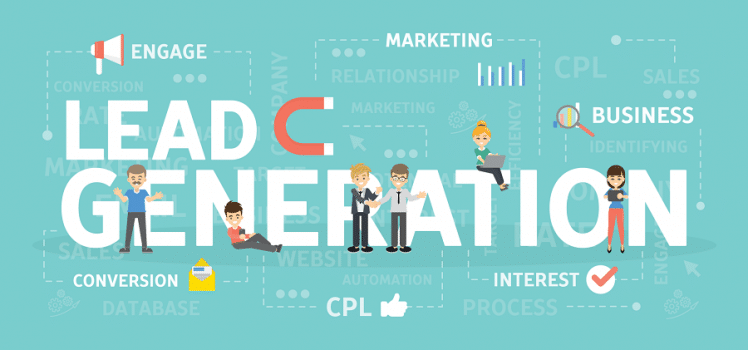 Gathering new leads requires a lot of time and money. The last thing you want is to make contact and then fail to engage those people with your brand. The cost of acquiring new customers is high. It's much cheaper to keep selling to those already involved with your brand, so as you plan customer participation strategies, be sure to include those who are already fans.
Results can't always be measured by the number of sales you make. Some people follow your brand for years before making a purchase. Keep them engaged through newsletters, SMS messages, and regular authoritative content. When they need what you're selling, your company will be the first they think of.
Your goal should be to grab anyone who lands on your site and keep them interested until they convert into a customer. There are many ways of accomplishing this. Here are seven methods for engaging your new leads and turning them into raving fans.
1. Improve Your CTA
Your call to action (CTA) is one of the first elements users notice on your page. The color of your button should contrast with the rest of your design. If it doesn't pop, then you need to make adjustments. Consider the text of your command, and be sure to use first- or second-person words to personalize it. Think about the language from the perspective of your target audience. What speaks to the buyer persona and is something of interest to them?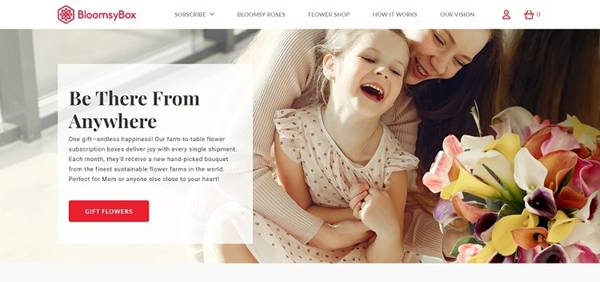 BloomsyBox is a flower subscription service. The minute you land on the home page, the CTA grabs your attention. It's large and bold. It uses only two words to command action, but they are on point with what happens if you click the element. The button reads, "Gift Flowers." Everything about the CTA pulls the reader in and encourages interaction.
2. Nudge, but Don't Push
A gentle nudge toward more info is often welcome. However, if you go for a hard approach, people may feel you aren't being authentic and bounce away from your site. Limit their choices, so they move through the information you want them to view.
Don't move buyers to the next level of the sales funnel before they're ready, though. Always offer more information, a way to ask a question, or a listing of reviews. Think about which stage in the journey your customer is in and fully explore all aspects of each step. Buyers go through four levels, which are awareness, interest, decision and action.
3. Answer Customer Questions
The first stage of the sales funnel is awareness. People often have questions at this point about who you are and what problems of theirs you can solve. Offer material providing a solution to the issue your typical user has. Covering concerns moves the customer quickly from the awareness stage to interest.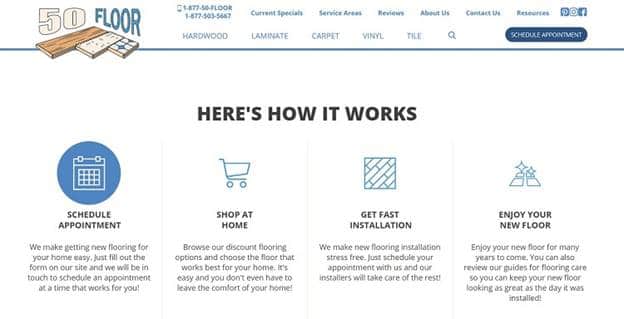 50 Floor explains the process customers go through when choosing flooring from it. By laying out the steps clearly, it answers questions people have upfront, and the user moves more quickly toward becoming a leader rather than just a site visitor. The addition of illustrations for each step enhances the process and makes the page skimmable and easy to read.
4. Offer Live Chat
No matter how thorough your information, there will almost always be a question the consumer still has. Adding live chat to your page and staffing the feature with trained agents provides your audience with a way to get individualized attention. Live chat can turn skeptics into supporters. You may still need additional steps before they make a purchase, but you'll reduce the risk of losing them to a competitor.
5. Offer a Perk
One of the top ways of driving new leads is by offering something of value to them. An incentive might be a special report, webinar series or some kind of discount. Think about your business model and what your customers care about. What type of offer would be most helpful to your audience? Once you have something in mind, offer it in exchange for contact information.
Depending upon the phase of the journey, you may want to only collect an email or encourage them to sign up for a mailing list. Consumers further into the buyer's journey may provide additional details without getting scared away.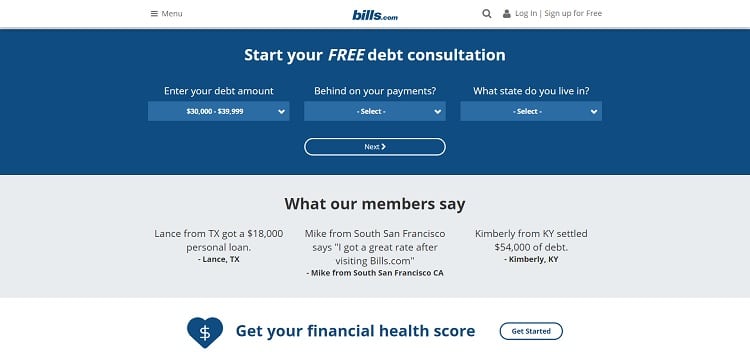 Bills.com pulls in site visitors by offering a free debt consultation or info on your financial health score. It starts by only asking three questions without requiring personal data. As the user moves through the pages, additional details are added. Because there isn't more than a question or two on each page, it is easy to move through and get a financial report at the end.
6. Offer SMS Opt-in
As technology changes, people communicate in new ways. Although email is still an effective marketing tool, don't overlook options such as smart speaker ads or SMS messages. You can make the cellphone number an optional field in your signup form and allow users to opt-in to SMS messages. If they choose yes, send them a personal greeting thanking them for opting in. You could also improve your email marketing campaign by sending emails to SMS.
Like other engagement options, you must give people a reason to desire text messages from you. For example, you could send daily tips or discount codes via SMS.
7. Follow-up Fast
If your leads have concerns, answer them quickly. They may be circling the inside of your funnel, trying to make a decision. They decide to reach out via email. How fast is your response? The quicker, the better. You should have dedicated staff who monitor email, live chat, and social media and answer within minutes of the person posting.
Remove Extra Steps
Is buying from you an easy process? If the user has to jump through hoops to sign up, then you're likely to lose them before they purchase. Instead, remove any unneeded steps. Automate what you can with features such as autofill. Utilize live chat and Q& sections to show the benefits of doing business with you.
Test everything thoroughly with A/B studies. Keep what works, and lose what doesn't. Look for slightly higher conversion rates each time you make a change. Over time, you'll gain more leads from your site's traffic.
Lexie is a digital nomad and web designer. When she's not traveling to various parts of the country, you can find her at the local flea markets or hiking with her goldendoodle. Check out her design blog, Design Roast, and connect with her on Twitter @lexieludesigner.