Major Signs You will Need a New Website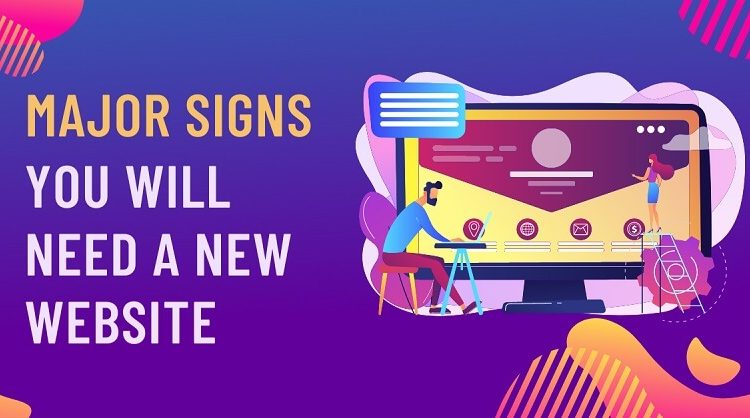 A website is a crucial part of any business, but if it's not meeting your needs, it's time for a new one. Discover the major signs that indicate it's time to invest in a new website. So keep reading.
If you're like most people, you probably get a new smartphone every few years. Isn't it crazy how quickly they become old and useless? Unfortunately, this is the case for the majority of websites.
Even if you will ask the best web designing company in Dubai, they can easily tell whether you need to upgrade your site or not.
Many signs demonstrate that your business needs a new website. Although it is an apparent sign, we are not only discussing how your website looks. The speed and practicality of your website are both very important.
Major Signs You Will Need a New Website:
The Bounce Rate Of Your Website Is Very High
Google Analytics defines "bounce rate" as the number of people who only visit one page of your site. In other words, it's the number of people who come to your website and look at the first page. Visitors who leave quickly either didn't find what they were looking for, didn't want to know more, or thought your website was too slow or impossible to use.
Some of these problems can be fixed with a new style, which might also encourage people to stay longer. If your site's bounce rate is always between 70 and 90%, it's safe to say that you should think about getting a new website or, at the very least, updating your copy and content.
The Webpages Load Slowly
One of the most prevalent issues with old websites is that the pages take a long time to load. If your prospects are like the majority of us, they are used to getting what they're looking for whenever they want it. That means that if the web pages do not load right away, this will bother your audience.
Moreover, higher bounce rates are linked to longer load times. Also, when figuring out a website's search score, Google gives more weight to how quickly it loads. This is important because 94% of all organic search traffic goes through Google.
Your Website Doesn't Do Your Brand Justice
Your brand, products, and messages evolved over time. Most of the time, a site's first views determine whether or not a visitor turns into a customer. Make sure you are known for having a well-designed website that reflects your message and brand and addresses your client's pain points now, not from a few years ago.
Your Website Looks Like It Was Created In 2010
The bottom line is that if you haven't updated your website's design in the past ten years, it's time to do so. Flashing images and text, many font choices, and a color scheme that begs for you to "taste the rainbow" are all damaging to your reputation. We don't want to call anyone out, but if you search Google for "worst websites," you'll find a lot of examples that will make you cringe.
Okay, so your website might not be "that bad," but it probably doesn't meet the standards and trends of modern websites. One easy way to assess your web design is to look at the sites of your rivals. Be honest; how does your business compare to the best ones in the industry you work in?
You Cannot Update The Website Content By Yourself
If you depend on a web developer to make changes every time you want to change the content, add a blog, or do other simple tasks, you may be wasting time and money.
HubSpot and other content management system (CMS) tools make it easy for marketers to take charge of their websites without having to learn code or be web designers. By dragging and dropping themes and forms, you can easily add more landing pages, calls to action, blogs, and other web pages to your site. When compared to the HubSpot CMS platform, these tasks can seem like pulling teeth when done by someone else.
Your Website's Navigation Is Confusing
We see this all the time: several menu items in the navigation bar and a design with about as many parts as a Rubik's Cube (and just as hard to figure out). Some people think it's important to give users as many options as possible, but doing so overwhelms them and makes for a bad user experience.
Websites that have been put together over time often have this problem. When prospects go to your website, they should know where to look, how to learn about the products or services you offer, and how to get to the information they want quickly and easily. Keep things simple.
Your Sales Are Not Increasing
If you want more leads or sales from your website, it's time to make some changes. All of such things can cause low conversion rates. If more than one of them sounds familiar, you owe it to yourself and your bottom line to improve your business website.
Your Website Must Be Responsive And Optimized For Mobile Devices
More than half of all internet traffic around the world comes from mobile devices. If your website is mobile-friendly, you will get more people to come back. Even if your website is mobile-friendly and works well on a variety of devices, some businesses need to do more.
Mobile-first websites load faster, and search engines base their results on mobile rather than PC. If you are making a website from scratch, you should think about making it mobile-friendly, since the number of people using these devices will only grow in the future.
If your site has the above-mentioned issues, it is best to revamp it right away so everyone goes according to your business plan and your website keeps receiving promising leads. Look for reliable website design companies in Dubai and see which one can help you update the site right away.
conclusion
Your website is often the first impression customers have of your business. If it's not up to par, it's time for a new website. I hope you like this article on the major signs you will need a new website.